 Senegal is a country that grabs you by the waist and doesn't let go. I should know, I've been here 37 years. Perhaps it is the music that has you jiving down the street, or the sight of a woman walking along, delicately lifting her long colorful boubou (or robes) -- especially now that the rain has arrived. Or perhaps it is meeting the elder of a village who bestows such powerful blessings on you when you visit that you cannot wait to return. I think mostly, it is the people and the sense of community -- the way they care so deeply for you and one another. My daughter was born here, and I am very lucky to call this country my home.

Senegal is also a country on the verge of immense social change. I am talking about change so profound that it will have a lasting impact on the lives of generations of girls and women to come.
I truly believe that we are at a point where in a few years Senegal may be able to say that it is a country free from a practice that disempowers women and girls and violates their human rights, the harmful practice of female genital cutting (FGC).
FGC is the partial or total removal of the external female genitalia for non-medical purposes. It is a practice that has no health benefits and can result in serious health consequences including hemorrhage, infection, and in some cases, death.
But, it is a social norm enforced by community expectations around marriageability. By having a daughter cut, the family ensures that she will be a desirable marriage prospect. Compared to the health risks, the social consequences that uncut girls face are equally severe: the inability to marry and total ostracization from one's social group, or 'social death.'
However, 15 years ago today, I watched as 35 courageous women abandoned the practice of female genital cutting (FGC) in their community and set in motion a movement for social change. Amid their families, their communities, radio, television and newspaper journalists, the women of Malicounda Bambara, a rural village in Senegal, publicly announced their decision to abandon the practice.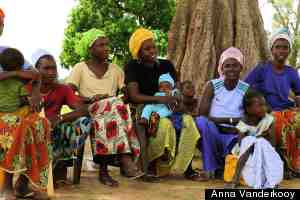 This year we have seen the 5,000th community in Senegal declare abandonment of FGC. We are now on the verge of something unique and historic -- total abandonment of FGC in Senegal.
But, how did we get here?
Education. We have learned many things through our 20 years at Tostan, but none as important as how human rights in a non-formal education program can empower people to positively transform their communities and their lives. Instilling democracy and human rights in the learning process, particularly around women's health, is exceptionally significant.
Perseverance. We have learned about perseverance from the communities themselves; their dedication to push through their own social change agendas is inspiring. As is the unwavering support of leaders and facilitators in implementing the program -- great men such as the imam Demba Diawara who travelled from village to village teaching communities about human rights.
Support. Most importantly, we have learned that social movements cannot be sustained without help. Men, women, children, communities -- all need to be supported in their decisions to choose positive change and the sustainable development that follows. The transformative movement itself needs to be supported to grow and spread to other communities, through social networks and to other countries.
Partners like Johnson & Johnson have been integral to our work in Senegal. Johnson & Johnson has helped us bring our transformative education program to new areas of the country, partnering with hundreds of communities and thousands of community leaders to promote the abandonment of FGC while addressing other community priorities.
At this critical time in Senegal's history, we need to continue to strengthen the movement that has been building over the last fifteen years to abandon FGC. We are so close.
The time for scaling up is right now. Let's help grow this movement for social change. Let's look toward a future where not only is Senegal free from FGC, but where the movement is supported to grow and expand throughout Africa.
Today is the 15th anniversary of the first public declaration to abandon female genital cutting (FGC). To learn more about the FGC abandonment movement and our work towards an FGC-free Senegal visit ww.tostan.org.