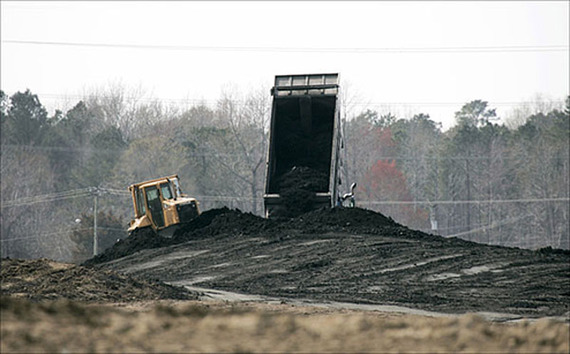 Power companies are closing down old, air polluting, coal-fired power plants as we move toward cleaner, more sustainable ways to generate electricity. As these plants close, they leave behind a material known as coal ash.

Coal ash contains known carcinogens such as arsenic, lead and mercury. The EPA will now regulate coal ash with the release of its Final Rule on the Disposal of Coal Combustion Residuals from Electric Utilities. Unfortunately many of the neighborhoods already exposed to dangerous levels of coal ash - either through coal ash ponds, power plants, or coal ash dumping sites - are in predominately low-income and minority communities
The problem of low-income and minority communities being disproportionately exposed to chemicals, hazardous waste, and toxic materials is not new. More than 134 million Americans, and their homes, schools, businesses, parks, and places of worship, are in harm's way of a toxic chemical exposure.
A 2014 study found that residents in vulnerable zones are disproportionately African American or Latino, have higher rates of poverty than the U.S. as a whole, and have lower housing values, incomes, and education levels than the national average. The poverty rate in these zones is 50% higher than the national average. The percentage of Blacks is 75% greater than for the U.S. as a whole, while the percentage of Latinos is 60% greater. This means almost half the people most likely to suffer from exposure are Black or Latino.
We cannot allow communities across the country to fall between the regulatory cracks simply because they live in certain neighborhoods or have certain income levels. My amendment looks to address this problem by requiring implementation of the EPA's Coal Ash Rule to be consistent with Executive Order No. 12898. The EO was issued by President Clinton and its purpose was to focus federal attention on the environmental and public health effects federal actions have on minority and low-income communities. With my amendment, the EPA and states would have to consider the impact implementation of the new coal ash rules will have on these often forgotten communities.
My amendment would have an immediate impact on communities in Georgia and throughout the south. More coal ash is expected to be dumped in the state of Georgia. In Jessup, Georgia, a landfill has agreed to accept over 10,000 tons of coal ash per day. Northeast of Atlanta, Duke Energy is moving their coal ash from North Carolina to a landfill in Banks County.
Elsewhere in the state, communities have been exposed to contaminated drinking water by existing coal ash facilitates. Researchers have found high levels of arsenic and selenium at various coal ash sites. Last month chemicals were found in the groundwater at three Georgia coal-fired power plant sites. Georgia Power found arsenic at plants near Rome and on the Savannah River, and it found beryllium and selenium at a plant near Newnan.
As we saw in Flint, we need to act at the federal level before our failure to do so results in irreversible damage to the health and environment of the communities we represent. I do not want American families, regardless of income level, to be unfairly and unreasonably exposed to toxic chemicals.
Rep. Johnson's amendment passed the Rules Committee and will receive 10 minutes of debate on the House floor today. Johnson is a member of the House Armed Services and Judiciary Committees and is Ranking Member of the Judiciary Subcommittee on Regulatory Reform, Commercial and Antitrust Law (RRCAL), which exercises jurisdiction over antitrust laws and competition.
Popular in the Community