The Bronx Zoo's Tiger Mountain exhibit is a family favorite, with kids and adults alike flocking to see the magnificent big cats. Two Malayan tiger cubs were recently born and our colleagues here at the Zoo are committed to ensuring their healthy growth, but far too many of their cousins in the wild struggle to survive. A mere 4,000 tigers prowl a range that has collapsed by more than 90 percent in the past two centuries. As few as 250 Malayan tigers persist in their forested habitat of Southeast Asia.
International Tiger Day provides an opportunity to draw attention to the endangered status of the world's largest cat and ensure that these incredible animals do not disappear. When the conservation community initiated this commemorative day in 2010, it hoped to cast a light on a species moving toward extinction at a frightening pace. A focus on protecting and expanding tiger populations has helped tigers to make modest gains but much more work needs to be done.
The biggest threat tigers face remains the oldest: people. Tigers are endangered by loss of habitat stemming from human expansion, the hunting of their prey species, and from poaching for pelts and body parts believed by some to have medicinal properties despite the lack of any scientific evidence. Every single organ of a tiger is being sold on the black market today, often at sky-high prices. Tiger skins are sold most often as a décor item to display wealth.
Climate change has also become a threat to tigers, with rising sea levels completely wiping out coastal forests in parts of Bangladesh. With the loss of habitat and prey, there are growing attacks on domestic livestock. All too frequently, such attacks are met with retaliatory tiger killings.
While humans carry much blame for the decline of tigers, it is not too late for us to play a larger role in bringing the species back from the brink.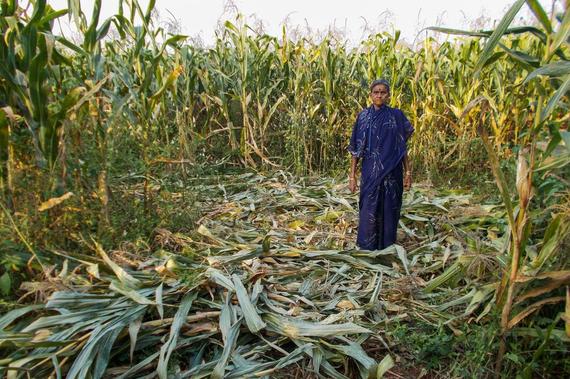 WildSeve, a new mobile technology initiative developed with the help of WCS to address human-wildlife conflicts, has been implemented in 284 villages in India. Photo: Krithi Karanth/WCS.
Recently the WCS India program helped to launch a toll free service for local farmers to call to report an attack on livestock. Within minutes responders arrive to take down details of the incident and file for compensation for their losses. In just one year, the program has helped file claims in 148 cases of livestock predation by big cats and wild dogs.
.
Today, WCS invests in tiger research and conservation, conducting 75 percent of peer-reviewed published tiger research and managing conservation sites in 8 of the 11 remaining tiger range countries in Asia. To complement this on-the-ground work, we need to mobilize the public to ensure that U.S. conservation policy and funding can best protect these majestic cats.
First, Congress must direct ample funding for the U.S. Agency for International Development (USAID) Biodiversity program, the Global Environment Facility, and the combatting wildlife trafficking directive funded through the US State Department and USAID. All of those agencies support many conservation projects that benefit tigers and their habitat while reducing poaching.
The Multinational Species Conservation Funds Reauthorization Act of 2015 includes the Rhinoceros and Tiger Conservation Act of 1994, which supports on-the-ground tiger research and conservation. Congress should also pass the Eliminate, Neutralize, and Disrupt (END) Wildlife Trafficking Act, which will strengthen U.S. laws to target wildlife traffickers and help wildlife rangers who protect tigers.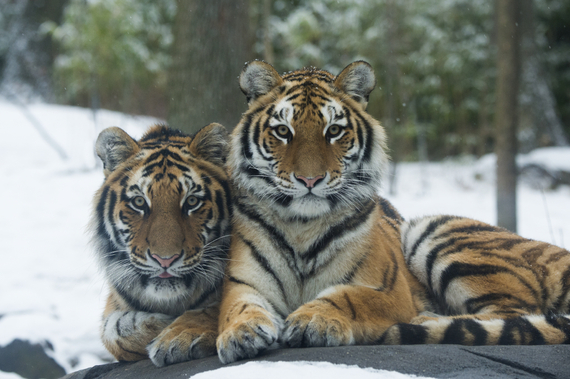 Two Amur (Siberian) tigers at the Bronx Zoo's Tiger Mountain. Roughly 450 Amur tigers survive in the wild today in the Russian Far East and Northeast China. Photo: Julie Larsen Maher/WCS.
Finally, Congress should reauthorize the Save Vanishing Species stamp, also known as the Tiger Stamp. Proceeds from the sale of this postage stamp go directly to conserve tigers and other endangered species through the U.S. Fish and Wildlife Service. These are easy but important steps that Congress could take that would have immediate impacts on tiger conservation efforts.
On International Tiger Day, let us refocus our attention and energy towards protecting this amazing species. While zoos play an important role educating millions of people about these majestic animals, in the end all of us need to get involved to make sure they do not disappear forever in the wild. Take today to remind your senators and representatives that the world cares for tigers, and that it is our duty to protect them. Today is the day to ensure tigers can thrive in the wild for generations to come.
Related
Popular in the Community