I'm looking forward to the next play on offer at the Marin Theatre Company, in Mill Valley, but after the events of the past few months, I'm glad it doesn't open until next month. It's the West Coast premiere of Native Son, by Nambi E. Kelley, adapted from Richard Wright's justly famed 1940 novel. MTC's work is always so good, I'm sure the Chicago-set play, which conveys the social inevitability behind a horrific crime, will be well worth seeing. But like many people around here, I think, I need something gentle, sweet spirited, and charming right now. I need to laugh!
Miss Bennet: Christmas at Pemberley is just the ticket. Critics and playgoers will call it "a holiday delight," and they'll be right, but it's far more than a seasonal bonbon. Beyond its wonderful wit and humor, clever characterizations, and almost farcical comings and goings, the play delves into questions of freedom, duty, and happiness so deftly, you almost don't notice how thoughtful it is.
If you know your Jane Austin, you're already aware that the play revisits our beloved Pride and Prejudice. It's set about two years after Lizzy Bennet has married Mr. Darcy and come to live on his grand estate. There for the holiday are her elder sister, Jane, and Mr. Bingley, awaiting their first child; Lydia Wickham, one of the two flibbertigibbet younger sisters; and Mary, the overlooked middle daughter. Darcy is the first to notice how observant, articulate, and witty Mary has become. The woman is stuck at home with her parents, with little to occupy her but her books and her pianoforte, and even her playing has become impressive...and expressive.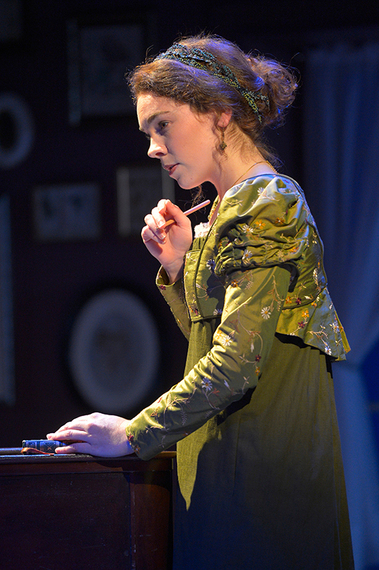 One who quickly does appreciate Mary is Darcy's cousin Arthur de Bourgh, nephew of the novel's odious Lady Catherine, who is Mary's equal in bookishness but far more awkward socially. Adam Magill is terrifically shy and bumbling, especially in the scenes where the late Lady Catherine's daughter, Anne, arrives at Pemberley and announces, to his surprise and Mary's extreme disappointment, that they're engaged. The scenes in which Lydia (Erika Rankin) and Anne (Laura Odeh) pursue him are hilarious. With Martha Brigham as Mary, they are at the top of a topnotch cast, which includes Cindy Im as Lizzy, Lauren Spencer as Jane, Joseph Patrick O'Malley as Darcy, and Thomas Gorrebeeck as Bingley.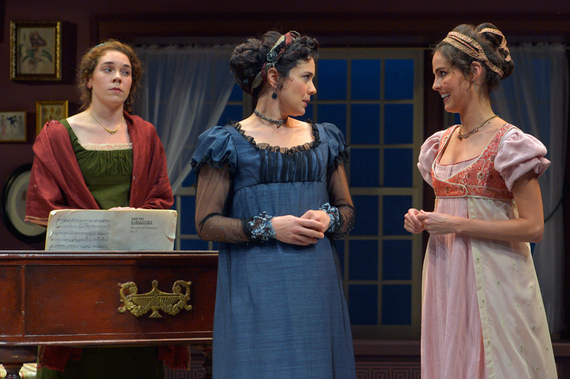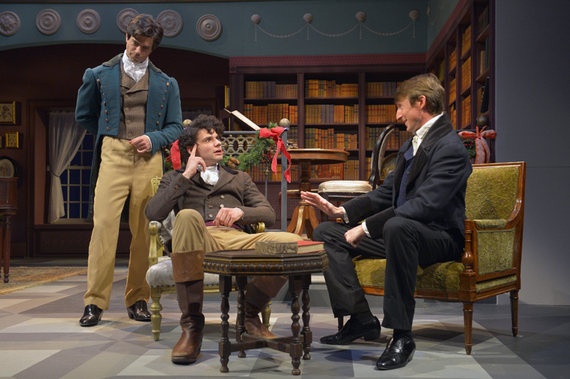 And the way the play deals with the serious questions at its core is exhilarating. As the only male heir, Arthur, not Anne, has inherited Lady Catherine's estate. The obvious solution to that problem is for them to marry; personal happiness is beside the point. As the play reminds us, Longbourn, the Bennet home, is similarly entailed to a male cousin; when her parents die, Mary will have to depart as well.
The novel doesn't spend any time on the situation, but it is a terrible one, as the spirited Mary makes clear. The scene in which she reminds Arthur that he has choices, that he has the freedom a woman lacks--that he, unlike her, can shape his own life--is thrilling. When Arthur takes a stand at last, you want to cheer.
Another excellent thing about the play--by Lauren Gunderson and Margot Melcon, beautifully directed by Meredith McDonough--is that all the sisters come into their own; there's more to each of them now. It's Lydia, of all people, finally looking beyond herself and no longer pretending to be happy, who suggests a different future to Anne.
The other night, my friend and I sat behind longtime Bay Area actors Joy and Nancy Carlin and discussed the play with them a bit at intermission. When the lights came up at the end, they turned around with tears in their eyes. "We got a little verklempt," Joy said. We all laughed a lot, too. What more could you want at Christmas, especially now?
Through Dec. 23, Marin Theatre Company, 397 Miller Ave., Mill Valley, 415.388.5208, marintheatre.org.
Photographs by Kevin Berne. From top: Martha Brigham as Mary Bennet; Brigham with Laura Odeh as Anne de Bourgh (center) and Erika Rankin as Lydia Bennet; (from left) Thomas Gorrebeeck as Bingley, Adam Magill as Arthur de Bourgh, and Joseph Patrick O'Malley as Darcy.
Related
Popular in the Community