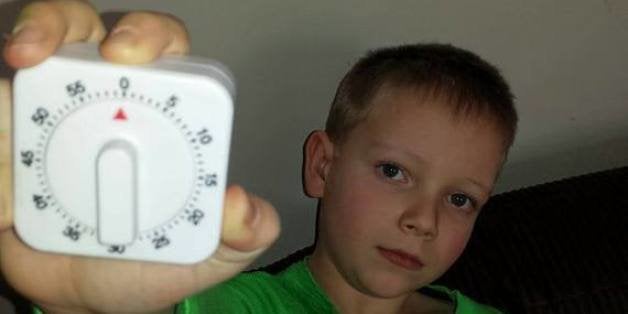 "What the hell is that ticking??"
Of all the cringe-inducing, brow-furrowing, and anxiety-producing things my children play with, the timer is by far the worst. No drum set or obnoxious singing Elmo can possibly compete with the havoc this contraption has wreaked on my addled, fatherly mind. Nevermind the fact that when I first heard it, I thought I was having some sort of episode. But seriously, who the heck gives a timer to kids with a father who is a chronic over-thinker and incessant worrier??
I mean, c'mon. I can't think of a more heavy-handed metaphor in the world than the ticking clock of parenting. From the minute our children are born, we're literally on the clock. At first we time them to see when they utter their first words and take their first steps. Then, when they complete these things at warp speed, we suddenly FREAK OUT and desperately wonder where all the time went as we drop them off at kindergarten, watch them go on a first date, and eventually drop them off at their college dorms.
Parents are in a mortal battle and locked in an eternal death match with time. Except the only way we survive it on a daily basis without losing our damn minds is by keeping it on the back burner and putting it out of sight and out of mind for brief periods of time.
That becomes a bit more difficult when you're suddenly surrounded by constant ticking and a jolting "BRRRRIIIIIIIINNNNNNGGGGGGGG!" every few moments.
Oh yeah, that's right. It's not like this is a modern timer with a palatable little beep when the clock strikes zero. No, no, no. This is one of those old-school timers with a little hammer that vibrates between two metal bells. It reminds me of the sound my grandmother's old rotary phone made whenever she received a call. It's loud. It's harsh. It can't be ignored.
"Dad, how much longer do you have to work?"
I tell him five minutes. I always tell him five minutes. And by all things I hold holy I try to get everything done in five minutes. But even if it takes a little longer, I can generally get away with it, because kids lose interest and time is super relative to them. So I squeeze in one more email. One more status update on Facebook. One more tweet. One more --
BBBBRRRRIIIIIIIIIINNNNNNNNGGGGGGGG!!!!!
Five minutes. On the dot. Followed by raised eyebrows and an expectant glare, thanks to his newfound ability to tell time down to the nanosecond. Crap. I just have one more thing to do. Just a couple more minutes, bud?
I type a little faster now, trying to finish up. Oh damn, someone left a nasty comment on my Facebook page. What a jerk! I have the absolute perfect response, though, and there's no way I'm letting this a-hole get away with this crap. Not on my watch. I'm just going to rip this guy a new one by telling him --
BBBBRRRRIIIIIIIIIINNNNNNNNGGGGGGGG!!!!!
Now the anxiety really sets in. I'm on the clock. I'm on the clock when I'm at work trying to earn money so my family can survive and thrive. I'm on the clock for my freelance gigs and sponsored content, all with deadlines ticking down.
But most importantly, I'm on THE clock. The parenting clock. The only clock that seems to run at a different rate. The only clock that never stops. Yet it's the clock I push to the side the most. Kids are people, and when you're dealing with them -- your loved ones -- you're just hoping for some give. A little human leeway. And they do give, a little at a time. Repeatedly.
Until a sudden and harsh alarm bell lets you know exactly where your priorities should be. Maybe Super Dads don't need such a reminder, but my cape is at the dry cleaner's. And just like that, the timer is more blessing than curse. A loud, annoying, perfectly necessary blessing.
Because my biggest fear isn't that time is passing too quickly. It's that I'm not spending what little time I have wisely enough.
BBBBRRRRIIIIIIIIIINNNNNNNNGGGGGGGG!!!!!