The Toast, a website that, for culturally minded feminists who appreciate a good snort-laugh, always seemed too good to be true, is leaving us at last. On Friday, May 13, in a conversation posted as an article to the site, the site's co-founders, Mallory Ortberg and Nicole Cliffe, announced that their labor of love would be shuttering for good on July 1 of this year.
There were warning signs, of course. Ortberg, whose droll humor drove the site's rise to popularity, took on a demanding new gig as Slate's advice columnist, Dear Prudence, late last year. Cliffe, who's been occupied with other writing side-work of her own, has been frank on Twitter about the financial challenges of sustaining a site like The Toast without relying on generous patronage.
(Cliffe tweeted this, of course, after Grantland was shuttered by its parent company, ESPN.)
A vertical helmed by Roxane Gay, The Butter, was put on ice in August 2015 after a year; Gay said she was "simply stretched [ed: or, ahem, spread] too thin." Earlier that summer, Cliffe and Ortberg had very consciously uncoupled The Toast from their publisher of two and a half years, Nicholas Pavich, who had been something of a lightning rod later in his tenure for publicly dismissing complaints from contributors about tough clauses in the site's contract language.
Most ominous of all, perhaps, was just how good The Toast was at what it did. Too good, if that's possible, to be done in perpetuity. The site's key recurring features captured readers' hearts and minds by brutally skewering the entire Western canon -- its languid portrait art, its tortured male protagonists and fragile romantic heroines -- with a piecemeal approach that felt like a daily necessity and yet, somehow, necessarily finite.
If you have loved The Toast, like my friends and I have loved it, chances are you fell for it because someone sent you a link to a hilarious and allusive article that made them think of you. Ortberg specialized in hysterical listicles that satirized niches of classic literature, like "Every Irish Novel" ("The Landlord Pays A Visit But Does Not Sit Down"; "Everyone Starts Talking About The Wallpaper") and "How to Tell You're in a Charles Dickens Novel" ("Your father and mother have died at least once in the last year"; "A coachman treats you saucily"). If you're a Jane Austen fan, there was a spot-on "How to Tell You're in a Jane Austen Novel" for you, of course, but also if you obsessed over Muriel Spark or Thomas Hardy or Dashiell Hammett or are always willing to spout off on the superiority of Russian novels over all others.
It's not that this was the first time the male gaze was turned smartly on its head, or that the lovely female objects of classic art were given inner lives by contemporary writers, but that the series was so sweeping and distinctively voiced that it was difficult to read one of Ortberg's art history posts and ever again look at a painting of a dead-eyed beauty without sensing the woman's annoyance at being held captive by the desires of the men around her. Here she is, pretending to be interested; here she is, pretending to enjoy being kissed, suddenly it kind of seems shocking how little male artists have cared to notice, all this time, that their female subjects seemed at best, bored, and at worst, actively irritated, with being nothing more than a prop.
The Toast's art and literary satire was the very best kind: It changed, perhaps forever, the way many of us look at the artistic conventions and tropes that before we'd taken for granted. It didn't just make us laugh, it gave words to the niggling discomfort we felt with gendered and other inequities baked into so much of the art and literature we've consumed all our lives.
The writing process wasn't like that of most sites that are built for publishing new content forever, however. As Ortberg told The Wire in 2014, "Writing about literature ... I did all my news getting in high school and college, and now I'm slowly vomiting it back into the world." I remember reading that and feeling vaguely nervous; obviously at some point, the stomach is bound to wind up empty. That's how vomit usually works.
Of course, on the other hand, The Toast wasn't just art history and "Every ___ Novel." It was a vibrant community of funny, passionate, smart, thoughtful (mostly) women who loved culture and feminism and pushing the boundaries of what good Internet writing could look like. Aside from Ortberg and Cliffe, there were a handful of staffers, like Nicole Chung and Jaya Saxena, and many contributors. The Toasty snark could be and was turned to more timely topics, like the technology horror porn show "Black Mirror" ("what if phones, but too much"), or the discovery of Emma Watson's name in the Panama Papers, or a series featuring fever dreams like "If Tom Hardy Were Your Boyfriend." If the site could continue forever, giving us these exquisite gifts, who would complain?
But as Ortberg and Cliffe made clear in their announcement Friday, their decision has been made, and though on July 1 The Toast will cease to publish new content, the incredible work they've done will live on. In the relatively short time the site will have been part of the new mediascape, they've done more to shake it up than many bigger and longer-lasting players. The strength of the gut punch The Toast directed at the Western artistic canon's long-complacent white, heteronormative, patriarchal paradigm didn't need to be any more protracted to be powerful -- and fucking hilarious.
CORRECTION: An earlier version of this story indicated that Jazmine Hughes formerly worked at The Toast. The post has been updated to reflect that Hughes has never been on staff at the website.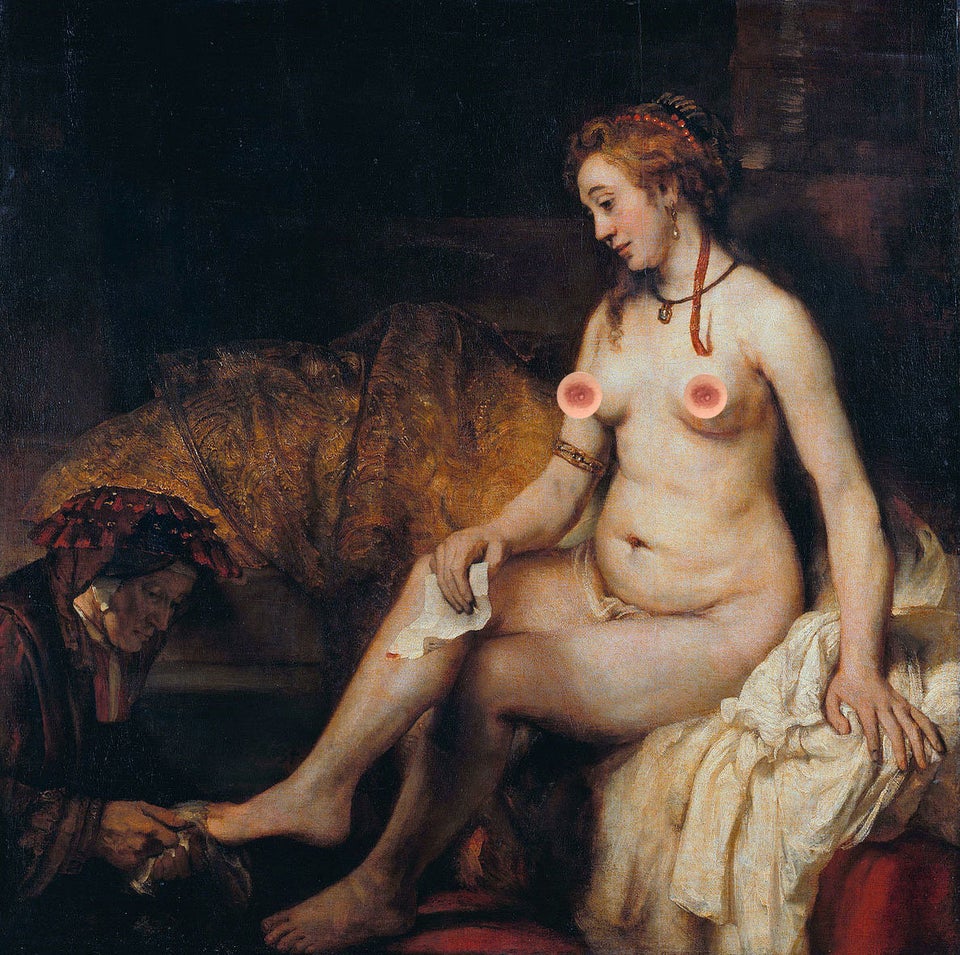 Art History With Male Nipples
Popular in the Community