Bill Carter of The New York Times reports that NBC has "quietly" been building "Late Night" host Jimmy Fallon a new studio in 30 Rockefeller Center in Manhattan for his expected move to "The Tonight Show" at 11:35. The news comes as "Tonight Show" host Jay Leno made headlines over the last week for making jokes in his monologue at the expense of the ratings-challenged NBC, reportedly upsetting NBC chairman Robert Greenblatt.
The report is the clearest signal yet that NBC plans to oust current "Tonight" host Leno in favor of the younger-skewing Fallon in the near future. Although the network has summarily dismissed all rumors citing as such, unnamed executives told Carter that the transition will occur "by the fall of 2014 at the latest."
They also confirmed that they are indeed building a new studio for Fallon, who currently occupies the studio in 30 Rock where Johnny Carson once hosted "The Tonight Show" before moving the show to Los Angeles, where it has called home since 1974.
GQ also published an profile on Fallon Wednesday morning in which "Late Night" executive producer Lorne Michaels said that he was not "allowed -- yet" to spill the details of NBC's transition plan, but strongly hinted that a plan is in place.
NBC is presented with similar obstacles that they faced in 2009, when they first attempted a "Tonight Show" host transition. In 2004, they made the decision to turn the show over to Conan O'Brien, then the host of "Late Night," in an attempt to keep O'Brien at the network. They even built O'Brien a brand-new studio in Los Angeles for his "Tonight Show." (The studio is now occupied by "Chelsea Lately.")
But by 2009, when it came time to turn over the show, Leno was still number one in both ratings and his demographic, and NBC gave him the primetime "Jay Leno Show" to keep him from going to another network. When both shows got less-than-desirable ratings, NBC wanted to give Leno a half hour at 11:35 with O'Brien's "Tonight Show" following. O'Brien balked, and Leno was given his old "Tonight Show" job back. O'Brien now hosts a late night show on TBS, "Conan."
Leno has remained number one since, hence the jokes at the expense of NBC, which he likely feels is unfairly pushing him out of a job at which he has been consistently successful. On Wednesday's episode of "The Tonight Show," he continued his barrage against NBC executives, joking that since scientists could reanimate extinct species, "there's hope yet for NBC." (See the video above for Leno's latest joke about NBC.)
One big change has occurred since 2010, when NBC was left badly scarred due to the perception that they badly mishandled the Leno/O'Brien transition. ABC's "Jimmy Kimmel Live!" has since moved from midnight to 11:35, putting it in direct competition with "The Tonight Show" and "Late Show with David Letterman," the other big late night program. Kimmel has been surprisingly competitive in the time slot, and many believe NBC's wisest move would be to pit Fallon against Kimmel rather than the older-skewing Leno.
Kimmel's move to 11:35 also likely eliminates the option of Leno (or Fallon) moving to that time slot on ABC. The one network without a late night show is Fox, who declined to sign O'Brien in 2010 due to hesitance from affiliates who see large ratings from syndicated reruns during that hour.
"The Tonight Show" has a long history of public battles over host transitions. In 1992, then-"Late Night" host Letterman was widely expected to take over for longtime host Johnny Carson, but was passed over in favor of Leno. A messy PR battle ensued, ending with Letterman leaving the network for CBS.
For his part, Fallon has remained coy about his intentions to host "The Tonight Show." In June of 2012, he told Piers Morgan that "The Tonight Show" was no "holy grail" for him. At the most recent Emmy ceremony, he and Leno presented an award with a comedy bit about "moving out of the way."
Of course, the luck factor for Fallon comes into play. He told GQ, "It would be great, sure, I guess. I'd love it, but it's not on my mind. I'm in no rush to do anything." And that has been his public stance since 2010, when he quipped, "If there's one thing I've learned from Dave and Conan, it's that hosting this show is a one-way ticket to not hosting the 'Tonight Show.'"
UPDATE: This post has been updated to provide reference of Leno's attacks on NBC, and to mention GQ's profile of Fallon, which was published prior to the Times piece.
Before You Go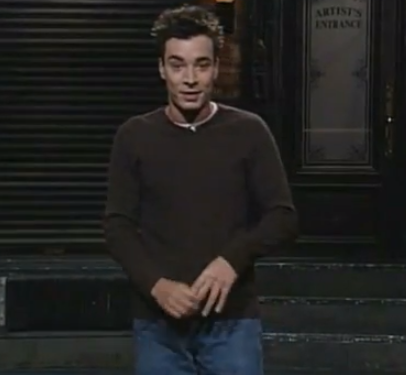 Jimmy Fallon Through The Years
Popular in the Community