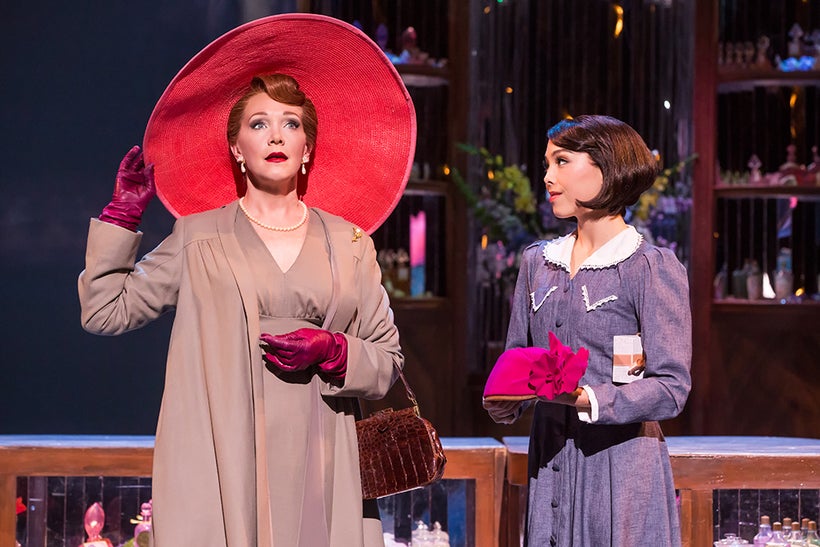 Inspired by the Academy Award winning film of the same name, An American in Paris is a romantic tale about an American soldier and a mysterious French girl in the midst of everyone in Paris recollecting themselves after the war. With the Tony Award winning direction and choreography of Christopher Wheeldon, along with the music and lyrics of George Gershwin and Ira Gershwin, and a book by Craig Lucas, An American in Paris shows even after darkness, the light can shine again.
How did the opportunity come up for you to be a part of An American in Paris?
The funny thing is I was at the Kennedy Center in Washington doing The Sound of Music. We were about to finish our tour. We had a week left. On that Friday, my agent emailed me and she said, "They want to see you for Madame Baurel in the tour of An American in Paris". I had not seen the show, of course, because I had been working when it was on Broadway and I said, "sounds great!" I went into a rehearsal room, did the audition on my iPhone, as you do these days, sent it to them, and I booked the job.
You play Madame Baurel in An American in Paris. How did you prepare for this role?
Well, I lived the life of the Parisian woman. In truth, I've been preparing for this role for my whole life. I always say and its even on my Facebook page, "New York is my husband, Paris is my lover." I love Paris. I've always loved Paris. I received a scholarship to study French at the Alliance Française in Paris when I was an undergraduate. I have, of course, sung in France, lived in France, worked in France, and go back as often as I can. My husband and I were just there in May, so who knew that I would go from Austria to Paris? Such a short trip from The Sound of Music to An American in Paris, but I couldn't be more delighted. So, you know Madame Baurel is a very fabulous and fashionable French woman so I feel like I've been training for this my whole life.
What are some of your favorite things to do while in Paris?
First and foremost, I always smoke when I'm in Paris because that's what Parisian do. I have a cigarette case and I always get Nat Sherman Classic Blues. I put them in my cigarette case. My favorite thing to do in Paris, it's how I start the day and how I end the day, is going into a café and watching people. You just sit outside and take it all in. The people. The fashion. The language. The smells. The architecture. The way people dress. It's just as unique as any culture that I've ever seen. It's certainly one of the most intriguing and beautiful cities.
How do you describe Paris in your own way?
It's called "The City of Light". For me, Paris is romance. That is it. Paris is definitively everything that is romantic. You think of Casablanca. The wine. The food. The music. The art. The Eiffel Tower. It's all romance.
They call Detroit the "Paris of the West". Being from Detroit, do you see any similarities?
Being from Michigan and a suburb of Detroit, I don't know how I could answer anything but "yes" (laughs). Of course, all wonderful cities border a river or a body of water. Do we dare compare the Polish Village or Greektown with Le Grand Colbert? I don't know! Michigan is my home. Detroit is my heart. In that way, it is similar for me.
Is there anything about your role as Madame Baurel that resembles your own self?
She is probably the most diametrically opposed character to me that I have ever played, which for an actor is a wonderful challenge. She is incredibly austere. She is incredibly controlling. However, the reason she behaves in this manner is for good reasons, which makes her a forgivable and sympathetic character. This is a woman who was born in 1900 from a teenager during World War I, which Paris suffered. Then, got married and had a child, and raised that child only to be thrown once again into a World War. Of course, World War II, Paris was under the Nazi occupation from 1940 to 1944. So, four years of rationing, four years of martial law, four years of no jazz, four years of attempted stripping away by the Nazis of all things that were definitively Parisian, and to be replaced by all things that were the Third Reich. Thank God that was unsuccessful. They took 13,000 Jews and exported them from Paris, the city itself, to Auschwitz, so this was a woman who was resilient. That is a quality that she and I share. No doubt. She is a resilient woman and even though she has a crusty exterior. One of the greatest challenges for me playing this role was not smiling because she has been put into a straightjacket. She shows no emotion. She shows no joy. As a matter of fact, I have a line in the show where I say "I'm beside myself with joy" and it is literally monotone. It gets a laugh every night. For me, I feel that I am someone that smiles and laughs easily and has joy brimming over. She is completely contained. She is concerned with everyone. She feels responsible for getting it all together. In this endeavor, she realizes that she has lost herself in this stripping away of Paris over the last four years. One of the beautiful aspects of this wonderful Tony Award winning show by Christopher Wheeldon, directed and choreographed, is the journey of all of these characters. Not only the human characters, but Paris as a character herself and the re-illumination, re-ignition of light, of love, of everything. It's funny because in the very first scene, the power goes out. They bring out a bicycle and pump the bicycle in order to get the generator going to get the lights back on. Essentially, that's a metaphor for this show. Paris is in the dark at the beginning of this beautiful show, which many people associate it with the film, and through the efforts of the people of Parisians, of the Americans in Paris, Paris regains her status as "The City of Light". Of course, we have people that are falling in love along the way. They are falling in love. Its not only their journey, it's the journey of Paris herself. When you pair that with the music of George Gershwin and the lyrics of Ira Gershwin, you have a winning combination.
What it is about An American in Paris that still taps into today's society?
I think any time you are dealing with live theater, you have audiences coming to the theater trying to forget about the cares and the worries of the everyday. You have the opportunity to take them away from that. When you have a show like An American in Paris, which is so inspiring, about people overcoming obstacles, about people finding love, about people finding themselves, about people discovering a journey back to joy, and about a journey back into the light, that is going to inspire an audience. Of course, when you have this incredible music and the incredible Tony Award winning choreography, it lifts people right up out of their seats and they have come with us on this journey and forget about the day to day.
While in Detroit, the touring cast of An American in Paris will be performing at the Detroit Concert For A Cure show benefit for Broadway Cares/Equity Fights AIDS on Monday, December 4th at The Loving Touch in Ferndale, MI (flyer below). Tickets are $25 at the door. For more information and to purchase tickets, please visit thelovingtouchferndale.com.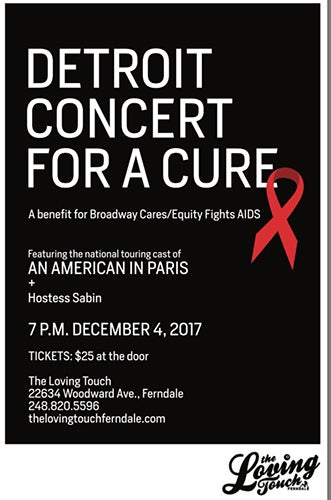 Calling all HuffPost superfans!
Sign up for membership to become a founding member and help shape HuffPost's next chapter
This post was published on the now-closed HuffPost Contributor platform. Contributors control their own work and posted freely to our site. If you need to flag this entry as abusive,
send us an email
.