When a person is treated for a sexually transmitted disease, but their partner remains infected, the dangers associated with infections like chlamydia and gonorrhea still remain present.
By only testing and treating one partner, we miss an opportunity to prevent new infections. And with an estimated 20 million new infections in the U.S. each year, we need new strategies for rooting out these costly and potentially devastating infections.
When I wrote recently about the severe burden of STDs among young people (who represent the majority of those infected), I stressed the importance of testing and treatment. But that is not always enough, even when a patient is cured.
Reinfection, particularly with chlamydia and gonorrhea, is a serious problem. As many as one in four young women treated for chlamydia becomes infected again within a year. This is usually because her partner is also infected, but doesn't receive treatment himself. Thus the cycle of reinfection continues.
Women with recurrences of chlamydia are at increased risk of potentially heartbreaking consequences, including pelvic inflammatory disease and infertility. Fortunately, doctors have a powerful strategy to prevent reinfection -- but we're not yet making the most of it.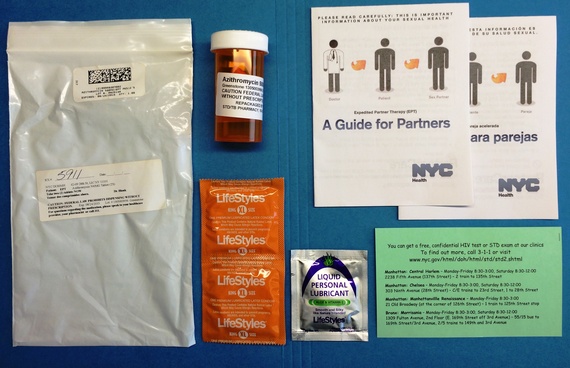 Improving Policy, Empowering Patients
The strategy is Expedited Partner Therapy, or EPT. Doctors can treat a patient with chlamydia or gonorrhea and provide a medication or a prescription for their patient's partners as well. By preventing potential reinfection, EPT can help stop these infections in their tracks.
As a doctor, I can relate to their reluctance to employ this strategy. We rarely provide treatment without the opportunity to examine a patient in person. But, in reality, that's not always possible -- for example, some patients make it clear their partners aren't going to seek out testing and treatment. About half of the partners of those diagnosed with an STD do not come to a clinic for testing. In these cases, EPT is essential.
Provider caution is not the only reason we don't see more use of EPT. Some medical boards don't clearly endorse or address the practice, and it's not covered by all insurance plans. This, despite the fact that EPT can prevent serious health consequences. How do we overcome these barriers to ensure more doctors consider EPT and more of their patients can be offered this important prevention strategy for a person's health and well-being?
Some states have made great strides in making EPT available, but more can be done:
• The medical community, including the state medical, nursing and pharmacy boards that oversee the activities of licensed health care professionals, should endorse EPT and provide physicians with guidance on how to implement it.
• State and local policymakers can assess the status of EPT in their state and identify any barriers to its use. Here CDC can help: we have developed resources to help states in evaluating the EPT legal environment, and to assist in addressing non-legal barriers to its full implementation.
• And finally, patients who have been diagnosed with gonorrhea or chlamydia can ask their doctor if EPT is an option for them.
EPT works because treatment for chlamydia and gonorrhea consists of a single dose of antibiotics -- the type of which rarely produce allergic reactions -- making it cheap and easy for partners to get treated. And as was recently highlighted by the New York Times, EPT spares partners the inconvenience and potential embarrassment of being examined.
With so many Americans at risk for sexually transmitted infections, we need to make sure these benefits are fully realized. Diagnosis remains critical, but EPT takes it a step further, stopping reinfection and thus preventing the further spread of STDs and their costly health complications. We can't afford to keep this simple, effective strategy on the sidelines.
Related
Popular in the Community