In 2013, I began giving a seed grant every single day of the year to a social change visionary with a practical plan to make their community and the world a better place. Now more than 30 people have joined me by giving $1 or more a day to inspiring projects led by extraordinary individuals over the world. Please join us as a daily giver, or simply create your own giving practice. It will change your life!
Here are the extraordinary people and projects that we are honored to support this week.
Queer Activist Comedy in Oakland, CA. Manish Vaidya wants to bring more laughter into activism. Manish's project, Brouhaha: A Queer and Trans People of Color Activist-Comedy Corps, trains activists as stand-up comedians through the all-volunteer organization Peacock Rebellion. The comedian-activists will debut their acts during performances in San Francisco and distribute clips of their comedy pieces. Because many people would not attend a march, rally or political event, but would attend a comedy show, this project has the potential to reach new audiences with powerful messages about peace, connection, and ending racism, sexual violence and homophobia.
Yes, we are in difficult times, but we need more laughter, more healing, more heart-connection in our social change messages. -Manish Vaidya, Founder of The Peacock Rebellion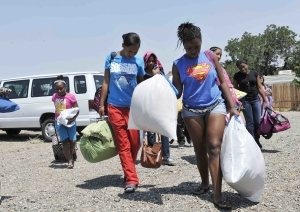 Mothers & Daughters in Los Angeles, CA. Activist Valerie Goodloe's program, W.I.N. Life Plan, seeks to rebuild the relationship between mothers and daughters. The Los Angeles-based program sprung from Valerie's own experience of working to save her daughter, who had joined a gang, and rebuild their family life. A photojournalist, Valerie produced a film about the experience, which has been screened across the country. The program's parent organization, Women In Need of Discovering Own Worth, or W.I.N.D.O.W., aims to support programs that benefit women and girls. "The mother and daughter relationship is a challenge even in the healthiest of homes," Valerie said. "It is, and can be one of the most fruitful and rewarding friendships, but if damaged or broken down, it can be one of the most destructive. We hope to reset the negative patterns that have been established and use the unique qualities and dynamics innately built in to the mother daughter bond to build a bridge to recovery."
Women and Recovery in Huntington, WV. Eight years after overcoming her own struggles with addiction, Margaret VanZandt co-founded HER Place, a non-profit organization dedicated to fostering hope, providing education and supporting recovery for women suffering from addiction to alcohol and drugs. Based in Huntington, West Virigina, HER Place is there to reach out with a compassionate hand to, as Margaret says, the "most vulnerable, stigmatized, and at-risk families in our community: those headed by single women who suffer from chronic substance abuse issues." HER Place's aim is to promote long term health and recovery through peer support and life-skills education. "An integral part of our life skills education program," says Margaret, "is Whole Health Action Management (WHAM), a holistic program for self-management and improvement of physical, mental, and spiritual health."
Puppetry & Imagination in Bloomington, IL.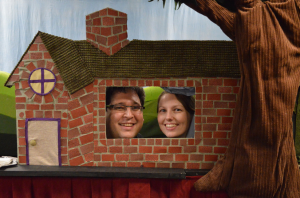 Samantha Anne Maggio and Michael Vetere, III have long known the power of dramatic storytelling, and the magic of theater and puppetry for children. Together in 2013, they started Suspended Belief Theatre, a unique puppet-based theater company with the goal of furthering children's imaginations, social growth, and independent and critical thinking. Their premier production of Out on Our Own... The Story of the Three Little Pigs: A Puppet Show was written to challenge the familiar children's story, and to "educate young children on the value of hard work, dedication and commitment to learning." As Samantha says, "We value these traits as components for a foundation of community, social awareness, and actively compassionate citizenship."
Voices of Indigenous Youth in Guatemala. Donna began working with youth while at the University of Pennsylvania, noting that technology empowered middle school students to take learning into their own hands, allowing them to make their knowledge and culture visible. Inspired by the how technology can be used to empower people, Donna founded Unlocking Silent Histories, a grassroots non-profit organization that works with indigenous youth around the world. "Many indigenous communities have been taught to keep their histories silent and therefore have been reluctant to express themselves for fear of criticism," Donna says. "Furthermore, in today's technological world, the voices of indigenous people continue to be absent from the escalating digital landscape." Unlocking Silent Histories helps youth strengthen their voices and identities through the creation of their own documentaries.
Filling Young Bellies in Dade City, FL.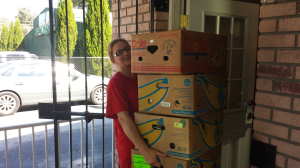 Calvin Dickinson and his volunteer- based organization The Thomas Promise are helping to fill the bellies of Florida's young learners and enrich their lives. Most of the students Calvin serves live far below the poverty line, with many not getting a good meal when they are out of school. To combat this problem, The Thomas Promise sends backpacks full of food home with students on weekends and holidays to keep young learners nourished. They give away about 400 backpacks of food each week.
Bringing Awareness to Circus Cruelty, all over the US. Carrie LeBlanc and Adam Sugalski are the founders of CircusProtest.com, a group that gives voice to the abused and enslaved animals used by the circus.  Originally funded to launch CircusProtest.com in early 2013, we gave Adam and Carrie this second grant to take their work to the next level. They are now looking to support activists in rural communities with an expansion of their virtual resources.
The unnecessary suffering of any being is unjust and impacts the well-being of every animal (both human and non-human) on this planet. We seek to correct the imbalance created in this world by the imprisonment and enslavement of animals ripped from their habitats and their families in order to serve as menial entertainment for humans. - Carrie LeBlanc, Co-Founder of Circus Protest.com
Congratulations to our grantees this week for their outstanding work to bring justice, peace, health and compassion to their communities. These are just a few examples of what a little seed money can do when put in the hands of someone with a vision and a plan to change the world.
For even more inspiration, watch our 90 second video about the power of small grants.
Calling all HuffPost superfans!
Sign up for membership to become a founding member and help shape HuffPost's next chapter