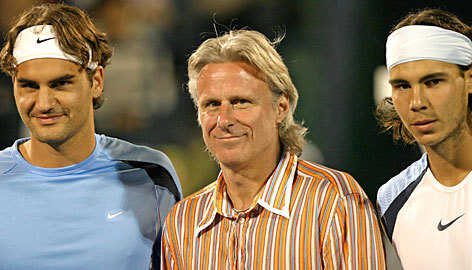 I want to write today about the topic that definitely interests tennis fans above all others. What am I talking about is of course the GOAT debate! I don't want to write today about the one player at the top though; instead I want to discuss about who I believe are the ten greatest ever. So what I will do here is to start with number one, and by the end of the article will end up at number ten. Before going further, I feel that it is useful to say that (I think) it is clear who the top five male players of all time are, but for numbers five through to ten, it is a bit more difficult to state. It is for this reason that I will be starting with number one. So without further ado, lets begin...
As already stated in a previous blog, who I regard as the GOAT male player is none other than Rafael Nadal. The reasons for this are multi-fold. For starters, he is the best of his generation, shown clearly by the fact that he has a positive record against all of the big name players around today. He has the (male) record for having the most years winning at least one Grand Slam. His overall career win percentage is up there in the absolute top echelon (along with Bjorn Borg), but mostly the dominance he shows when he is not injured is without equal. Similiar to Bjorn Borg in a way, and his early retirement, I don't feel that Nadal should be criticized for often being injured. Yes, while it is true that players like Federer, Connors and Lendl have been arguably more consistent than Rafa; he does have a few enviable consistency records, such as the aforementioned Grand Slam record. His other incredible consistency records include winning 8 Monte Carlo titles between 2005-2012, and having a 81 match clay-court win streak between 2005-2007.
The number two GOAT is (I think) Roger Federer. His records are arguably greater than Nadal's, but what puts him into the number two slot, is the fact that he has a 10-23 record against Nadal, who has been (along with Djokovic) the major competitor of Federer's throughout his career. The frequent argument given here, is that most of their matches have been on clay. But what is often overlooked is that Nadal also has a positive record against him off the clay, a 10-8 advantage for Nadal. Why I place Federer above all of the others, is very clear. He has the all-time numerical Grand Slam record with 17, he went to 23 consecutive Semi-finals, and he has (so far) contested in 25 finals. Outside of the Slams, he is third on the list of total titles, behind only Ivan Lendl and Jimmy Connors. And his record of 6 year-end championships is beyond compare.
Number three on my list has to be Rod Laver, if only for the fact that he won the true Grand Slam... twice (in 1962 and 1969). His 1962 achievement should have a caveat against it though, because most of the best players were in the professional ranks. The 1969 achievement was also in the early transitional days of professional tennis, so while it is great, it is not the same as if a player accomplished it today. Number four on the list goes to Pete Sampras, who won 14 Slams and has the record for most year-end number one finishes with 6. Perhaps history's greatest big-match closer, In his prime he was maybe more intimidating to his opponents than any other. Only against Richard Krajicek did he have a losing record (4-6). He never won the Career Slam though, and always struggled on clay. His best finish at Roland Garros was reaching a Semi-final in 1996. Rounding out the top five is Bjorn Borg, who won an incredible 6 French Opens, alongside 5 Wimbledon's. An amazing achievement considering how different the surfaces are. He never won the U.S. Open though, despite contesting the final 4 times. Perhaps he did retire too early, and probably would have won it eventually. But still, retiring at 26 with 11 Slams is nothing to sniff at.
From the moment I started writing this post, I have been completely dead-set on who should be number 6 on this list. I have always believed that this player doesn't get the credit he deserves. In the 1980s he was the undisputed dominant player. While having a losing record against Borg, it is worth considering that Borg retired early in his career. He had positive records against McEnroe, Becker and Wilander. He is none other than Ivan Lendl. He is the one who should be credited with introducing power tennis to the men's game, and the concept of off-court training. He also won 8 Grand Slams, appeared in 19 finals, and is second on the list of total titles with 94. His record of consistency was easily the best in the 1980s, and is probably better than any player through the 1990s. Similarly, number 7 on my list goes to a player who had an awesome record of consistency. He won 10 Grand Slam titles, including a record 7 U.S. Open's, 6 consecutively. When he was at his best, he was probably the most dominant player throughout history. Bill Tilden played in a genteel era though, and tennis was not followed (or played) by the masses that it is today. Overshadowed by his vices (he was gay and also attracted to underage boys) he has been largely forgotten. Nevertheless, he won 138 of 192 tournaments he played (as an amateur), his career win-record was 93.6%, and in 1920 went 78-1 (the greatest ever single season win record).
Numbers 8 through to 10 are quite hard to order, but I will give it a go. Number 8 I will give to Jimmy Connors, who spent more time at the top of the professional ranks than any other player in history. He reached his first Semi-final in 1974 (when he won the Australian Open), and his final Semi-final was reached in 1991 at the US Open. He finished within the top three in the world between 1973 and 1984, and stayed in the top 10 till 1987. There is no player in history that can match Connors for having a long tenure at the very top. His greatest record though, was winning a total of 109 titles. With the modern focus on Grand Slam count, this is a record that will never be matched or beaten. Still, for all his consistency and longevity; the records show that McEnroe, Lendl and Borg were all better players than Connors at their respective bests. His record against Borg is the best example of this. In their first 13 clashes, Connors won 8, before Borg came into his own and went on to win the next 10.
Number 9 on this list I am going to give to Pancho Gonzales, who although winning only two Grand Slams, won an incredible 15 Pro-Slams. A quote by said by Bud Collins in a 2006 article sums up Gonzalez best, what he said was, "If I had to choose someone to play for my life, it would be Pancho Gonzales." After winning the U.S. Championships in 1949, he choose to switch to the professional tour. Dieting on hamburgers and hotdogs, he was badly beaten by Jack Kramer in his first years as a pro, which caused him to become depressed and go into a brief retirement. He came back in 1954 stronger than ever though, and in the next seven years was undisputeably the greatest player in the world. During this time he smashed every top-level pro. At age 41, in 1970, he beat Rod Laver in five sets, just after Laver had won the Slam in '69.
For my final place on this list, I am going to give it to Novak Djokovic over Andre Agassi. The reason this, is because Djokovic has had certain periods of dominance in the last few years, like in 2011, and throughout 2015 so far. This is something that Agassi never really had. His best year was in 1995, when he won 89% of his matches. In the big match of the year though, at the US Open final against Sampras, he lost in four sets. In 1999, when he won 2 of the 4 Slams, he only won 82% of his matches. The other big omissions from my top ten are players like Roy Emerson, John McEnroe, and Jack Kramer. Emerson's total of 12 Slams was not beaten until Sampras won Wimbledon in 2001, but it has to be remembered that Emerson won all his Slams at a time when the best players were in the professional ranks. As for Kramer and McEnroe, they would definitely be placed in my top fifteen, but I believe that the aforementioned player's have more credentials to be included in the exclusive top ten club.
So, there you have it: That is who I believe to be the ten greatest male players of all time. What do you think? Is my ranking order correct? Have I made some big omissions from the list? It would be great to see some heated debate! Certainly, if Novak Djokovic can win this years French Open, and complete his career Grand Slam he will shoot up the rankings. Personally, if he was to do so, I would then put him at number five, in front of Borg, and just behind Sampras.
Calling all HuffPost superfans!
Sign up for membership to become a founding member and help shape HuffPost's next chapter