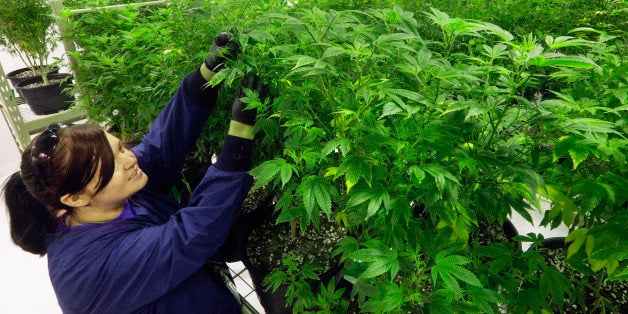 In 2015, state legislators considered bills to legalize marijuana in 21 states, decriminalize marijuana possession in 17 states, and legalize medical marijuana in 19 states.
Most of the action in 2015 was aimed at achieving substantial victories in 2016, which is slated to be the most successful year in the history of the movement to end marijuana prohibition.
With this in mind, the Marijuana Policy Project is hereby releasing its top 10 list for 2015. I'm excluding international and scientific developments, instead focusing on policy developments in the United States.
6. Marijuana Decriminalization in Illinois: The Illinois Legislature passed a bill to remove the threat of arrest and jail for marijuana possession, but Gov. Bruce Rauner (R) issued an amendatory veto requesting relatively minor changes, so a compromise bill has been introduced and will almost surely pass in the fifth-most-populous state in early 2016. Also, the state House in New Hampshire and Senate in New Mexico passed similar decriminalization measures, but the two states' other legislative bodies didn't take action.
4. Legalization Ballot Initiatives in Five States: Many people were worried that competing legalization initiatives might appear on a few states' ballots in November 2016, but this won't be the case. In Arizona, California, Maine, Massachusetts, and Nevada, it's highly likely that there will be only one legalization initiative on each statewide ballot, which means four or five of these states will legalize marijuana on the same day in less than 11 months.
3. U.S. House of Representatives: An amendment by Congressmen Tom McClintock (R-CA) and Jared Polis (D-CO) came within nine votes of temporarily ending marijuana prohibition on the federal level; specifically, their amendment would have prevented the U.S. Justice Department (DOJ) from interfering with the legalization laws in Alaska, Colorado, Oregon, and Washington, as well as the medical marijuana laws in 23 states. The U.S. House also inched closer to fixing the banking and tax laws that are plaguing the canna-business industry.
1. Presidential Candidates: All three of the major Democratic candidates for president said they support allowing states to regulate marijuana as they see fit. This was impressive, but it was even more impressive when nine of the 17 Republican candidates said the same thing, and even six of the remaining eight "bad" Republicans said something good about medical marijuana or decriminalization.
In 2015, the table was set in other ways that will lead to a healthy serving of marijuana policy reform in 2016. For example, Alaska and Colorado appear poised to allow some form of on-site consumption of marijuana in private establishments (similar to alcohol bars), which would give these two jurisdictions the two best marijuana laws in the world.
Popular in the Community