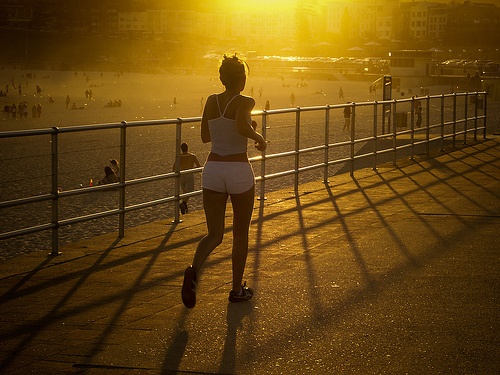 The highlight of this month's workout music round-up is the balance it strikes between perennial favorites and relative newcomers. By veering between the two, the mix manages to send both familiar and fresh at the same time.
Starting with the Top 40 regulars, you've got a pair of collaborations uniting Jessie J with 2 Chainz and Wyclef Jean with Avicii. Continuing with the new faces, you'll find a song from Penguin Prison that could pass for vintage Hall & Oates along with a club track from Alesso & Tove Lo featuring lyrics by David Bowie.
The whole affair kicks off with AC/DC's first new song in six years. The song's beats-per-minute count (BPM) is slow enough to ease you into things physically, while its thundering riff gets you fired up mentally. If you need a power track mid-routine, press play on the fastest (and most popular) song of the month: Sheppard's ode to taking plunges.
For most folks, the new year is a time for taking stock and making changes -- mixing things that worked in the past with new approaches for the future. This month's top 10 list does a little of the same -- blending veteran hitmakers with promising upstarts. To that end, it might just be the perfect playlist for the new year and your next workout.
Here's the full list, according to a poll on Run Hundred -- the web's most popular workout music blog.
AC/DC - "Play Ball" - 119 BPM (not available on Spotify)
Deadmau5 - "Some Chords (Dillon Francis Remix)" - 129 BPM
Penguin Prison - "Calling Out" - 124 BPM
Charli XCX - "Break the Rules" - 125 BPM
Wyclef Jean & Avicii - "Divine Sorrow" - 130 BPM
Mr. Probz, T.I. & Chris Brown - "Waves (Robin Schulz Remix)" - 120 BPM
Jessie J & 2 Chainz - "Burnin' Up" - 124 BPM
Alesso & Tove Lo - "Heroes (We Could Be)" - 126 BPM
Sheppard - "Geronimo" - 142 BPM
Ella Henderson - "Ghost" - 105 BPM
Related