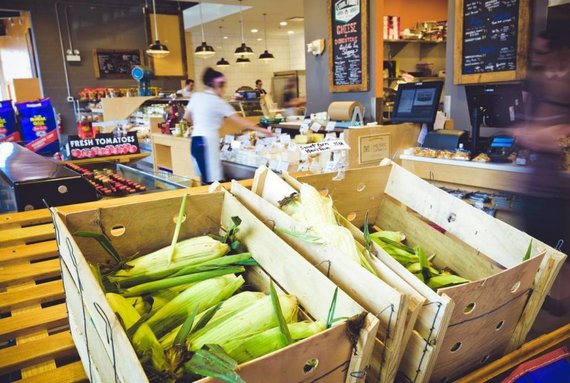 Recently, we highlighted the best 35 Supermarkets in America for 2016. In an effort to provide readers with the ability to find the healthiest food, we've decided to create a new subset of this list. Thus, we present to you The Top 11 Health Food Stores in the United States.
You'll certainly recognize some of the large, national chains on this list, but many of the healthiest stores in our country are smaller chains with just a handful of locations. We've compiled this list using various other lists on the internet as well as information from sources like the Independent Natural Food Retailers Association, filtering the information for what we believe to be the best of the best based on sustainable practices, customer and community integration and education, allergy-related mindfulness, and, of course, availability of the healthiest types of food. Say goodbye to GMOs and hello to health.
#11 Trader Joe's
The 25 Best and Worst Snacks at Trader Joe's aren't necessarily all foods made from purely healthy ingredients. With locations across the entire country and food styles from around the globe, however, Trader Joe's has made a name for itself. Nearly 80 percent of its offerings have a TJs (as the chain is lovingly called by many) logo, and it claims that every Trader Joe's product is GMO-free. Just because your food comes from Trade Joe's certainly doesn't mean it is healthy, but the nutritionally sound offerings are some of the best out there.
#10 Sprouts Farmers Market
Sprouts Farmers Market's website has a saying on it: "It's healthy living for less!" Sprouts offers organic Sprouts Brand products, each example coming with a 100 percent money back guarantee. The store is committed to operating as a socially and environmentally responsible business, always striving to improve on both fronts.
#9 Big Bear Natural Foods
Big Bear Natural Foods has three locations in New Jersey and two in Pennsylvania. Each of Big Bear's stores believes in bringing healthy, natural, and organic food to its community at affordable prices. Big Bear discounts nearly everything in its stores daily, and it truly believes in the healing power of vitamins, herbs, and aromatherapy. Each store carries only certified organic produce so you never have to question the integrity of the fruits and vegetables you're buying.
#8 Fairway Market
Fairway Market started in 1933 as a simple fruit and vegetable stand. Today, Fairway Market has achieved excellence and recognition as an industry leader; it was listed as Inc.'s top 5,000 fastest private growing companies for 2008, 2009, 2010, and 2011. Recently, however, the grocery chain filed for chapter 11 bankruptcy. Fairway expects no interruption in service for its 15 groceries and four wine and spirits stores during this process. Fairway offers an immense variety of organic and natural foods and products in every category (more details on why going organic can be beneficial here), so be sure to check them out the next time you're in Manhattan, northern New Jersey, Brooklyn, Long Island, or Stamford, Connecticut.