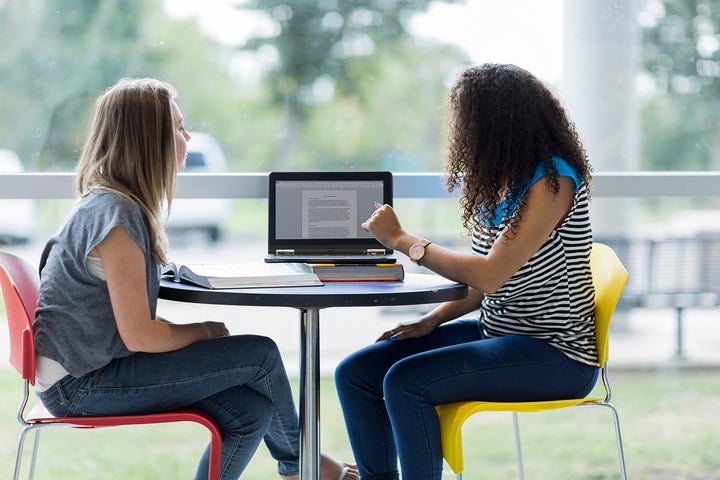 Many years ago, if students wanted to receive a new certification, degree or learn something new, they would have to register for a course at a bricks-and-mortar institution. If a foreign language student wanted to learn English, he/she would have to pay for these classes or try to find them through relevant free offerings via school districts or community colleges. All classes required a physical attendance to learn in class.
In 2015, the e-learning market was worth $166.5 billion. In an article titled, "Edtech is the next fintech," it's been estimated by some that this number will increasingly grow to $252 billion by 2020. The growing financial value of online learning runs parallel by the enormous numbers of students choosing to take online courses.
Online courses come in many forms. Some students take hybrid classes, MOOC's, live personal training, and online university classes for college credit through learning management systems.
In a recent Global Shapers Survey, out of 25,000 young people internationally, 77.84% of students reported having taken online courses in the past. Online learning may be the future of education in various ways as our world connects through technology.
Students who take online education courses must have strong organization skills, self-motivation, and maintain flexibility. Teachers must also have many traits to successfully serve their students. Online teaching and learning isn't for everyone.
What do you think it takes to be an online educator? Here are some replies from teachers and students who shared their vision from the US as well as internationally.
Bonnie Burton: "Improv—Teachers must have the ability to improv because you never know what the class is going to throw at you!"
Catherine Smith: "Perseverance—You must strive to make a real meaningful connection with students in an online classroom. You have to try many methods and many different teaching methods to reach a student all in the first 3 minutes of meeting them to establish regular clients. Remember that psychology tells us that within three minutes a connection is formed and I find that true in the online experience. Believe me I have felt as an educator in the first three minutes that I did not connect with the child and then I had to regain focus and try my best to reconnect with that student and the many students I had ahead of me."
Melinda Franklin: "Tolerance—it's necessary to take your licks and keep on trucking."
Ian Reed: "Empathy—I would start with empathy. Empathy is needed to relate and to understand the challenges a student faces in learning, particularly with a young student. To be a great teacher one must see or at least understand the world through the eyes of the student in order to know how to present information."
Taylor Ashton Bruenning: "Humor—teaching online brings a variety of challenges, especially in the context of ESL. Students can be nervous or become frustrated very easily, so it's important for us as educators to help them relax and see the fun (and importance) in what they are learning!"
Karen Sager: "Flexibilty—Creative flexibility to recognize and respect an individual's learning style and quickly address their learning style in a creative and professional manner."
Greg McVeryy: "Empathy—Online teaching requires an empathy for the student at every step. Begin by doing user persona. Who will be in your class? Design for them and their skills, their knowledge, and their lives."
Virginia Phillips: "Sincerity—Sincerity lowers the students stress response, decreases the static between the student and the material, and stimulates learning."
Cherie M. McKinney, MSM, EMBA: "Agility—Online teaching requires agility in order to effectively reach the target and prove to be successful at delivering the content virtually!"
Mac-Z Zurawski: "Dedication—Online teachers need meticulous dedication to monitoring student progress. Some students miss the F-2-F mentoring and struggle with the class pace. Mentoring must be a priority goal with constant personalized emails and forum discussions with these students. We are still the class leaders and good leaders don't leave students behind."
James Martinez, Ph.D.: "Presence—Online teachers need to show their students a consistent and constant online presence. Along with well organized modules, discussion posts, and interactive videos, students want to know they are not alone in distant learning."
John Faig: "Engagement—Online teaching requires student relationships even more so than in-person teaching. Engagement will require using something other than a tired, old LMS."
Mark Magee: "Real-world—Interaction needs to include questions, current events, real life applications to the content you're teaching. This isn't my preferred method of teaching, but I work hard to engage students so that I'm just not another talking head or Internet choice."
Glyn Caddell: "Personal confidence—Online teachers need to strongly believe in themselves because they can't rely on validation from their students' reactions like traditional teachers can."
Rebecca L. Barnes, Ed.D.: "Empathy, not apathy—Online instructors must exude empathy not apathy. Lately I've seen a lot of posts on different social media that includes online instructors whining about the irresponsibility of their students. Try to empathize, most students are online for the flexibility. Try to imagine what may be happening in their personal lives, why students may be exhibiting unacceptable behaviors, etc. Complaining about them will not fix the problem. Finding a way to RELATE to them, will have a more positive impact."
What would you add to the list?
Related
Popular in the Community