As many people around the world know, Florence, Italy is the European capital of renaissance history and art. It's incredible to think back to the early 1400s when architecture, literature, science and fine art began a whole new movement of change. Before you go across the pond, make sure these five activities are set in stone as you plan to walk the same streets as Michelangelo.

1. Peruse the Museums
First off you must see David at Galleria dell Accademia. The famous sculpture by Michelangelo is sure to take your breath away. Bask in all its glory, take him in from different angels and appreciate what has stood for over 500 years. Next, head over to the Uffizi Gallery to take in hundreds of amazing works of art such as The Birth of Venus and Annunciation by Leonardo da Vinci. These museums are fundamental to renaissance art but be sure to do more research of the many other museums in the city.
2. Explore World-Class Churches
Like in many cities in Italy, it will seem like there's a church on every block (and there pretty much is!). It's nearly impossible to go into each one, but there are a few which should take up more of your time. My personal favorite is Santa Croce, which has the tombs of Galileo, Michelangelo and Machiavelli. You've also got to check out Santa Maria del Fiori (The Duomo), Santa Maria Novella Basilica and the Medici Chapel inside San Lorenzo. These churches are sure to impress you with their bold facades and intricate interiors and fascinating histories hiding behind them.
3. Take in the View
Since you'll be walking a lot in the city, you might as well march yourself across the Arno and up to Piazza Michelangelo. This piazza has the best view of Florence from a distance. It's always open, always free and always bound to have a crowd of people to watch. The view is spectacular all the time but particularly gorgeous with a bottle of wine in hand as the sun sets.
4. Refuel & Refresh
After all the sightseeing, you'll have to sit down (or stand up) and grab a bite to eat. Florence has their specialty of Steak Florentine (bistecca alla Fiorentina) as do many other Italian cities. It's quite easy to find any place whether it be a tourist trap or a local favorite to have an amazing meal. My two recommendations are I Due Fratelli for a quick, fresh sandwich and Ristorante Accademia for a more formal, delicious dinner.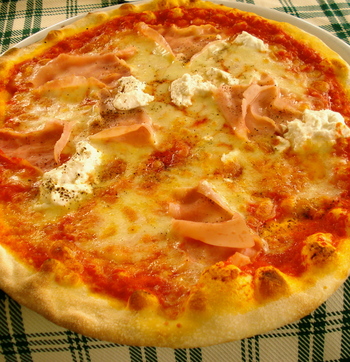 5. Get Lost in the Bustling Markets
Finally, Mercato di San Lorenzo is a culture and food lover's paradise. The huge indoor market has wonderful smells and sights that any visitor is sure to love. You will probably be able to find just about anything in the market which then extends to street vendors outside of the indoor food market. Pick up fresh meat or pasta to cook then head out onto the street to pick up a souvenir scarf or leather bag.
The great thing about Florence is that the top 10 or 20 sights in the city would be another city's number one attraction. Don't limit yourself to these sights but be sure to check them off to deal with that mean case of #FOMO you got over there.
Popular in the Community