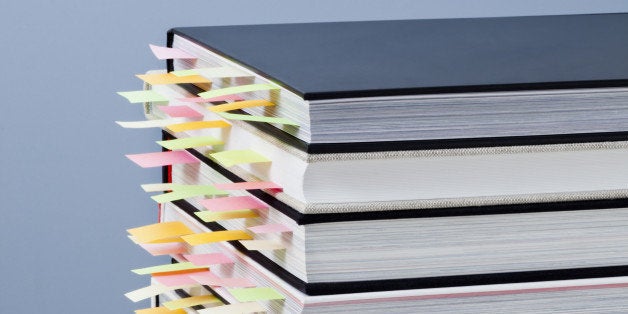 I am often asked what books I recommend for CEOs, and executives who aspire to become CEOs. There are so many to choose from. Over 250,000 business books are in print. Laid on top of each other, that's nearly four miles high. Obviously, narrowing it down to a select few is no easy task. However, regardless of the number, I do have a library of required reading for CEOs. Here are my top seven must read books for CEOs.
1. What Got You Here, Won't Get You There -- by Marshall Goldsmith
Goldsmith discusses the small "transactional flaws" performed by one person against another, which lead to negative perceptions that can hold an executive back.
2. The Five Dysfunctions of a Team-- by Patrick Lencioni
This book reveals the five dysfunctions which go to the very heart of why teams often struggle. Lencioni outlines a powerful model and actionable steps that can be used to overcome these common hurdles and build a cohesive, effective team.
3. Death by Meeting -- by Patrick Lencioni
This book is centered around a cure for the most painful, yet underestimated problem of modern business: bad meetings. Lencioni suggests simple and revolutionary ways to cure this common problem.
4. Winning -- by Jack Welch
Welch spent forty years at General Electric, leading the company to year-after-year success around the globe, in multiple markets, and against brutal competition. This book is his frank and honest story of how his "be-the-best" style of management became the gold standard in business, with his relentless focus on people, teamwork, and profits.
5. Drive: The Surprising Truth About What Motivates Us -- by Daniel Pink
Pink examines the three elements of true motivation: autonomy, mastery, and purpose. He offers surprising techniques for putting these into action in a unique book that will change how you think and transform how you view your employees.
6. Start With Why -- by Simon Sinek
In studying the leaders who've had the greatest influence in the world, Sinek discovered that they all think, act, and communicate in the exact same way (and it's the complete opposite of what everyone else does). Drawing on a wide range of real-life stories, Sinek weaves together a clear vision of what it truly takes to lead and inspire.
7. How to Win Friends and Influence People -- by Dale Carnegie
This is hands-down, the best motivational book in history. Since it was written in 1936, it has sold over 15 million copies. This book is timeless and appeals equally to business audiences, self-help audiences, and general readers alike. Carnegie believed that most successes come from an ability to communicate effectively rather than from brilliant insights. His book teaches these skills by showing readers how to value others and make them feel appreciated rather than manipulated. I recommend you buy copies of this book for everyone that reports to you. Even better, buy a copy for anyone that deals with your customers or prospects.
If you have these seven books in your library, and of course, read and follow their insights and lessons, you will be well armed and better prepared to be a great CEO. Being a CEO isn't easy, but having the knowledge and skills that these books provide, can enhance your capabilities immensely.
Popular in the Community