I am a small business owner. Once upon a time I was a insurance agency owner, who was struggling to find ways to drive leads to his business. I resorted to walking door to door, knocking on people's homes to sell them life insurance, home and auto insurance. I hired a gal to do telemarketing for me. I did all the traditional things in marketing and that niche, besides spend the bigger dollars and buy TV and radio ads which were regulated by the company I had an agency under.
The year was 2009. I figured that since I used Google to find things, other people would as well. I decided to search for "how to get on Google" and "how to rank higher on Google". The results that came up were all over the place and like many of you small business owners you did not know who to trust or where to buy from. Like many of you I went with lowest common denominator, price. I wanted to find something cheap, because I really did not know if it would work, and I was only willing to invest about $400 dollars a month.
Well the SEO company I hired took my money for three months and did not send reports, they did not increase my rankings at all. I'm honestly not even sure looking back if my website was indexed or not. So like any good entrepreneur who has had a bad experience, I decided to do it myself. I taught myself how to blog, the earliest form of Content Marketing. That was the start of my experiences in "SEO" and digital marketing. It was simply out of self preservation and necessity.
If I was starting a business now or looking to DIY SEO for own company, I would want to know a few things. Those few things would be, "What are the pros using?" and "What is my competition doing?". Well, I am here to help you out, my fellow entrepreneur.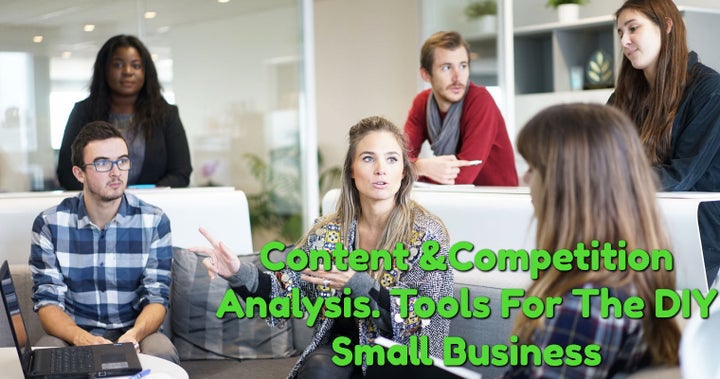 The Best Tools for Competition Research - What the Pros Use
In alphabetical order since I have no specific favorite. All these tools I have used and all have immense value in my agency.
"Ahrefs is well known (and loved) for two things: 1 - the quality of data; 2 - the speed of development.
1 - We invest a ton of resources into collecting, storing and processing big data. And no matter what tool in Ahrefs toolset you're using - you always know you're working with the best data. This is what our customers love us for in the first place.
2 - We have a very lean team and we try to release a few smaller improvements every week and one big update every month. So every new customer who signs up for Ahrefs gets more bang for his buck with every month that he stays with us."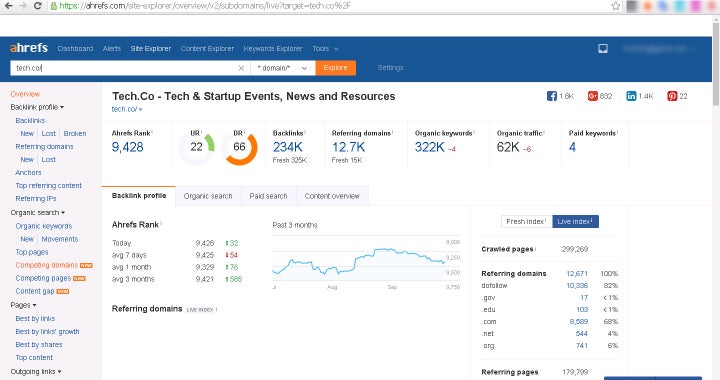 Ahrefs is an amazing tool set. I use them for finding what the competition is doing as their link data base is massive. Our agency can run reports and see what platforms they are getting links, what content pieces or pages are getting the most links, and with that data our team can build similar but better pieces and contact those same people and let them know about our newer better content.
Buzzsumo-Steve from BuzzSumo was kind enough to give me a quote for this article.
"Our aim at BuzzSumo is to help content marketers create better content. We have found that most content gets few shares and even fewer links. This is often due to a lack of planning and research before creating content, and giving too little attention to how the content will be amplified.
We help content marketers research the content that resonates with their audience, for example, what are they sharing, what is trending this month or today. What content formats and headlines gain the most traction. What is your competitor's most shared content and why. We also help you research what is working on Facebook in your industry or for your topics,
Content also needs an amplification strategy. We provide data on who is amplifying content in your area through sharing and linking. For example, who is sharing your competitors content and what new links did they gain this week. Who are the key influencers and authors for a topic. You can build a list of everyone who has shared say your content or your competitor's content. BuzzSumo allows you to create outreach lists and to see what they are publishing each day without having to visit multiple sites.
Our monitoring service includes alerts (real time and daily digests), these can be when new content on a topic is published, when your brand is mentioned, when competitors publish new content, when someone links to your site or competitor sites."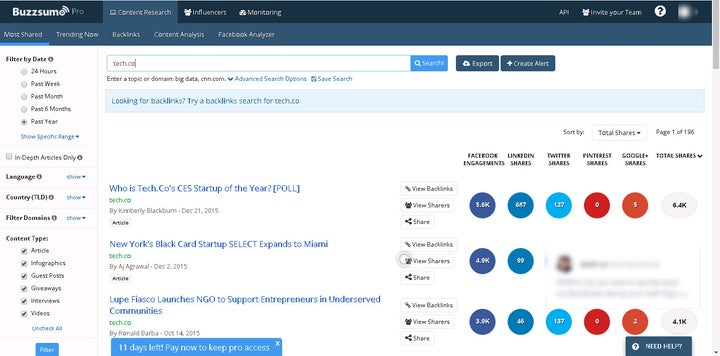 BuzzSumo is primarily used by us as a content marketing idea tool but it has back link checking capabilities which make this a really powerful and nicely laid out platform. Yeah I saw that BuzzSumo has Majestic integration now. Nice work on that BuzzSumo!
Majestic-Nicky from Majestic was gracious and gave me a quote for this piece.
"Majestic as a link analysis tool stands out from the crowd in two clear areas. The first is its "Flow Metrics" - simple but powerful scores for every known link, page and website on the Internet. These are built from the ground up internally from its massive web crawl, which is larger than many search engines! The second is price... Starting at half the price of its main competitors (Moz and Ahrefs), Majestic can keep, and often beat, the quality of these other indexes, but with a lower cost because Majestic dispenses with rank checking and other SEO services, preferring to concentrate solely on the link data."

Our team uses Majestic primarily for their Clique Hunter tool. It is a very handy tool for finding out the top 10 competitors and finding out what domains (websites) they may have in common. If they all have links from Forbes, well then you know you have to find a way to get onto Forbes. Pretty easy concept but it's a massively helpful tool when starting campaigns. Finding relationships between your competition can help you get to where you want to go quicker.
"Monitor Backlinks automatically verifies everyday if one of your site's backlinks is removed or its status changes. It also check whenever your site gets new backlinks and sends email alerts so you can verify if the new links are good or bad. While the majority of SEO tools offer data on-demand, Monitor Backlinks has automated most of the reporting."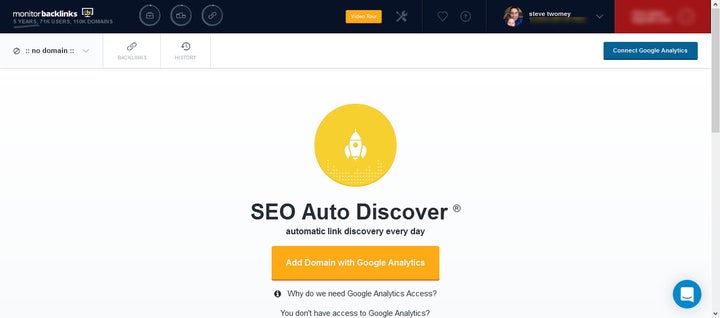 Monitor Backlinks is nice in that it emails you alerts, in a world where I can't be bothered to check my email often enough, having it in my inbox is very helpful vs me going to a website and logging in.
Moz- Rand from Moz was gracious in giving me a quote for this piece.
"Moz has four products that offer backlink data: Open Site Explorer, a standalone research tool, Moz Pro Campaigns, where customers can track data over time against the competition, the Mozbar, a toolbar for Chrome that provides metrics as you browse the web, and the Moz API, where developers or heavy-data users can programatically pull down link information and metrics. Moz's unique advantages lie mostly in our metrics -- Page Authority and Domain Authority, which have strong correlations to Google's rankings by using a machine-learning model that trains against large sets of Google data, Spam Score, which is similarly trained against websites Google's penalized or banned, and others like MozRank and MozTrust that mimic Google's PageRank and TrustRank systems. We also have numerous features inside our products that can help marketers earn or analyze links, like the ability to see links that point to multiple competitors but not your own site, or the ability to get contact information (social or email) for websites that may be interesting for link outreach. "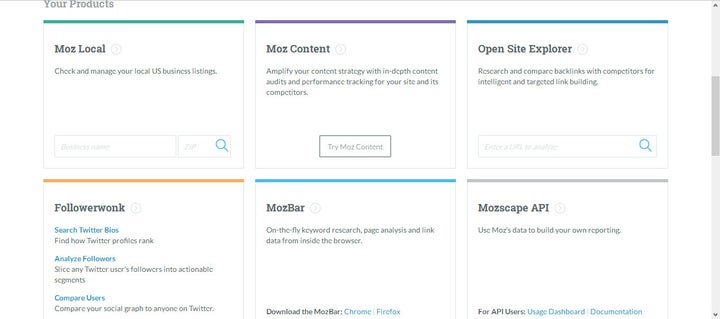 SEMRUSH-Since no one got back to me (Come On Man!), I have to give my own synopsis of the tool.
SEMRUSH, is a great tool, one that I use to determine traffic and low hanging fruit. SEMRUSH is mainly known for their traffic estimator. When looking to see competition, I look and see how much their Organic Traffic is worth in SEMRUSH. It helps me figure out strength of a site as well as opportunities for the client. The low hanging fruit part is where we typically start with our content marketing plans. SEMRUSH gives you a report like a "what ranks where" with keywords and the corresponding URL and it's placement in Google. I start there with finding specific pages we want to build supporting content pieces for.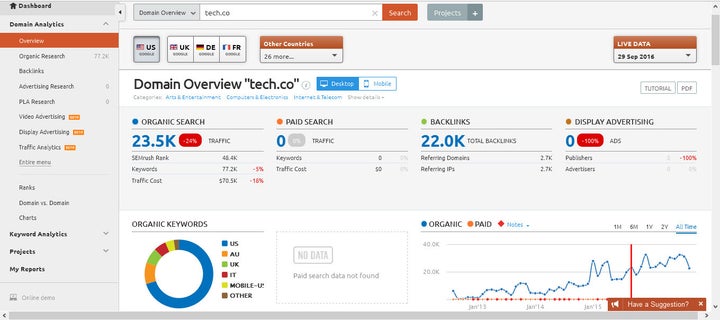 Having Trouble Coming up with Content Ideas?
Yeah, you probably heard by now that "Content Marketing" is the hot buzzword in digital marketing currently. So, how do you come up with relevant, fun topics to post about on your blog, on social media or when guest posting? Each of these tools has a some form of content marketing feature in there. One real simple pro tip that I can give you is to look what is ranking higher than you in Google. See what their article is about (if its a post, if its a sales page that's another discussion) then go build a content piece that has better images, better infographics and better, longer more researched content. Then reach out to the people that linked to their post and let them know about your newer updated "better" piece of content. My team has been doing this technique as part of our best practices for outreach and content marketing, but I found out it actually has a name which is the "skyscraper technique."
Are There Free Options for Coming up with Content Ideas and What Is Trending?
Why, yes there are. Google Trends is here to save the day. It will not give you competition analysis and indepth data like these other paid tools, but if you are looking to start with some free tools on how to get content ideas that are on the rise and are being searched, then Google Trends could be for you.
Top Searched Players of 2016-Build Content Pieces Around Them to Help Show up for Searches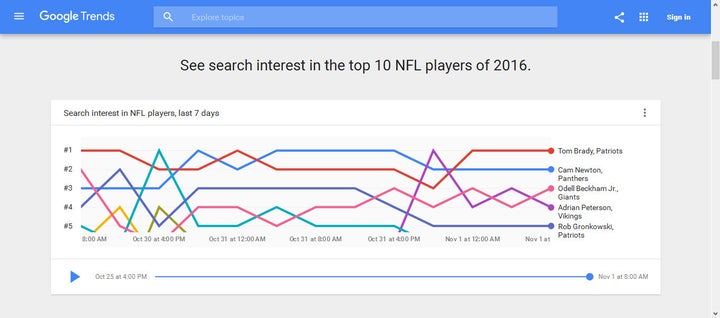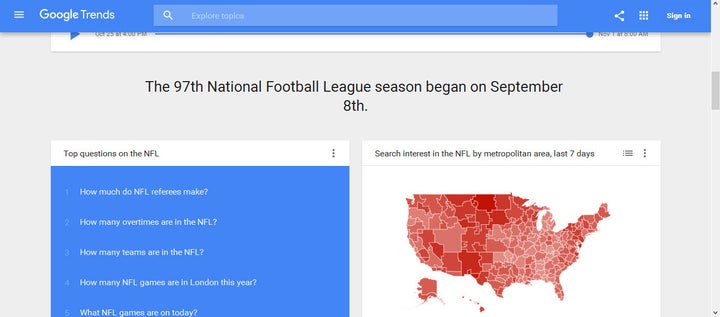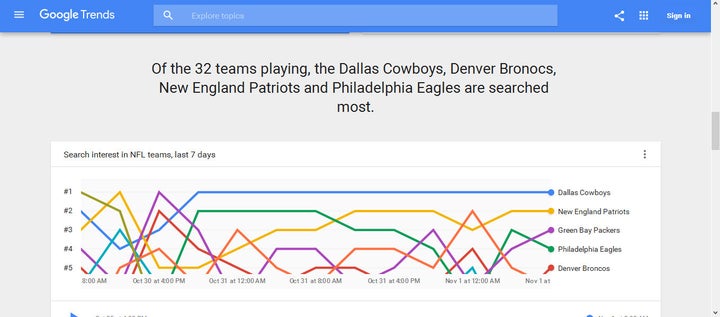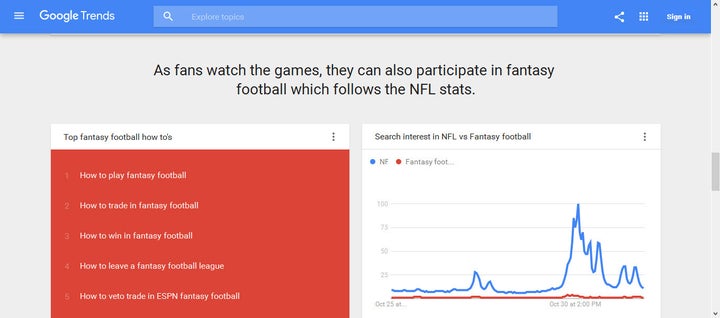 Ok, so you have read the list of my favorite tools for the DIY small business owner. You might be asking, "which ONE tool should I use?". Fact of the matter is that it really depends on which platform you like working with. I use many of these tools together to create a better picture of what I or my clients need. I use these tools to find content marketing ideas, new link opportunities and seeing traffic estimates.
Having the whole picture helps me determine how difficult it will be to rank for a certain keyword or topic. We can see how many guest posts we have to do, how often we have to publish, and what kind of email outreach strategy we need to implement in order to get influencers to cite our client's content.
You might find yourself subscribing to a few of them or all of these tools. It really just depends on what exactly you need from these tools and which platforms you like working with. Many of them offer a trial period so you can see which ones you would need or want to use.
Now that you know what the pros use, go out and sign up for a few free trials and see which ones you want to use in your business. Your competition is probably not reading a 2,000 word article on how to better their business. Nor are they employing an SEO Agency to do their content marketing for them. So, if you can master some or all of these tools, and then take action, that should put you on top of your competition for years to come.
Related
Popular in the Community