Some say, in order to survive parenthood you need to have a sense of humor and in the 21st Century, a smartphone. We do everything from online purchases, communication, and recipe-sourcing from our phones,  why not for a little parenting advice?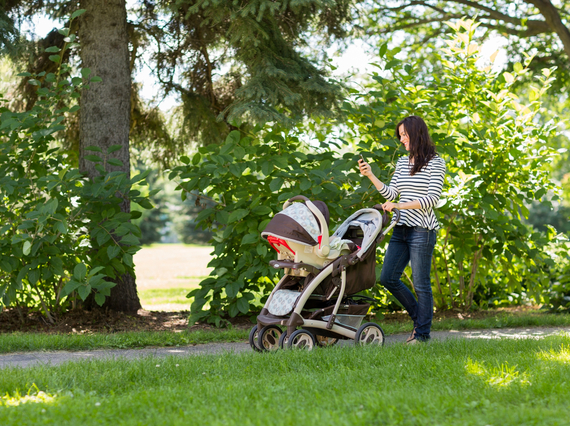 Smartphones exist to simplify our lives, and parenting is definitely one of the fields where parents will take all the help they can get. These apps allow you to keep track of your kids, encourage them to do their chores, find 'things to do' during those endless summer days, track your baby's growth and development, and even provide your with  personal nurse and emergency alert system at the click of a button.
The best thing you can do as a parent is to be there for your kids when they need you. So one of your biggest concerns of course, is knowing where they are. The Find My Kids application is the perfect tool to keep track of your pre-teen and teen's whereabouts. You don't have to monitor their every move - but in case you there is an emergency, or you cannot get hold of your kid, this application uses real-time GPS to check where you child is moving with his/her phone.
If you are having some trust issues with your kid, you can also view the tracking data which is stored for later use. The best advice in this case, would be to get your child's permission to track them for safety purposes.
MammaBaby is your go-to, app that allows new parents to log everything relating to your newborn from feeding times to sleeping patterns and medication alarms. This application tracks the growth and development of your baby and has been very successful since entering the marketing during April 2012. Since then they've seen a 30% monthly growth and in April 2014 the amount of baby logs exceeded the 3 million mark.
Think of those nights where you were so sleepy while feeding the baby that you weren't even sure if you did it or dreamt it. This application will help you and your baby stay on track by logging every session. Once you've logged some sessions you will be able to gather which times are ideal for sleeping and feeding your newborn. The application also features a lot of parenting tips and allows you to share your statistics and progress with friends and family.
The application gives you the opportunity to share the logged data, such as medicine times and eating habits that you've been tracking with other caregivers via an automatic data sync. You can even print and export data for your doctor visits.
If you are a parent, you will know that the only way to motivate and discipline your children is through some kind of reward system. iRewardChart, available on iOs and Android, is really easy to use. Just type in your child's name, select a few tasks from the suggestions--or create your own-- and then give them a single tap once completed. The data is then displayed in a weekly chart, where you can also choose some default rewards for your kids' behavior. For example 'watch 2 hours of television' or 'sleepover at a friend'.
Even though this might feel a bid controlled and rigid, children really do love to feel responsible and respected. You can even add abstract goals to the list to inspire certain behaviors, like sharing, being kind to others, and complaining less. The free version of the app limits you logging a maximum of four tasks for one child, where the premium applications allows for more profiles and features.
As a mother you might dread the childrens' nagging for something to do, when you don't have any options or activities planned. Apart from having to manage the household and your personal life, reading about the latest kid-friendly events online might not be your first priority. Luckily the Mom Maps app is your secret weapon to fighting your kids' boredom. This handy app helps you to locate kid-friendly places in your area or your location when you are on the go. Search an extensive lists of activities, playgrounds, restaurants, museums, and parks.
The application feature reviews by real parents and their experiences to add a little credibility to the tool. You can also save your favorite locations and upload photos and videos to assist other parents. Mom Maps isn't just limited to the US, but can be used in France and Canada! Before you know it, you might be making some Mommy-friends as well.
As a parent your worst fear is most probably that something bad will happen to your kids. Your child's fever might be hitting through the roof and he's screaming of pain - but you have no idea what to do. Smart ICE is your go-to emergency application in these circumstances. Think of it as your 'Google' for medical emergencies where the Search is activated by voice.
Make use of the voice recorder to record the most critical information regarding your medical concerns. Instead of having to search through all the data, it will compile the most relevant results according to your concerns of what is happening to your little one. Smart ICE have two versions available; the Smart ICE single profile app and Smart ICE4Family that allows you to store details for up to eight profiles (Perfect for the family).
Do some damage control during emergency situations at home by activating the Alert button that immediately notifies emergency services should something go wrong. Add your location to the app so that you don't have to struggle to explain your location to the medical services. You can also save all your children's medical history on the application for easy access when seeing a doctor or nurse.
Protecting your children is most probably your main priority as a parent. But every parent will tell you that they can do with a bit of help. These applications are great tools to improve your parenting process, keep your kids safe and make sure they have a great childhood to look back on.
Calling all HuffPost superfans!
Sign up for membership to become a founding member and help shape HuffPost's next chapter