By: Mady Dahlstrom, Content Editor for Porch.com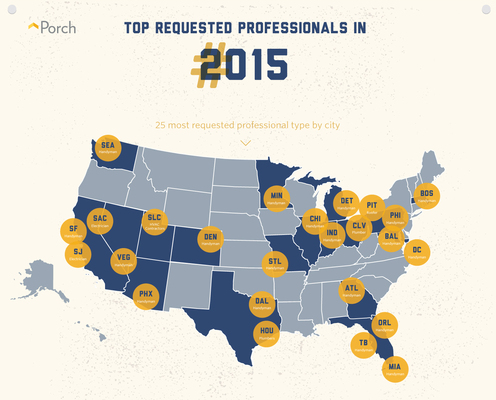 From painting the exterior of your home, to updating your landscape or unclogging a drain, home improvement professionals are there to help you fix problems and complete projects in your home. In 2015, homeowners were checking projects off of their to-do lists by hiring plumbers, handymen, electricians, and more.
With the demand of high-quality professionals to service homes across the U.S., Porch.com, the home services platform that helps homeowners get jobs done by connecting them to quality professionals, took a closer look at the most requested professional types in the U.S.'s top 25 metros. Of the 25 cities, over 75% resulted in a handyman as the number one most requested home professional. This doesn't come as a huge surprise, as a handyman is considered a jack-of-all-trades. Whether you need to replace a light, assemble furniture, or install a TV, a handyman can get the job done.
While a handyman was the leading professional type searched for by homeowners across the country, our data also broke down the top five requested professionals for 25 metros.
Take a look at the list below to see which professional types homeowners in your area were looking to hire in 2015: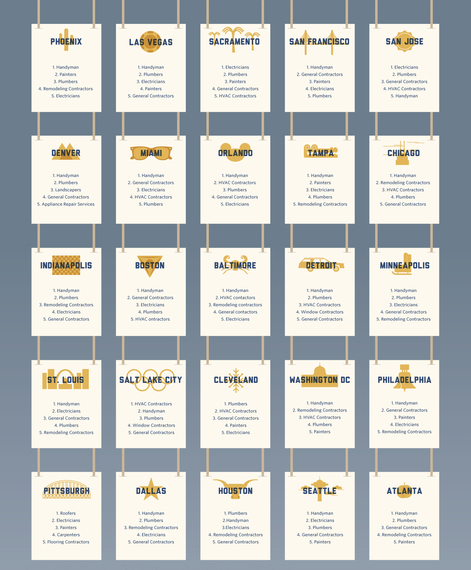 Electricians, painters, and plumbers all made the list for multiple cities. In San Jose, electricians ranked first with plumbers at a close second, but across the country in Boston, handyman reigns supreme with general contractors coming in second, and HVAC contractors at the bottom of the list.
Get more information on the top requested home professionals and see the full infographic, here.
Which home professional were you searching for most in 2015? Tell us in the comments below!