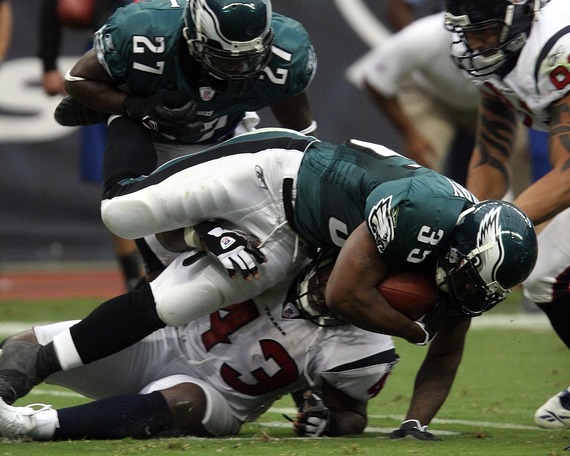 The 2016-2017 NFL season is finally upon us. And, with that, comes fantasy football. In the weeks leading up to the season opener, mock drafts, preseason analysis and sports reporter predictions will surely fill your news feeds and your subconscious. As most football fans know, the role of a fantasy football owner doesn't end after the draft -- it's a full-time job. And no social media channel gives you more real-time information on your players than Twitter.

While you may rely on the Adam Shefters and Ian Rapoports to give you your breaking news from around the NFL, these analysts provide you knowledge and updates on the National Football League, not the Fantasy Football League. Thus, as we all prepare our starters and our bench to go on a championship run, there are certain go-to Twitter handles that you should make sure to pay attention to.
For questions
While the @BaseballGuys Twitter handle likely throws you off, his love of numbers keeps him as a go-to fantasy guru for football as well. He might be one of the most active fantasy guys on Twitter, tweeting hundreds of responses per day to questions directed towards him. If you have a question on whom to start or drop, don't let his 32K+ twitter followers intimidate you. You will likely receive a well-justified response to help you look your Sunday best.
For general knowledge
@Scott_pianowski, a writer for Yahoo Sports Fantasy, lives and breathes fantasy football-specific insight. Although he tends to lean towards the cynical side, he generally knows what he's talking about. Another go-to for general knowledge is @sigmundbloom, co-owner of Footballguys.com. Look to him for comical RTs on plays and players as well as insight for your draft and predictions on players. He, too, is generally good at responding to questions. Bloom tends to lean more on the bright side, so checking in on both him and Pianowski for general knowledge is sure to give you a fair opinion from both sides.
For injury-related info
There is nothing worse than finding out at 1:02pm that your star running back pulled a hamstring in pre-game warm ups and will not be playing this week. Thanks to @injuryexpert, I received this fun fact at 12:57pm and was able to save my team that week. Will Carroll, the man behind @injuryexpert, is a sports writer who has worked for Sports Illustrated and Bleacher Report and specializes in coverage solely on medical issues relating to the NFL and MLB. Since a back up is always necessary in football, @jenebramel should provide you the coverage you need if Carroll should ever fall flat. A part-time pediatrician and FootballGuys.com staff writer focusing on defensive players and injuries, Bramel will typically share his own opinion based on other analyst's input.
For insight and comedy
@RotoPat is where dry humor and solid football insight meet. While he has a passion for baseball, Patrick Daugherty is an NFL writer for Rotoworld and NBC Sports who has made his career on all things NFL. Although he is not solely fantasy-focused, since he doesn't yet have the A-list celebrity status of Shefter or Rapoport he is able to get away with saying the things they wish they could say. And that is why we follow him.
For daily fantasy
Unless you're new to fantasy football, you probably use Rotoworld.com as a fantasy football bible. With that, you should be looking to the Rotoworld fantasy football writer's Twitter accounts for all your Daily Football Sports (DFS) needs. @Jeff_brubach, @evansilva, @RMSummerlin, @JessePantuosco, @GrahamBarfield, and @NickMensio are all great writers for @Rotoworld_FB and can give you real-time insight on DFS as well as additional fantasy coverage.
If you think developing a winning team is based on luck, you probably haven't won before. Although you're always susceptible to losing your first draft pick to injury Week 1, being able to overcome obstacles is what breeds success. Bringing your team to a Fantasy Football Championship takes commitment, dedication, time, and, most importantly, knowledge. If you think Ladarius Green still plays for the Chargers or if you don't even know who Dak Prescott is, then you may need more help than some Twitter handles. However, for those constantly looking to improve their squad and be in the know, make Twitter your tool and these accounts your guardian angels. And get ready for some FOOTBALL.
Related
Popular in the Community