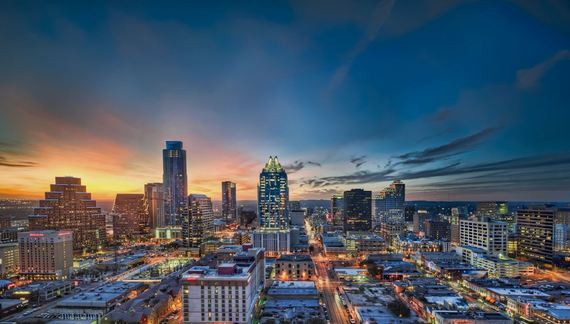 I moved to the U.S. from Toronto, Canada a bit over two years ago. As someone who bounces back and forth between entertainment journalism and TV writing, there were really only two options I could consider, residence-wise: New York City or Los Angeles. I chose Los Angeles.
A couple reasons for this. 1) A person can move to L.A. first and then find a job. Relocating to N.Y.C. on spec will lead to bankruptcy in three months or less. (My mathematical guesstimate.) And 2) L.A. winters are far warmer than what we're used to in the northeast. (Believe it or not, L.A. summers are milder than Toronto's and New York's, which often come in the form of a scorching, humidity-fueled nightmares.)
As ironic as it sounds, a lack of options can be incredibly limiting. If a client offered me $300 and said, "Write me an article about anything you'd like," I'd be left scratching my head, unsure how to begin. If that same client asked for an essay chronicling Louis XVI's rampant egomania, I'd be off to the races in no time flat. (Google that guy, though - he was a nut job.)
When I moved to the U.S., the decision made itself: only one city was a perfect fit. This spared me a lot of research, second guessing, and potential regret. But recently, this got me to thinking: if industry and weather weren't a factor, where would I have ended up? Or at the very least, which cities would make my personal shortlist? After some pretty hefty deliberating, I've settled on three:
Austin, TX: A tiny spec of blue in the great red sea of Texas. By all accounts, Austin shouldn't exist in the 'Don't mess with' state, given its liberal leanings, vibrant arts and dining scene, and overall pride in being different. ('Keep Austin weird' is the city's unofficial slogan.) To boot, East 6th St. is a worthy alternative to New Orleans' French Quarter, with -- believe it or not -- more daily live music options. Bonus: any city with a street named after Willie Nelson automatically has my vote.
Nashville, TN: Continuing with the music theme, it would be hard to pass up on a permanent stay in gorgeous Tennessee. Particularly Nashville, which goes by the well-deserved nickname 'Music City.' It's nestled on Cumberland River, which would make for a heck of a view when I'm not attending the CMA Festival or the Tennessee State Fair. And as a humble foreigner, it would be hard to resist the exotic allure of joining a Civil War reenactment. (No spoilers: I wanna be surprised when the winning side is announced.)
Boston, MA: Few places make a Canadian expat feel more at home than a northeastern city obsessed with hockey. Boston is the perfect mix of industry, colonial architecture, and affable working class folks who'll gladly invite you over to share a pitcher (or three) of Sam Adams. Plus, the local dialect is pretty much the most badass, wicked pissah thing ever. A big city without an ounce of pretension: who knew such a place existed?
Don't get me wrong: I'm pleased as punch to be living in good ol' Los Angeles. (Anyone who says it sucks is either a professional contrarian or never bothered to visit.) But it's heartening to know that if I'm ever blackballed from the entertainment industry (and magically cured of my aversion to inclement weather) I've got some pretty fantastic options.