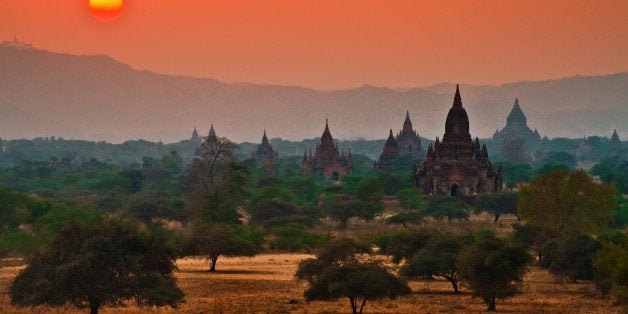 Wai Wai Nu doesn't hold a grudge against Burma's most famous political activist, Nobel Peace Prize winner Aung San Suu Kyi for her silence about the treatment of the Rohingya, one of the most persecuted minorities in the world.
Surprising given Nu is an outspoken Rohingya rights activist. But one of the many skills she cultivated during her seven years in prison for political activity is patience, which has come to characterize the Burmese approach to their country's sluggish and uncertain transition from military rule.
"This is not the right time to talk about this issue," said Nu, a 28-year-old lawyer.
Call it "Mandela Syndrome," after the former South African President and anti-apartheid activist: political patience born out of the mental fortitude required to survive a seemingly endless prison sentence, and the learned futility of belligerence toward one's captors.

Burma's burgeoning activists embrace this approach, and it shows in their avoidance of the revolutionary tactics and strident headlines of the Arab Spring.
To an outsider, this approach could be easily misinterpreted as docile or complacent. In reality, it's a mixture of pragmatism, and total, utter fear.
A Tortoise Revolution is underway in Myanmar, progressing so slowly and steadily - you can barely notice it. But it's there. Five years ago it was too dangerous to even utter the word "democracy" in public.
This past week, Myanmar held the country's second general election since transition from military rule in 2010.
The Institute for Political and Civic Engagement, or iPACE, is at the forefront of training Burma's future change-makers. It's a civil society program run by the American NGO World Learning, which works in partnership with the U.S. Embassy. Since its founding in 2012, iPACE has trained more than 600 Burmese citizens in the basics of participatory democracy.
Those who attend the institute vary in age and background: some are university graduates, others were political prisoners for five, ten, or more years. It's a place where a Buddhist monk from Yangon can take a course in human rights alongside a Christian from the Shan State and a Muslim Rohingya from Rakhine State. The old guard of the 1988 uprising can share first-hand experience with political novices, like Yi Yi Aung, 41, a former businesswoman in the garment industry from the Rakhine state.
"I couldn't learn about those words or ideas before the political openness," she said.
Course offerings at iPACE include 'Pluralism', a much-needed curriculum on diversity and reconciliation, given Myanmar's roiling stew of ethnic tensions; 'Civic Education', which is absent from government school classrooms; and 'Voter Education', especially crucial ahead of the highly contentious presidential elections.
The institute also offers a safe place for students to share their hopes, dreams and fears about Myanmar's evolution to democracy.
iPACE student Nicholas Poyo Toe, a 20-year-old Muslim, is intelligent, handsome, charismatic and speaks near-impeccable English - a picture-perfect vision of any future leader of a developing country with growing ties to the West.
"I'm scared to get involved," he admitted. "Although you want to make changes, who knows, you might get arrested and end up in jail for years."
David Baang Ja, another iPACE student, agrees. "I don't want to be the next Aung San Suu Kyi. She did the right thing, but she sacrificed a lot."
This past March served as a reminder of the state's still strong hand when a student protest in Yangon was met with swift force by the police, who outnumbered the protestors by about three to one. The state run media reported that 127 of about 200 protesters were arrested, squashing any further protest.
That's why groups like the Serenity Initiative (TSI), a civil society organization dedicated to voter education offer training in underserved areas like the Shen, Kachin and Chin states and support gradual change.
Ye Win Naing, 39, one of TSI's founders and an iPACE graduate, explained, "If you want to take the military regime down, election is the softest way, the least bloody way."
And so the revolution in Myanmar will likely lack in the theatrics of France's 1968 social revolution, the bloodshed of China's 1989 Tiananmen Square or the dynamic of Tunisia's 2010 Jasmine Revolution.
Activists are of the mindset that there is only so much good you can do locked up in a jail cell. What is emerging is meant to progress slowly and with utmost caution, so it doesn't get shut down altogether.
Given the nation's collective memory of government repression, Burmese view education as the most subversive form of protest. The dissemination of knowledge - about governance, pluralism, civic engagement, voting - to those who have been purposefully deprived of the tools to question and engage their rulers, is nothing short of a radical act that will be tested in Myanmar's landmark November 8th polls.
Rose Foran is the Senior Writer/Editor at World Learning, an internationally focused nonprofit based in Washington DC.
Calling all HuffPost superfans!
Sign up for membership to become a founding member and help shape HuffPost's next chapter