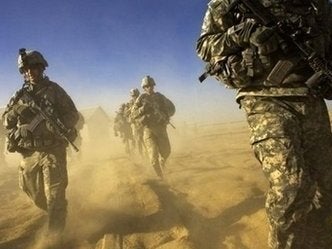 Over the past few days the blogosphere has been alight with chatter that a Spanish court may investigate six former Bush Administration officials for torture, potentially subjecting these former officials to arrest and extradition. This is the latest bit of bad news for the six (former Attorney General Alberto Gonzales, former Office of Legal Counsel lawyers John C. Yoo and Jay Bybee, former Undersecretary of Defense for policy Douglas J. Feith, chief of staff and legal adviser to Vice President Dick Cheney, David Addington, and former general counsel for the Department of Defense William Haynes II), who have become increasingly radioactive as details regarding their roles in crafting the Bush-administration policies have surfaced. And so I thought I would find out where the six are today. This is what I found:
• Alberto Gonzales has not been employed since he resigned after questions were raised about possible political motivations for firing U.S. attorneys.
•John Yoo is visiting law professor at the Chapman University School of Law in Orange County, CA. He is on leave from the University of California-Berkeley.
•Jay Bybee is a federal judge on the United States Court of Appeals for the Ninth Circuit. A confirmation from the senate took place in 2003 before the details of the torture policies came to light.
• David Addington is not currently employed.
• Douglas Feith taught briefly at Georgetown University before becoming a Senior Fellow at the neoconservative Hudson Institute.
• William "Jim" Haynes II was hired in 2008 as Chief Corporate Counsel at Chevron Corporate Office in San Ramon, CA.
Perhaps the most interesting element of that list is that only one of these lawyers, Haynes, has managed to find a cushy corporate job despite the extensive government experience and educational pedigree shared by all. Which raises a significant question: why would Chevron hire Haynes?

In today's world, with an Obama administration committing to shutting down the prison at Guantanamo Bay, the hiring of Haynes simply seems out of touch. After all, there are literally tens of thousands of highly qualified lawyers out of work who do not include "potential war criminal under indictment in Spain" as part of the baggage they bring to the job. And with a new Democratic sweep to power, Haynes' government ties are severely limited, since his neoconservative cronies have been largely stripped of power. Haynes also has a pending complaint before the California Bar for violating his ethical duties as a lawyer by sanctioning and approving torture. So why would Chevron hand major legal responsibility to such an individual?
What we do know is that in recent years Chevron has faced a continually rising tide of human rights problems associated with its operations around the world. The company had to defend itself in an embarrassing and politically-damaging lawsuit in San Francisco for the killing of unarmed Nigerian villagers who were protesting environmental contamination. It was accused of engaging in bribery in Cambodia, supporting the brutal military junta in Burma as the single largest foreign investor in that country, and in 2007 was caught by the Department of Justice for misbehavior in Iraq that cost it a $30 million fine. Chevron now faces a potential $27 billion liability for environmental contamination that is threatening the human rights of tens of thousands of individuals in Ecuador. The latter case alone -- which has been winding its way through various courts for 15 years -- could wipe out a year of company profits. With each of these allegations, the company has refused to take responsibility or to take even the most minimal steps to address complaints, legal or otherwise. For a company running a "Will You Join Us" public relations campaign, Chevron has shown a remarkable failure to take that pledge itself, and join the communities that it operates in.
But maybe that's what happens when your company is staffed by people willing to hire someone for a high-profile job suspected of committing torture. Maybe if you have little or no sensitivity to the basic human rights individuals are entitled to even if they come from far-flung places, then a bit of hoopla about torture doesn't bother you much. And maybe if you're Chevron, you think Haynes' apparent willingness to look the other way when it comes to human rights is an outstanding job qualification.
Popular in the Community