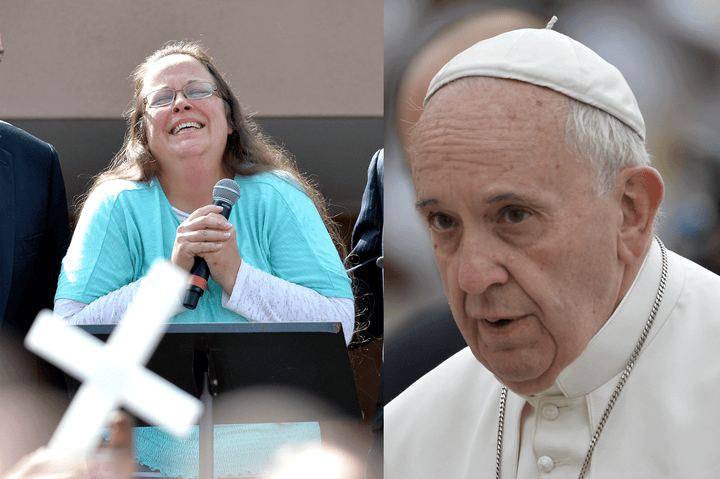 Pope Francis: My child, it is a blessing to meet you.
Kim Davis: [Bawling, with arms raised above head] POPE FRANCIS! I can't tell you how excited I am to meet you. I went to Dress Barn and everything! [Spinning, faster and faster]
PF: Please. Stop spinning, my child. I wanted to say that I applaud your courage and I urge you to keep fighting for you religious beliefs.
KD: I KNEW you were on my side, Pope Francis! The whole time I was denying gay people marriage licenses I kept sayin', "Pope Francis wouldn't let these gays get married! Pope Francis wouldn't let them ruin the sanctity of marriage! If you agree with Pope Francis then you agree with me! Pope Francis and I think they'll all burn in hell!"
PF: Wow. OK. Kim, my child, I agree that it is important to fight for what you believe. But homosexuals are people too. We should not hate them. Also, please never speak for me. 
KD: I think you mean homosexuals are people who spit in the face of God and will be sent to the Clay Aiken depths of hell for their sins, right?
KD: No, but that's correct though?
PF: What's important is -- 
KD: Excuse me, they're going to hell for being gay? Yes or No?
PF: The job of the Church is to --
PF: Yes, that is what the Church believes.
KD: I KNEW IT! POPE FRANCIS AGREES WITH ME! WAIT TILL I TELL THE NEWS THAT I MET THE POPE AND HE TOLD ME I WAS RIGHT! SHIT, POPE FRANCIS YOU KEEP SPEAKING MY LANGUAGE LIKE THIS I'M GONNA HAVE TO GET DIVORCED FOR THE FOURTH TIME AND SHACK UP WITH YOU! 
PF: ... If only I was allowed to wed! OK, well, I'm sure I have a sermon to give so I must be going.
KD: WAIT! Don't you wanna know what I said at this big rally that Mike Huckabee threw for me when I got outta prison? Yer gonna love this! I grabbed the microphone and I said, "It's Adam and Eve …"
PF: … not Adam and Steve. 
KD: Not Adam and STEVE! HAHAHAHA
PF: Yes, I hear that joke 12 times a month. [To his aides] Start the car.
KD: HAHAHA, ADAM AND STEVE!
PF: [To his aides] I said start the car.
KD: BECAUSE IT'S SUPPOSED TO BE ADAM AND EVE HAHAHAH, YES! [Voice deepens] YES!
PF: Jesus Christ. GET ME SOME HOLY WATER! [Splashing Kim with holy water] In the name of the father and the son and the holy spirit --
KD: Mike Huckabee wrote me this song on his bass guitar? WANNA HEAR IT?!
PF: [To aides] WHERE IS THE CAR?!
PHOTO GALLERY
World Leaders React To Pope Francis' U.N. Speech
Calling all HuffPost superfans!
Sign up for membership to become a founding member and help shape HuffPost's next chapter