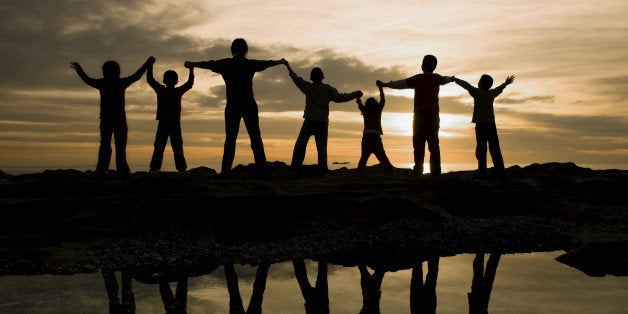 October is fair trade month. For the past five days, I've been sitting with images from a video, Hold On To Hope -- an ad for The Tote Project, a fair trade business started by two friends that serves to empower victims of sex and human trafficking. Launching with two separate design lines, The Tote Project demonstrates a new economic paradigm for the victims: one where it is safe to express themselves, and where their creative expression is the essence of business.
As an editor for an online platform that serves to educate women on the practical steps and significance of financial independence, admittedly, I know very little about modern day slavery. However, it is something I am familiar with.
A FAKE VISA AND A JOB - FROM CHINA TO THE U.S.
Many years ago, I had a friend from China who was sold by her family to a business in the United States. Her parents paid $15,000 so she could get out of China, and into the land of opportunity with a forged visa. In addition to the money her parents paid, she was to work a set length of time to earn and pay-off her keep.
The business was a "massage" parlor. Whether or not her family knew she was being sold to a sex-laundering business is not at all certain. Essentially, she became an indentured servant...but that is not altogether accurate.
Because she did not speak or read English, she had no way of understanding the terms of her contract or enforcing the duration of the contract. Additionally, she had no one to talk to about it as everyone working there was in the exact same situation. One day, she took a chance, and talked to one of her regular clients. He heard her, and decided to help. With the aid of an attorney, he paid the lump sum to satisfy her contract. She was indeed liberated.
INTERNATIONAL LABOR ORGANIZATION ESTIMATES
Some people are not as fortunate. Some are traded like this under the guise of "purchasing" freedom. After all, "the International Labor Organization estimates that forced labor and human trafficking is a $150 billion industry worldwide" (from the Polaris Project.) That is a lot of people participating in the provision and the consumption of slavery.
I knew her a long time ago. She opened my eyes to the real circumstances that led her there. However, with her journey towards autonomy went my awareness of the continued existence of sex and human trafficking.
The Polaris Project states: "With 100,000 children estimated to be in the sex trade in the U.S. each year, it is clear that the total number of victims nationally reaches into the hundreds of thousands when estimates of both adults and minors and sex and labor trafficking are aggregated." Those are very sobering numbers for a country at the heart of the free world.
As I return to my work of providing practical steps for women wanting to claim their financial independence, I do so with a renewed sense of importance and urgency. The women I have interviewed who have shared their stories of hardship and success serve as beacons of hope for other women, and for many people who live isolated and disconnected lives needing to know there is more than hope -- they need to know there is action to take, and there is change being made.
RECLAIMING VALUE. ESTABLISHING WORTH. FAIR TRADE.
I teach and encourage people to have creative outlets, and to use those outlets to express their voices -- voices that have been silenced intentionally or unintentionally for years. I believe reclaiming our voices goes hand in hand with reclaiming our value.
The Tote Project is just one of many fair trade businesses that do this by monetizing and creating a commercial engine for victims seeking real and safe change in their lives. Freedom of expression becomes the key to a sustainable economy. This freedom is in direct opposition to the economy of slavery: an economy based on the expenditure, consumption, and extinction of expression, integrity, and ultimately, people's lives.
By reclaiming our voices and supporting others to do the same, we re-establish our value and worth, and impact the bottom line of how we collectively live our lives.
I know it is challenging to stay informed, and not to become overwhelmed. Although October is coming to an end, I will continue to be a conscientious consumer who supports fair trade businesses. Whatever your call is, remember, action and money talk. With them, we certainly can affect change and fashion freedom for ourselves and for others, one life at a time.
Popular in the Community