Totemism suggests a relation of another order between scientific theories and culture -- one in which the mind of the scholar himself plays as large a part as the minds of the people studied; it is as though he were seeking, consciously or unconsciously. -- Claude Levi-Strauss
Yis Goodwin creates totemic art, which is the only way to put it. Some call it whimsical, but I would not call a roaring lion head forcefully emerging from the open mouth of a cartoonish crowned animal head whimsical. Curious, in an Alice in Wonderland / Through the Looking-Glass kind of way, maybe. However, totemic is the only word I've been able to find to give the look of his work justice in definition.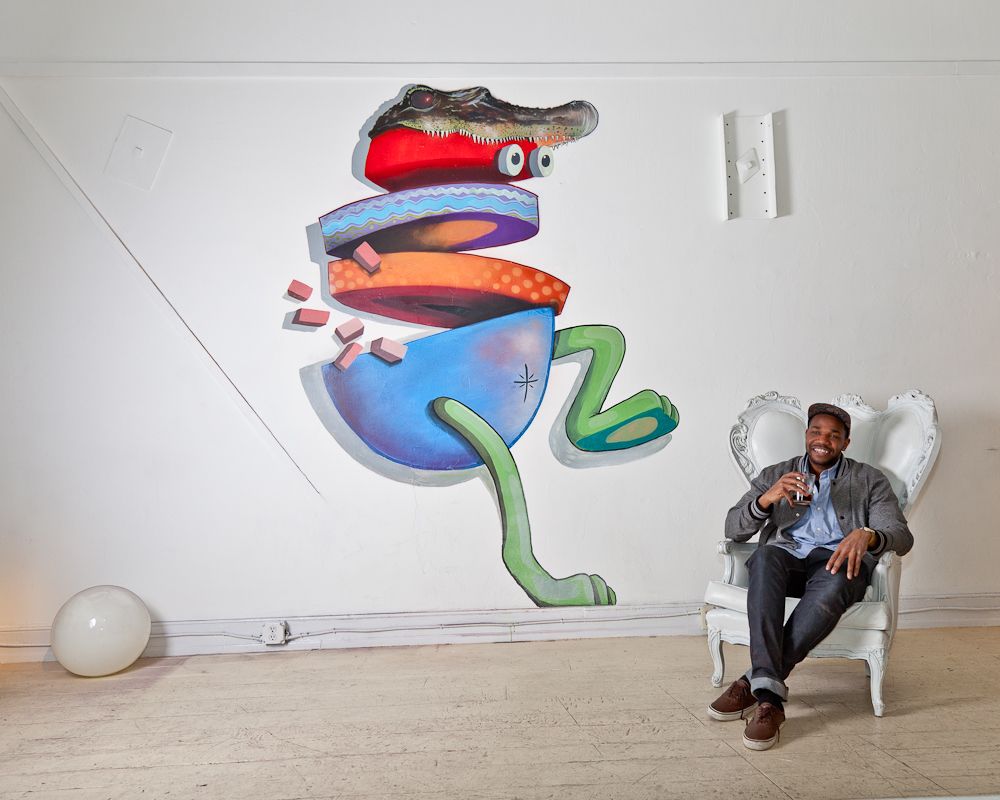 Goodwin at "Colossal the Small" Exhibit at James Oliver Gallery in Philadelphia, PA. Photo by Bernadette Dye.
He cites "being ignored" as what inspired him to create street art, and he started as many inner city teenage boys do, picking a nom de plume and writing it where ever he could find a spot. The lettering prominent in most graffiti and street art quickly bored Goodwin and he moved to the animal characters because of their universality and their ability to be intimidating without being outwardly aggressive.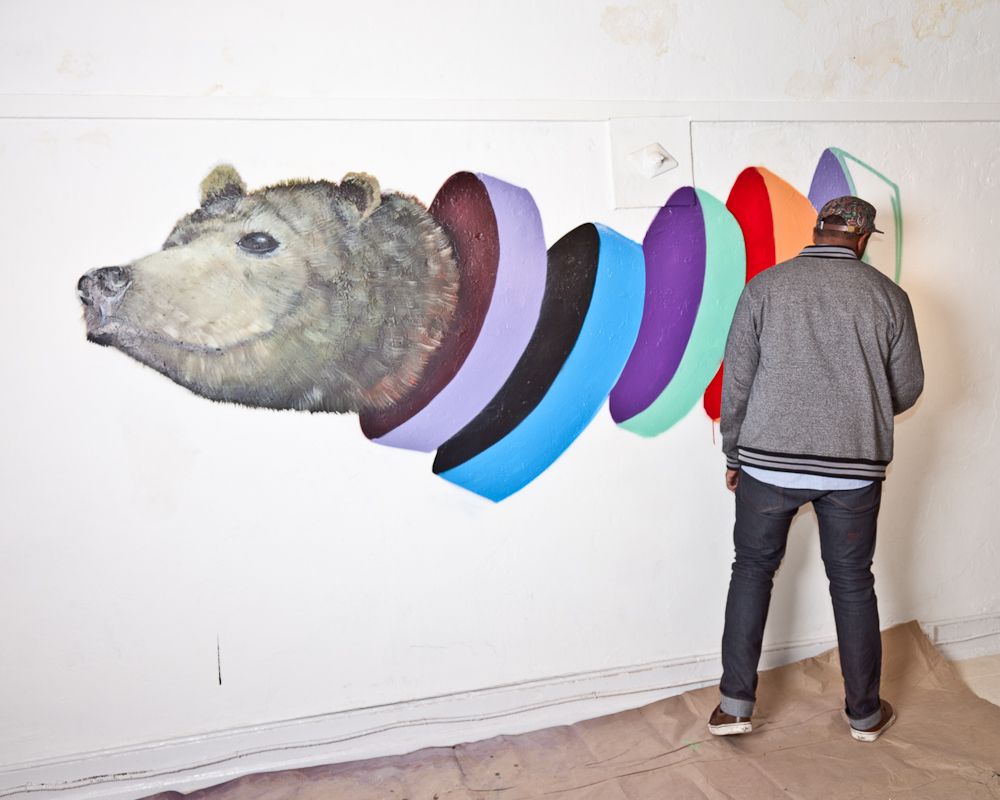 Goodwin creating one of his murals at James Oliver Gallery. Photo by Bernadette Dye.
Just as with socio-cultural totemism, totemic art identifies animal and natural elements as symbols of protection and self identification."Doing street art made me feel real. It was therapy, it made me feel like a real person." Goodwin explained on the evening of Tuesday March 26th, while busy in James Oliver Gallery installing his solo art exhibit. At the top of a three-story walk up on Chestnut Street in his home town, small framed pictures line the interior of the gallery's floor, and Goodwin is in the rear of the gallery, in front of three large, nearly floor to ceiling length windows.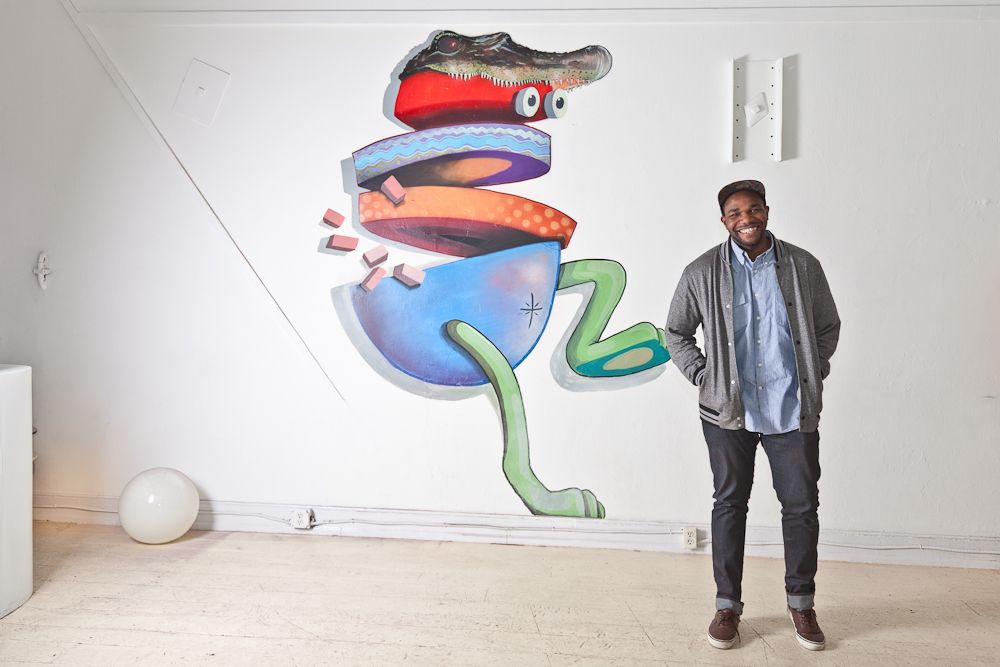 Goodwin with one of his murals at James Oliver Gallery in Philadelphia. Photo by Bernadette Dye.
Goodwin, who also goes by the name NoseGo, has painted a mural on the wall next to the windows. It is about eight feet tall, give or take a few inches. There is another image, also about eight feet long, running the length of the wall near the entrance of the space, at that moment unfinished. They are the largest pieces in the show, and they are the only pieces that cannot be sold. Goodwin came to the space in the evenings to work on the wall murals for nearly a week, with his framed pictures surrounding the perimeter.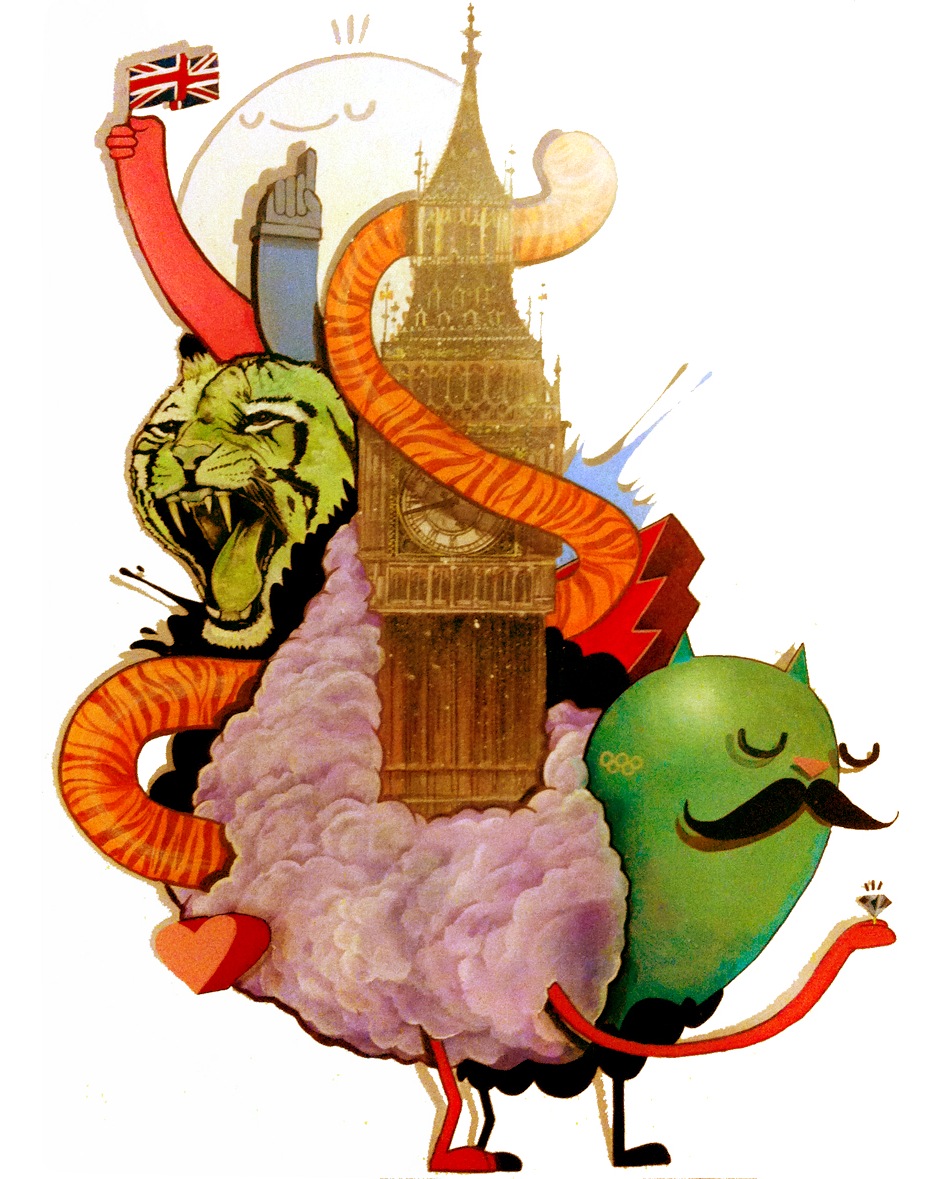 'Foggy London Town' Photo by Yis Goodwin.
The nature of such images in the exhibit indicates two things about this art. That for Goodwin these images are symbolic of the empowerment of artistic expression and that fundamentally for him, art is giving. Beyond congratulatory words, which he would get about his framed pictures anyway, there is only the intrinsic value of the art for Goodwin that remains. They are there to represent the artist himself and what he sees art to be, a gift to all who see it.
Goodwin's show at James Oliver Gallery runs until May 4, 2013 in Philadelphia, PA. From May 4-25, he will be in the group show "Vanguard" at Thinkspace Gallery in Culver City, CA. On May 10 he has a solo show at Unit 44 Gallery in Newcastle, UK and then he is back in Philadelphia for the group show "LAX/PHL", a joint effort between the Culver City Thinkspace and the gallery the exhibit will be held in, Gallery 309 in Philadelphia, PA.
Popular in the Community