Anastasia Pittis' daughter, Xenia Verhagen, was born seemingly healthy in November 2015. About two months later, Pittis noticed her daughter's head had become larger than average and that she was having trouble looking up.
Doctors at a hospital in Albuquerque, New Mexico, discovered Xenia had hydrocephalus, or fluid on the brain, because of a brain tumor. Pittis told The Huffington Post that Xenia was flown to Children's Hospital Colorado in Aurora, Colorado, where doctors removed the brain tumor and drained the excess fluid in her brain. Xenia's current treatment plan includes six cycles of chemotherapy.
As her now 7-month-old goes through treatment, Pittis finds comfort in breastfeeding her daughter. She shared her story with the Facebook page Breastfeeding Mama Talk and wrote about the important role nursing has played when it comes to bonding with Xenia.
"I am incredibly happy to have the opportunity to breastfeed her while she goes through chemotherapy," Pittis wrote in her post. "It has been a bonding experience for the both of us, especially because no day is guaranteed."
Pittis told HuffPost that continuing to nurse has given her a "sense of normalcy" during this hectic time. Her experience also struck a chord with Facebook fans of Breastfeeding Mama Talk. Since the page shared Xenia's story in mid-June, the post has received more than 31,000 reactions and more than 1,500 shares.
Pittis said she never expected the post to go viral. She simply wanted to raise awareness about childhood cancer and brain tumors and highlight a touching connection between her and her daughter.
"Being able to provide nourishment for her and hold her close in my arms has become one of the most important parts of my day."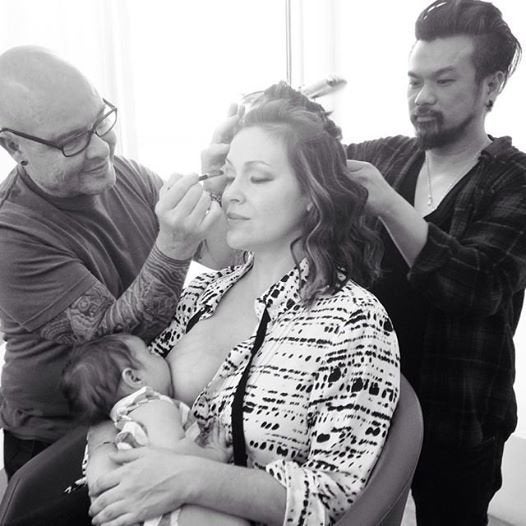 Breastfeeding Moments In Hollywood