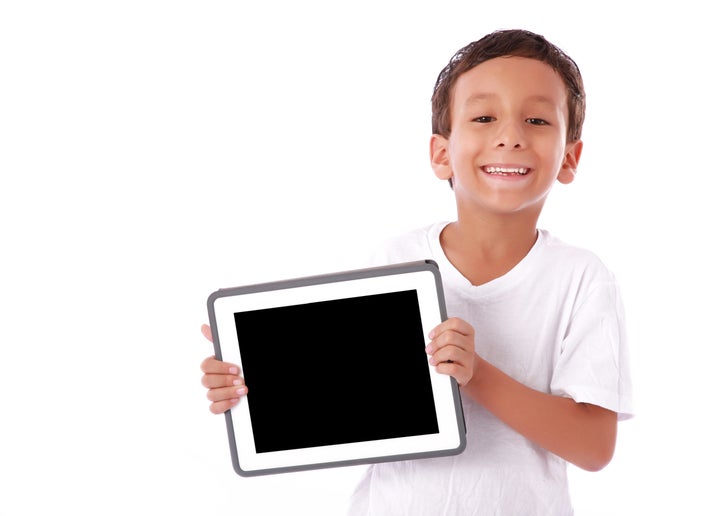 We Americans love naming things. It gives us an immediate picture and helps us understand the totality of things. So picture an 18-month old toddler: pull-ups, dribble, grasping at the nearest shiny object, babbling. Now picture him in front of an iPad and prepare to be freaked out. This is what happened to me as I began to the test the kids iPad app I created on kids under three.
For convenience, I first tested the app on a few close friends who are not in the kid app world. Some simply stared at the first page. I had to nudge them to swipe the screen. When I wasn't face-to-face with these adults they chastised me for lack of instructions.
But toddlers and kindergarteners took to the app like a fish to water. Their motors skills may otherwise seem unrefined but put an iPad in front of them and they swipe, touch and engage like they've been on this earth longer than the iPad itself. These toddlers and I, we saw eye-to-eye. They got it. If only they knew how to pound it.
Just three years old, tablets, and the iPad in particular, have turned out to be phenomenal tools for the under-six set. At no other time have parents had a sophisticated and user-friendly product that demonstrates kids' innate logic and abilities. It allows kids to engage with the world without yet fully comprehending speech. As though their two-year-old jumped in the driver's seat of their SUV and put the gear into drive, parents, rightfully so, can easily become freaked out.
But that's not the only reason for parents to proceed with caution. The tablet poses another child-rearing "call" parents have to make: Is tablet technology good or bad for their kids?
In this month's Atlantic cover story, "The Touch-Screen Generation" Hanna Rosin writes about the alarming transformation of the American childhood in short time, parents worries over the quantity and quality of screen time, and an overview of the research to date on young kids and screen time.
Because the tablet industry is so young, little has been studied or published that supports the notion that the iPad makes kids smarter. Ever since the 1999 American Academy of Pediatrics discouraged television viewing for children younger than two, stating the age group's critical need for "direct interaction with parents" and others, we've been left with the impression that screen time is bad.
It's certain that technology is not going away so how do parents maneuver the iPad and the apps hermetic to tablets? Sandra Calvert, the director at the Children's Media Center at Georgetown University, is researching whether toddlers learn from iPads. She says in The Atlantic, "children's lives are filled with media at younger and younger ages, and we need to take advantage of what these technologies have to offer."
Many apps are categorized as "educational" but Rosin finds through her discussions with kid app developers like the successful Toca Boca's Bjorn Jeffery that "every part of a child's life can't be held up to that (educational) standard. Is running around on the lawn educational?" He makes a good point.
Today we rarely learn through the Socratic method so what becomes increasingly important to cultivate is curiosity. Children should be inspired and equipped to ask questions and then search for answers. Most likely they'll search using a piece of technology. So if you ask me if kids learn chasing rabbits down digital wormholes searching for answers I'd say unequivocally, yes.
For instance, Rosin notes what psychologist Jerome Bruner called "enactive representation" meaning kids at a very young age classify objects in the world not by using words but by making gestures. Which is why young kids have been early adopters of tablet technology, they can do things and interact with the world without speech. I've seen kids laugh, be surprised, interpret and command objects using their pudgy, or delicate, fingers. Which fulfills what Maria Montessori said, "The hands are the instruments of man's intelligence."
Apps are very alluring and an attractive element for both kids and parents. Before kids know how to name things and before they can say what things are or do, apps show them their innate ability to comprehend, be inspired and search for more. But even more, they allow kids to become an insider of the world much earlier.
Popular in the Community