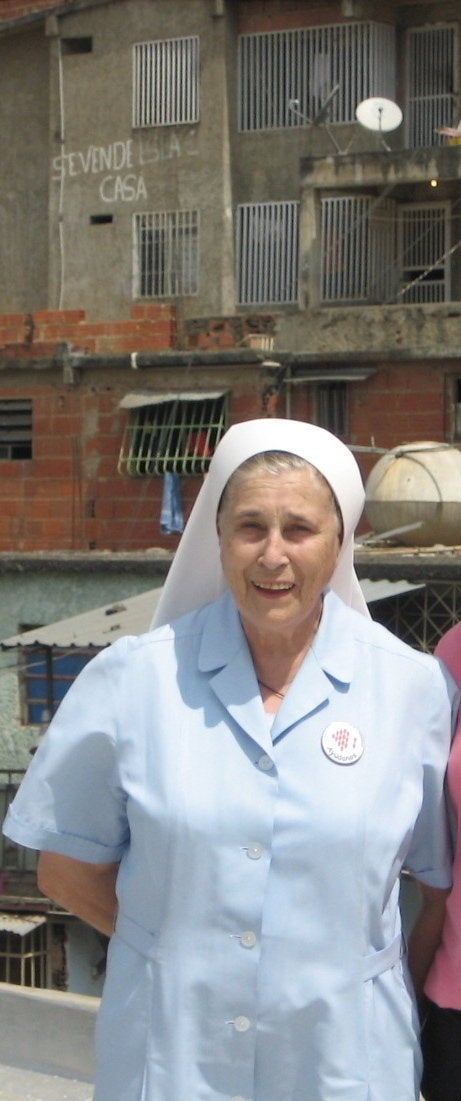 When I first met Mother Maria Luisa, she was leaping onto the roof of a building. The site was surprising, not because she was on the roof -- having climbed up an attic ladder -- but because it is not every day you see an 80-year-old nun in a habit and sandals emerge from a hatch to stand on top of a building. And if you think that's rare, consider that this 80-year-old nun was standing on the roof of a school in the most dangerous slum in Latin America: Petare.
Petare is a barrio outside Caracas, Venezuela, with an estimated two million residents. Shacks are stacked on top of one another in precarious towers, with nearly vertical steps leading from the street to the uppermost dwellings. In the heart of the barrio, in a neighborhood called "La Bombilla," lies Genaro Aguirre Elorriaga, a Catholic elementary school founded and run by Mother Maria Luisa Casar.
Originally from Spain, Mother Maria Luisa came to Venezuela in 1961. She started teaching at a wealthy private school in Caracas, but told me that she realized her calling was to bring school to the impoverished and forgotten.
I always had in my mind the idea of being able to have a school, and not a rented place in a village... with very few children who had no notion of ever being in a school, public or private. And well, I've always looked for the least fortunate, the one that has the least, and isn't being cared for by anyone.
She found what she was looking for in Petare. Here, the public schools are frequently closed -- usually because there is no water, or no electricity, or it's a holiday. Mother Maria Luisa told me that when she first went to the slum, she saw children in the streets who followed her wherever she walked.
So 16 years ago she started teaching a tiny group of students in one of the shacks that balanced on the hill. As the group grew, she started looking for a suitable building to house the students. Finding none, she started building one on the large shoulder of the only road in the barrio.
Today, the school has 400 students, many of whom graduate to go off to college. Though it relies completely on private donations (Mother Maria Luisa says the only thing she ever received from the government was a used cooking pot), Genaro Aguirre Elorriaga has a kitchen, a computer lab, music rooms, a psychologist office and even pediatric and dental services.
But while the school is an oasis in which students can seek refuge, it cannot protect them from the daily horrors of living in Petare. Nightly gun battles in the streets are common and neglect and abuse at home are the norm, Mother Maria Luisa explained:
What makes me sad is that some get lost. It also makes me sad, the mistreatment they receive from their parents. Like marking them, hitting them on the head, hurting them... taking them to the pediatrician and having to call the parents and threaten them or send the police. The life these kids lead is not an easy one. It's hard. A 7-year-old child comes with the keys to the house along with a younger sibling. They leave here and their mother doesn't return home until 8:30pm because she's out there selling something and she doesn't return until 8:30pm. And on Fridays she sells beer and the kids don't see her. So whatever they eat here... there's no more.
What's worse is that some of the families are so poor that they send their daughters into prostitution to provide for the family.
There's a bad mother... because she's not even close to a mother... she's a bad mother who says "go out and get some money" to a sixth grader. "Go out and get some money." And she disappears for 15 days or a month."
But Mother Maria Luisa has vowed not to give up. Though she knows her own powers are limited, she trusts God to continue working through her until her dying day. When I asked her if she was ever going to retire, she responded, "no -- not until God takes me. Until I cannot do anymore. I've been thinking of things. But I'm not going to stay quiet. I am going to continue."
To see the full story on Mother Maria Luisa and her school, please watch World Report on HDNet, Tuesday, June 22 at 9pm ET/ 6pm PT. You can also visit www.madreluisa.org
Calling all HuffPost superfans!
Sign up for membership to become a founding member and help shape HuffPost's next chapter