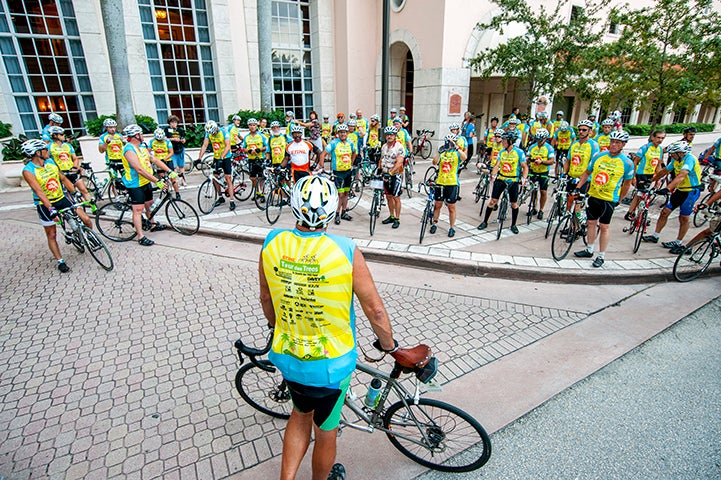 I look forward to the STIHL Tour des Trees each and every year, but I am sad to say that I won't be able to ride in the epic cycling journey this October. I am already regretting the decision to not participate this year and will I'm sure, as I already am, enviously read the Facebook posts from fellow riders. But I will be comforted knowing that some of my colleagues will have this experience for the first time.
This year's Tour is gathering in Charlotte, North Carolina where nearly 100 riders will complete more than 600 miles of cycling. The STIHL Tour des Trees rides to support tree research and to further the work of many of my good friends who help our urban forests thrive. The Tour has brought me countless things such as inspiration, camaraderie and lifelong friendships. People from all over the country and from all professions come together to support the good work of the TREE Fund during the Tour. Young, old, experienced cyclists and first time riders; you name it and we've got it.
Along the way, participants will enjoy great riding led by Tour organizer Paul Wood of Black Bear Adventures. Paul has never let us down and scouts the best route and riding opportunities available each year. Beginning in Charlotte, the riders will head north and skirt the upper Piedmont area of North Carolina. The climbing on day one is substantial, but I know all will conquer the hills of the Tarheel state. From there the riders will head east through Greensboro, Durham and Raleigh before cycling southwest returning through Southern Pines and Camden, South Carolina back to Charlotte for a victory lap.
As the Tour passes through different towns, my good friend and veteran rider, Warren Hoselton, AKA Professor Pricklethorn, will attend elementary schools and let kids and teachers know about the importance of trees. Warren's enthusiasm for this ride, trees and people is infectious. I am consistently inspired by not only the riders on the Tour but also by the work done by the TREE Fund. Hundreds of thousands of dollars have already been raised to support tree and education and we will continue see numbers grow.
Tour riders have been training for at least half a year now for the upcoming ride through the Carolinas. Each year, we ride mile after mile, or as my Canadian friends like to say, kilometer after kilometer. Some ride in groups and some ride alone, but each rider cycles on with a steady inspiration and sense of accomplishment. Veteran riders know that saddle time is the key. Ride, ride, ride. Tour organizers hope all have put in the effort to train and spruce up the bikes for the long ride.
During the seven-day journey, riders will need support; water, snacks, first aid, motivation, etc. and there is a whole team dedicated to just that. The TREE Fund Volunteers, Joanne Nakeff, Debbie Wells, Kathy Gilmore and others will be there with smiles to make sure everyone is taken care of.
This is only a sketch of the event. The painting is much more colorful and has subtle details that you have to experience yourself. The feeling of riding hundreds of miles on your bike cannot be fully articulated, just as the feeling of doing it for a cause as important as the TREE Fund. Supporting our urban forests is not only necessary but critical as populations grow and new areas are developed. Being responsible and balancing our needs with that of the world is an ethos shared by many of those on the Tour. Every rider understands the best way to do that is to support those in urban forestry and arboriculture who present the best solutions for this relationship to be successful. Those doing valuable research to combat tree disease, improve tree health and tree development are the ones that will ensure this relationship is strengthened.
It is in this spirit that the Tour's title sponsor continues to provide for the event. As an employee of STIHL Inc., I have enjoyed representing my company on this Tour. Even though I cannot ride this year I know communities in North and South Carolina will be inspired by my cycling and tree family. And most of all my friends will all ride on!
REAL LIFE. REAL NEWS. REAL VOICES.
Help us tell more of the stories that matter from voices that too often remain unheard.
This post was published on the now-closed HuffPost Contributor platform. Contributors control their own work and posted freely to our site. If you need to flag this entry as abusive,
send us an email
.