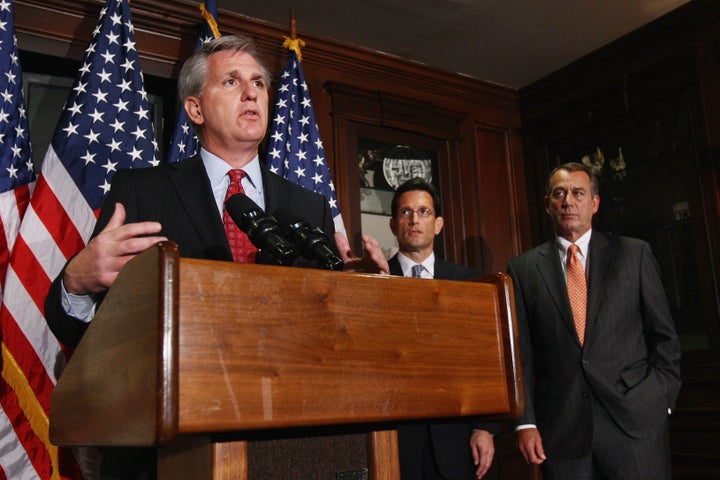 This post has been updated.
Amid contentious negotiations taking place in Washington on the issue of raising the debt ceiling, the Washington Post offers a glimpse of what went on behind the scenes during a closed-door meeting among House Republican lawmakers on Tuesday.
The gathering took place as some conservative members of the chamber remain at odds with their GOP colleagues on a plan put forth by House Speaker John Boehner to lift the nation's deficit limit. Rep. Jim Jordan (R-Ohio) said on Tuesday morning that at the time he was confident the proposal did not have sufficient GOP votes to pass.
According to the Post, House Majority Whip Kevin McCarthy (R-Calif.) sought to foster a sense of unity among House Republicans at their meeting by playing a clip from The Town, a 2010 crime thriller starring Ben Affleck and Jeremy Renner.
In the segment of footage reportedly shown, Doug MacRay, a bank robber played by Affleck, says to his friend Jem Coughlin, played by Renner, "I need your help. I can't tell you what it is. You can never ask me about it later. And we're going to hurt some people." Jem then responds, "Whose car are we gonna take?"
Republican aides tell the Post that Rep. Allen West (R-Fla.), a Tea Party-backed lawmaker with a penchant for making eyebrow-raising remarks, told his colleagues after the clip was shown, "I'm ready to drive the car."
(The Chicago Tribune recently reported that the film appeared to inspire a real-life bank robbery.)
During a recent appearance on Fox News, West was asked if he would consider supporting a short-term proposal to raise the debt ceiling.
"I am a reasonable fellow and I do not want to see the U.S. default on any of its obligations," he said. "I would be willing to listen to something that makes sure we get past the August 2nd deadline. But long term we have to continue with spending control measures and any type of tax hikes are off the table for me."
McCarthy has played a critical role in facilitating a sense of unity among a House GOP caucus that includes a significant number of staunchly conservative freshman lawmakers. Robert Draper wrote in a New York Times Magazine profile published earlier this month:
McCarthy informally polled them when they first came to town in November for orientation. All but four of them said they would vote against raising the ceiling, under any circumstances. Then McCarthy (along with Ryan and the House Ways and Means chairman, Dave Camp) began conducting more listening sessions. The whip recognized that it would be counterproductive to lecture the freshmen about the economic hazards of not raising the debt ceiling. He also realized that it's one thing to pass a budget — which in the end is a nonbinding political document — and another thing to throw America into default. And so McCarthy has urged them to consider raising the ceiling under certain conditions and thus to view this moment as a golden opportunity to force significant changes from the White House. "We all ran for a reason," he tells them. "What's most of concern to you? What is it that we think will change America?"

As a result, the freshmen have begun to move away from a hard "no" on raising the debt ceiling to a "yes, if." In the conference room, several freshmen have said they'll vote to raise the ceiling only if the president agrees to repeal his health care legislation. Or if Obama signs into law a constitutional amendment to balance the budget, after all 50 states have ratified it...
HuffPost's Sam Stein reports on the proposal introduced by Boehner:
The debt ceiling deal introduced by Speaker John Boehner (R-Ohio) would save, by one measure, roughly $850 billion over the course of ten years and just $1 billion in 2012 -- two metrics unlikely to satisfy the most conservative members of his conference.

The Congressional Budget Office, which is the official scorekeeper of legislation, released its analysis of the Budget Control Act of 2011 on Tuesday afternoon. The findings were damaging enough that an hour later, Boehner's office told reporters it would rewrite the bill to achieve a more favorable scoring. Hours after that, GOP leadership announced it was delaying a vote on the plan until Thursday.
UPDATE: HuffPost's Sam Stein reports:
On Wednesday, Affleck -- who wrote and directed "The Town" -- said that he too found the whole scenario a touch bizarre. And in a statement his spokesperson provided to The Huffington Post, he suggested that Republicans use a different one of his movies next time they need to whip votes.

"I don't know if this is a compliment or the ultimate repudiation," said the actor, who is currently in Turkey directing and starring in "Argo," an adaptation of the Tehran hostage crisis. "But if they're going to be watching movies, I think "The Company Men" is more appropriate."
Click here for the latest developments to unfold in ongoing negotiations to raise the debt ceiling.
Calling all HuffPost superfans!
Sign up for membership to become a founding member and help shape HuffPost's next chapter