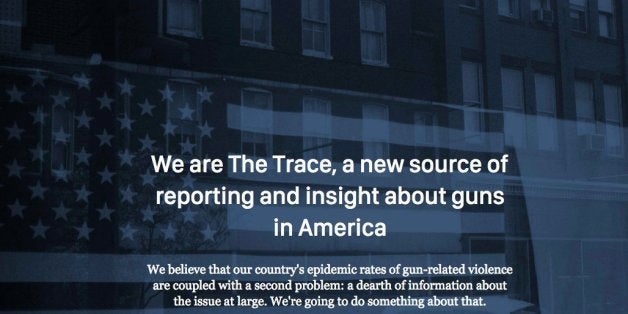 NEW YORK -- Gun enthusiasts have plenty of options for industry news and firearms reviews. And the National Rifle Association boasts its own media arm to amplify any perceived threats against Second Amendment.
What's missing in the gun-media landscape, say founders of The Trace, is a news outlet devoted to the prevention of violence.
"We believe that the rate of gun violence is too high and we believe that there is not enough information about the issue as a whole," editorial director James Burnett told The Huffington Post in an interview. "As journalists, we have it as our mission to address that shortage of information."
Burnett, who left The New Republic a few months ago following a staff exodus, said The Trace will not publish editorials supporting specific legislation or candidates. But the site will operate from the standpoint that there are "too many people being killed and injured by guns," he said.
That perspective falls in line with Everytown for Gun Safety, the advocacy organization launched last year by Michael Bloomberg, the billionaire media mogul and former New York mayor, to challenge the NRA's dominance in the gun debate. Bloomberg's organization is providing seed money for The Trace, which will be run as separate, editorially independent nonprofit. Huffington Post co-founder and BuzzFeed chairman Ken Lerer, venture capitalist Nick Hanauer, and The Joyce Foundation have also signed on as backers.
John Feinblatt, president of Everytown for Gun Safety, said in an interview that the idea developed after his organization ran into difficulties obtaining information about gun violence. For instance, legislation passed in 2003 at the urging of the gun lobby has helped suppress information tracing guns from the point of sale to their use in violent crimes. That gun trace data, Feinblatt said, is "probably the single most important piece of information in solving crimes, unearthing networks of criminal activity, [and] figuring out how gun markets work."
Feinblatt said he considered hiring a blogger to cover gun violence developments, but decided the seriousness of the issue, coupled with obstacles in obtaining data, required experienced journalists able to dig deeply. "When there is such a concerted effort to suppress information," Feinblatt said, "the natural instinct is to shed sunlight on it."
The Trace is modeled less on traditional industry outlets, like Guns & Ammo, and more on single-subject nonprofits, such as The Marshall Project and Inside Climate News. It's Feinblatt's job, he said, to find financial backers. And it's Burnett's job, he said, "to win a Pulitzer."
To do so, of course, The Trace has to start publishing.
Burnett last week stressed the urgency of the project, which will be unveiled at a party in Washington on Tuesday night. He plans to begin publishing within days. Such a site is needed now, he said, given policy debates and increasingly grim milestones, like Chicago's 1,000th shooting this year. Burnett suggested The Trace will take a page from the rollout of Vox.com, which launched in just nine weeks and expanded from there.
The Trace set up shop last week within a labyrinth of tech startups sharing a floor near New York's Union Square. During a recent visit, staffers appeared more focused on getting the site off the ground than on office décor and creature comforts. In Burnett's office, which he shared with two colleagues tapping away on laptops, the walls were bare and the air conditioning wasn't working on a near-90 degree day.
When up and running, Burnett said he expects The Trace to publish around 20 pieces of original reporting, commentary and analysis each week, along with steady curation of news and statistics (like a running tally of violent incidents from the Gun Violence Archive). The site will cover everything from the gun lobby and industry, to politics around legislation and the culture of guns in America. Some planned articles include the campus-carry movement, the bankruptcy of iconic gun manufacturer Colt, and the economics of hoarding ammunition. Another piece will examine a couple neighborhoods in South Los Angeles, where there have been 363 homicides since 2000.
Burnett said he hopes the website's journalism "will appeal to people across the spectrum on this issue."
The Trace is sure to face skepticism from gun rights advocates wary of any outlet affiliated with Bloomberg.
When Capital first reported last month on the startup, critics pounced. The NRA's Institute for Legislative Action described the forthcoming site as a "propaganda outfit," part of a "disinformation campaign," and evidence of "Bloomberg's ego-driven zeal to control" Americans' rights.
Burnett stressed that The Trace will be a "reporting-driven site" and its journalists -- whether on staff in New York or freelancing from Texas, Kansas, or Chicago -- will seek the perspectives of conservative organizers, Republican elected officials, and gun-rights advocates.
Six of seven staffers have had direct experience with guns, some through reporting, Burnett said. In his case, it was in college ROTC. Burnett said The Trace isn't reflexively "anti-gun," but is "anti-gun violence."
For instance, Jennifer Mascia, a reporter covering urban gun violence, has written about her personal experience with guns, including her late father having been a mob enforcer. She also has experience facilitating a conversation about guns online among people with divergent views through her work on The New York Times' late-lamented "Gun Report."
While Burnett said he hopes "to do journalism that creates some common ground" among people with different perspectives, he stressed that the site's priority is for "the common good."
Related
Popular in the Community