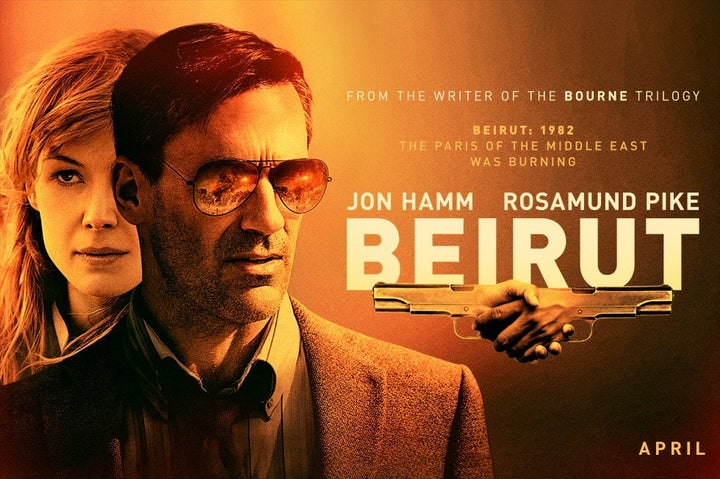 A dark and foggy Middle Eastern city? Check. A sad, white victim of this distant and dark city? Check. A bombing? Check. Little, brown kids running around with toy guns? Check. Sad music that apparently never stops playing on loud speakers across the Middle East? Check. A historically inaccurate portrayal of events that occurred? Check.
The first trailer for the "Middle East" thriller, 'Beirut', starring Jon Hamm and Rosamund Pike, has all of those favorite stereotypes and more. Set in the 1980s, it follows Jon Hamm's character as he finds himself back in Beirut for a CIA mission, 10 years after his family was murdered in the same city.
The film is set to be released on April 13, which just happens to be the day the Lebanese civil war began 43 years ago, and ultimately reduces the date to a simple marketing opportunity, disrespecting the Lebanese people and their history in the process.
The movie seems to follow the same rhetoric so many other Middle East thrillers like to portray - Arabs are barbaric and uncivilized, and their countries are a mess. Americans, on the other hand, are victims of the issues in the Arab World, and the only ones who can save the Arabs from their self-destructive ways.
What's even worse is that the movie was clearly not shot in Lebanon, let alone Beirut. I mean, if you're going to take an entire city, whose history reaches as far back as the Canaanite period, and name your movie after it, you should, at the very least, film your movie there.
Twitter users seem to agree that the trailer provides a disrespectful and inaccurate portrayal of Beirut, and their outrage was anything but silent.
Here are Some of the Reaction Tweets:
Related
Popular in the Community