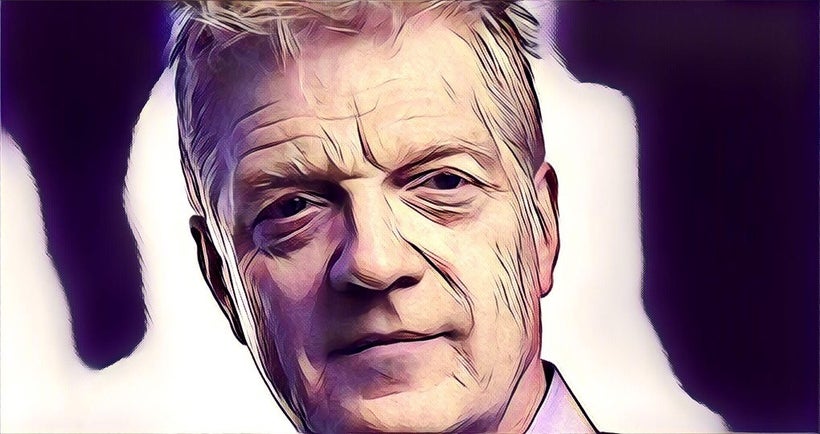 You make sense of your life, retrospectively, when you come to write your resume…being alive is a creative process. –Sir Ken Robinson
Sweat slowly trickled down my temple. My feet were still racing yet my body lie in wait for the doors to open. Camera crew ready? Check! My sales pitch? No. I had gone through every scenario I could think of and yet I still felt drastically unprepared for my pitch.
I was at the ASCD educational conference waiting for keynote speaker Sir Ken Robinson to arrive. My hope was to capture his thoughts about global education without stumbling over my words. This was the biggest and most prominent voice in education and I was seconds away from my chance.
As we waited, backstage, the doors opened with sparkling L.A. sunshine flashing through the opening, amidst the backdrop of a blackout of florescent exhibit hall lighting, revealing the silhouette we have all come to know.
It was the Sir Ken Robinson!
As he approached I made a cautious stride forward, mustering the words to engage him for an interview. He graciously accepted and, as you might imagine, answered my questions with an elegance that both demonstrated poise and ignited passion for those within earshot of his message (watch a clip of this interaction below).
Fast forward many-a-school semester and I still find that experience to be one of my lighthouse moments, not as a professional, but human being.
Maybe this seminal moment is directly tied to the person Sir Ken Robinson and his brilliance.
Maybe it is a reflection of our global need to establish a voice in education. A voice that isn't censored by political affiliation or appointment. A voice given permission to both challenge and motivate while identifying truths, in education, without fear of marginalizing one person or role in the complex system that is education.
Matt Harris, Ed.D. an international technology expert and Deputy Head of School for the British School of Jakarta believes that this voice is a necessity to fully realize the potential of the education community at-large.
Contemporary education is at crossroads where we are rich with creativity, straddled by regulation and absent any shining beacon to guide us. We need a Martin Luther King type leader to unify our passions and focus our efforts for the common good of learning for all. -Matt Harris, Ed.D.
I happen to agree with Harris. I am sure a lot of you do too. This need for direction has taken Sir Ken Robinson from TED TALK fame to conferences and schools across the globe since that fateful day in Los Angeles. I am not sure that anyone has bestowed an honor greater than knighthood upon the broad shoulders of Sir Ken Robinson yet can we name him our [global education professional community] ambassador?
Unofficially, I think it is fair to say that regardless of country-of-origin, role in education and/or political affiliation, Sir Ken Robinson actively serves as our de facto education representative. He keenly speaks to all of us at some level, inspiring creative collaboration and experience that brings various people around the common goal - improving the lives of children through creative and powerful educational approaches and opportunities.
The opportunities reveal themselves, often, during events in education coalescing different ideas and professionals.
I recently spoke with Brian Koning, Director of Advancement at Abbotsford Christian School (ACS) in British Columbia, Vancouver as his school prepares, much like I did when I met Sir Ken Robinson, for an event they never thought possible (see my interview with Brian Koning below).
Koning aptly shares the story of the day when a staff member flippantly suggested they reach out to Sir Ken Robinson to gauge his interest in their Learning Revolution event and the laughter that ensued at the very thought of a 'yes.'
We're so excited to bring such a distinguished guest like Sir Ken Robinson to Abbotsford for this once in a lifetime opportunity." said Julius Siebenga, Executive Director, Abbotsford Christian School. "As a thought leader in 21st century education, Sir Ken's provocative message certainly resonates with us as we seek to advance education for all students throughout the province. We are thrilled to share Sir Ken's message with teachers and community leaders across the region in a true spirit of collaboration, and we look forward to how his message can vault us forward! - Julius Siebenga, Abbotsford Christian School Executive Director
That 'yes' came (video above) and so Sir Ken Robinson will visit (ACS) integrating both the school and business community providing an opportunity, for all in attendance, to experience education in raw form.
The message, from my vantage point with microphone in-hand, is clear - while Sir Ken Robinson's celebrity may prevent you, your school or community from reaching out assuming that your needs are too small for a Knight, remain steadfast that the unofficial patriarch fuels our education ecosystem not by static writings from the comforts of home, but through exhaustive travels across many lands.
You might wake up one day and find a beam of sunlight providing the backdrop to a familiar and powerful silhouette.
More Articles & Information
Audiences have enjoyed education interviews with the likes of Sir Ken Robinson, Arne Duncan, Randi Weingarten, Sal Khan along with leading edtech investors, award-winning educators, and state and federal education leaders. Berger's latest project boasts a collaboration with AmericanEdTV and CBS's Jack Ford.
REAL LIFE. REAL NEWS. REAL VOICES.
Help us tell more of the stories that matter from voices that too often remain unheard.
This post was published on the now-closed HuffPost Contributor platform. Contributors control their own work and posted freely to our site. If you need to flag this entry as abusive,
send us an email
.