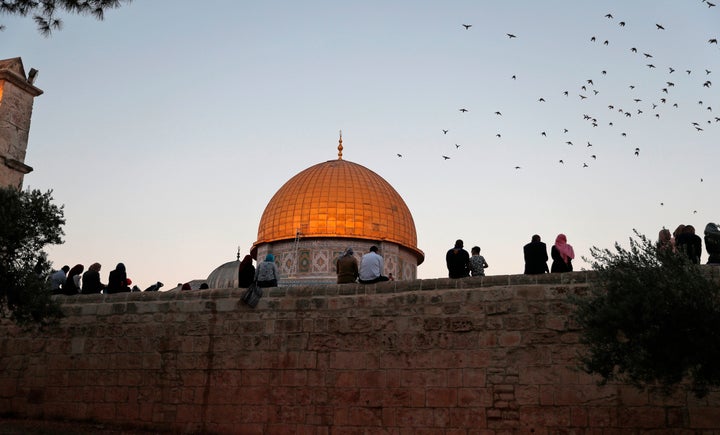 Last week a group of Likud members and experts presented Israeli Prime Minister Benjamin Netanyahu with a plan to carve up Arab Jerusalem in somewhat the same way that Hebron was dismembered. Some saw news of this effort as a positive sign that the Netanyahu government might be considering ideas that would end direct rule over almost 300,000 Palestinians. In fact, the intent was quite different.
The design behind the plan was both financial and racist. By shedding Israel of the responsibility of providing support for these Palestinians, "billions of shekels" would be saved. At the same time, by ridding itself of 300,000 Palestinians, Israel would insure Jewish demographic dominance in what remained of their part of Jerusalem.
What the plan does not consider is the fate of the Palestinians Israel would be casting off. Far from free, they would remain a captive people surrounded by a maze of settlements and a 28-foot Wall. And they would remain impoverished cut off from the rest of the West Bank and denied the ability to engage in meaningful commerce with the world beyond the Wall.
Whether or not this proposed plan is ever implemented, it is clear that Israel's Jerusalem policy, since it first occupied the eastern part of the city, has been moving in this direction. They have sought to reconcile two imperatives: keeping control over the city, and "Judaizing" its character. This has had a devastating impact of the lives of Palestinians in the city and its environs.
"Netanyahu's plan does not consider is the fate of the Palestinians Israel would be casting off."
Up until the early 1990′s Jerusalem had served as the hub of Palestinian economic, cultural, social, and political activity. The city was not only the home of Palestine's most important religious sites and institutions, it was where hundreds of thousands of Palestinians throughout the occupied territories came to work or shop, to go to school, to receive medical treatment or social services, to attend cultural events, or to consult with professionals of all types. Even without a state, Jerusalem performed all of the functions of a capitol.
After the Israelis occupied all of Palestine in 1967, it wasn't always easy for Palestinians to gain access to the city. There were periodic closures and checkpoints with which they had to contend. But, even with the burdens imposed by the Israeli authorities, Jerusalem remained the hub.
One way occupiers control perceptions is by naming their handiwork. The Israeli construct—"Greater Jerusalem"—is a misnomer. When the Israelis announced this fiction a few years after the 1967 war, it included not just the eastern part of the city but a large swatch of West Bank land that included 28 other Palestinian villages. To mask this crime of illegal annexation, Israel began to call these villages "Arab neighborhoods," while referring to their settlements as "Jewish neighborhoods" of Jerusalem.
Palestinian life changed dramatically in 1994 after a Jewish terrorist massacred 29 Muslim worshipers in a Hebron mosque. Fearing a Palestinian reaction, then Prime Minister Rabin imposed a "closure"—one that would never be lifted. In the years that followed, the closure became intense with more rigorous enforcement. Permits to enter the city became more difficult to obtain. Palestinian institutions in the city were shuttered and foreign groups were advised that they were forbidden from holding meetings of a political nature with Palestinians in the city.
All during this time settlements were growing. Even before Israel began building its notorious Wall, Jerusalem was being surrounded by a living concrete barrier of ever-expanding Israeli settlements snaking up and down the hills enclosing the city with a wall of Jewish-only housing. Sandwiched in between them are smaller Palestinian villages. Their land had been taken for settlement construction and now these ancient communities are dwarfed by the new Israeli apartment compounds that literally suffocate them. To make matters more burdensome, there are massive highways cutting through the landscape further dividing Palestinians from each other, taking their land, and separating them from access to their metropol of Arab Jerusalem.
"In their never-ending effort to control perceptions, Israel will say 'we've freed the Palestinians.' In reality, they will remain prisoners."
The impact of these policies was immediate and felt in all areas of life. Just a few years after the permanent closure was imposed, unemployment in Jerusalem and the surrounding areas had risen to shocking levels. Because Palestinians from the West Bank could no longer easily make it into the city, businesses and social and medical service facilities had to lay off employees and professional service providers closed their offices. Commercial enterprises were likewise suffering, as were cultural institutions.
Then came the construction of the Wall, which once again, Israel tried to camouflage by insisting that it be called a "barrier." In fact, throughout the environs of Jerusalem it is a 28-foot concrete wall complete with watch towers at intervals along the way as it cuts through the West Bank and several Palestinian communities. It has completed the separation and strangulation of Arab Jerusalem, further impoverishing and isolating its citizens. And it has accelerated settlement construction the confiscation of Palestinian land—creating captive Palestinian populations in "Greater Jerusalem."
Within the Wall, thousands of Palestinian homes have been demolished by Israeli authorities because the Israelis say they were built without necessary permits—precisely because the Israelis will not issue permits to Palestinians. Thousands of Palestinians have had their residency in the city terminated either because they were forced to find work outside of the city or because they married someone from the West Bank and are not allowed to bring their spouses to live with them in the city. And the Israelis continue to take over more Palestinian properties in "Arab neighborhoods" turning them over to settler groups to create new hostile military-protected colonies in the heart of Arab areas. All of this was designed to maintain Jewish demographic dominance in Greater Jerusalem.
And so, the stage has been set for the plan that was presented to Netanyahu. It is a plan designed, quite simply to solve a "demographic problem" by removing 300,000 Palestinians from Jewish Jerusalem's tally and to save the state a rather large sum. At the same time, it keeps Palestinians poor and under tight control. Jerusalem becomes like Hebron. In their never-ending effort to control perceptions, Israel will say "we've freed the Palestinians". In reality, they will remain prisoners.
Support HuffPost
The Stakes Have Never Been Higher
Related
Popular in the Community