In Birmingham, Alabama, arguably one of the most historic cities in the world, one community is demonstrating how a little green can provide empowerment and pride.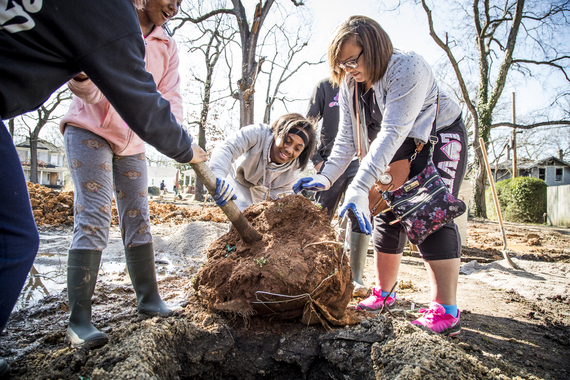 In only minutes, you can journey from one significant area of Birmingham, Alabama, to another. Birmingham's Civil Rights Historic District--which President Obama is expected to designate a historic park before leaving office--is a mere 11-minute drive, 6.2 miles, from Woodlawn High School. Recently immortalized on the big screen by the Erwin Brothers in a sports drama bearing its name, Woodlawn is an agreeable space to foster innovation like urban conservation.
To benefit people and nature, Francesca Gross is overhauling vacant lots in Woodlawn. With a unique background as a wetland scientist, greenway specialist and college professor, Francesca leads The Nature Conservancy's urban conservation program in Birmingham.
I recently spoke with her about Birmingham, her passion for working in urban communities and a new project.
Pascal Mittermaier: Francesca, talk with me about Birmingham, the largest municipality in the state of Alabama. Tell me about leading urban conservation efforts in this metropolitan city?

Francesca Gross: First let me start by sharing that Alabama is one of the most unique places you can visit in the contiguous United States. No matter where you call home here, there's something to brag out. From our stunning mountain ridges, thousands of acres of forests, abundant rivers and streams to the white sandy beaches--there's no doubt about it, the lands and waters of our state are a special natural gift.
Specifically, in Birmingham, we are sharply focused on nature-based solutions for stormwater management, restoring blighted land and reconnecting land to neighborhoods through youth engagement and citizen science.
Our efforts have taken root in Woodlawn within the urban watershed of Village Creek. Village Creek flows through the heart of the Birmingham, and our vision is a city where integrated water and land management benefit both people and nature.
PM: What has been your approach to reconnecting people to nature in Birmingham?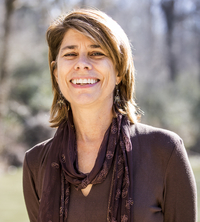 FG: We began with a listen-first approach. We made time to talk with the stakeholders--residents, students, nonprofit partners, government administrators and more--in order to really understand the needs of the community. Ultimately, community stakeholders planted the idea of a "Conservation Lab" to reduce the number of blighted properties in Woodlawn.
In an effort not to reinvent the wheel and cover more ground, we pulled best practices from projects in cities like Detroit and Baltimore. Both cities have applicable blueprints, if you will, for suitable use of vacant land and abandoned properties.
Here in Birmingham, the first Conservation Lab is currently under construction in Woodlawn. We are mentoring Woodlawn High School students in the Environmental Science Early College program on the benefits of low-impact design for vacant land in their neighborhood. From researching plants to finding the best shade trees, the students, the next generation of conservationists, have vested interest and sweat equity in the project. There's a short, inspiring video of our work with students in Birmingham.
PM: While some students at Woodlawn are already digging in, what advice would you offer other young people, or anyone, interested in conservation and urban planning careers?
FG: First, go all in. Volunteer to plant trees. Volunteer for creek cleanups, repeatedly. There's nothing like sloshing around in ankle-to-knee deep water, fishing out assorted trash for a few hours, to help determine a level of interest.
Second, find or create an internship opportunity as this will help connect with an environmental organization. Once connected, take the initiative to learn the general and administrative duties too and continue to spend time in the field.
The combination of field experience and the general and administrative duties should help students to further determine their interest in conservation and urban planning careers.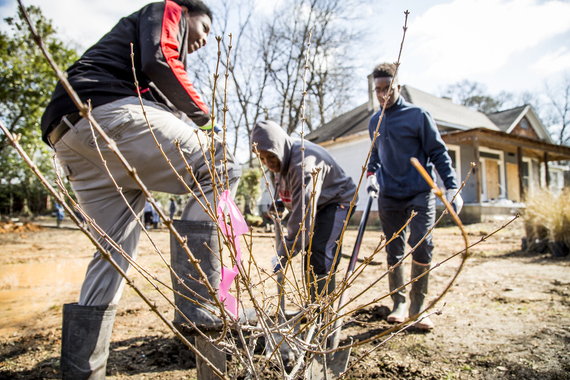 PM: Lastly--although it's early in the process, how are you gauging success in Birmingham?
FG: To date, we are measuring success through a triple-bottom line effect: economic, environmental and social prosperity.
From the listen-first approach, stakeholders agreed upon driving economic development by making the community more attractive to developers. Installing low-maintenance, low-cost landscapes offers an alternative to vacant lots that increase property values. As the blight is being leveled, community development nonprofits, like the Woodlawn Foundation and East Lake Initiative, have initiated new lending practices.
Environmentally speaking, we are transforming vacant urban lands into natural spaces that will filter stormwater and planting trees that naturally clean the air.
Last, and while not exactly quantifiable, revitalizing vacant lots serves as a visual cue that the neighborhood is still viable and beautiful in a remarkable way. When you see vegetation blooming that students from the high school selected and planted, it's quite an impact.
Image captions: Photos 1,3: Students from historic Woodlawn High School in Birmingham, Alabama create "conservation labs," which are vacant land converted into productive land for pollinators, birds, biodiversity, stormwater treatment demo areas, and generational care for the environment. These labs are low maintenance and a low-impact design. © The Nature Conservancy (Devan King). Photo 2: Francesca Gross, Alabama's Urban Conservation Program Director. © The Nature Conservancy (Devan King).
Related
Popular in the Community