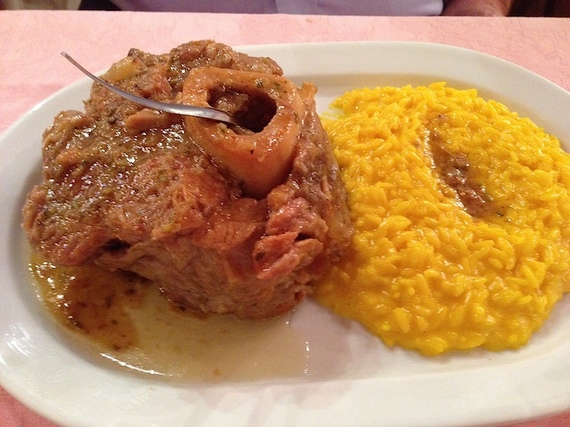 Osso Buco alla Milanese at Al Matarel

A few weeks ago I wrote about staying and dining in some of Milan's finest hotels and restaurants, promising I would report back on the city's trattorias. So, here goes.
First of all, since Milan is Italy's most important business center--this year hosting the 2015 World Expo--it draws to it all the country's regional culinary styles. Thus, if you wish to eat Tuscan food, there is Bice and Alla Collina Pistoiesi; for fusion cuisine, Il Luogo di Aimo e Nadia; for Piedmontese, delle Langhe; for Sicilian, Al Merluzzo Felice; for Abruzzese, Da Giannino. Specialty foods from all those regions are readily found at the gorgeous--and very expensive--Gastronomia Peck food halls (with a nice snack bar attached).
Milanese (that is, Lombardian) cooking shares affinities with its neighbors to the north and east--Switzerland and Austria--so there is a good deal of butter used. Tomatoes are less important than in the south of Italy, and risotto is proudly preferred over pasta. The cold appetizer vitello tonnato is Lombardian, as are costoletta alla Milanese and osso buco--all featured in profusion in both the city's high-end ristoranti and most humble trattorie.

AL MATAREL
Via L.S. Mantegazza 2
02-654-204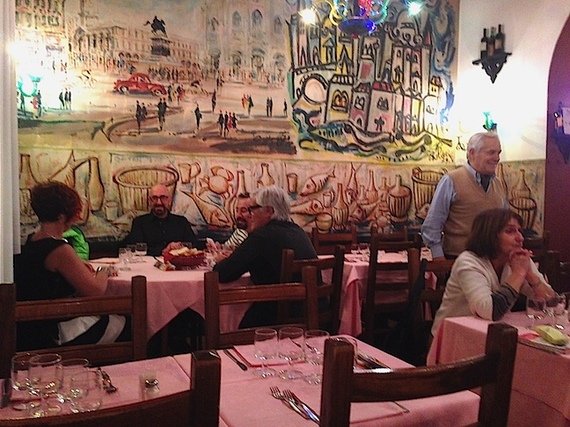 I will always admire the longstanding bastion of Milanese tradition and modernity, Alfredo Gran San Bernardo, but except for its grandeur, Savini may be ignored and the dreary Bouecc avoided. But among trattorias, I have a new favorite--al Matarel, a place recommended by my esteemed colleague Fred Plotkin, whose Italy for the Gourmet Traveler (5th edition) is invaluable. He said the food is terrific but warned me the owner, Marco, could be grumpy, especially to out-of-town visitors.
Well, the food was very, very good indeed. And Marco turned out to be one of the sweetest, most generous restaurateurs I've run across in the city. Once you show a sincere interest in food and wine, you've won him over, and you will be ably assisted by the English-speaking waiter who interprets.
Al Matarel is just a short walk from the center city, and, grazie dio!, one of few places in Milan open on Sunday night. The interior has the typical look of a northern trattoria, brightly lighted, with red ceiling, pink tablecloths, ferns and flowers, wine shelves, and sturdy chairs, though Al Matarel is distinguished by a sprawling, bustling mural of Milan and, for reasons unexplained, cartoon-like seafood images. The trim patrician Marco, always in sleeveless sweater and ascot, takes pride in being 80 years old with a young wife and chef, Elide, who is 74. They've run Al Matarel for five decades, which has allowed her to perfect every dish, including several you won't find anywhere else.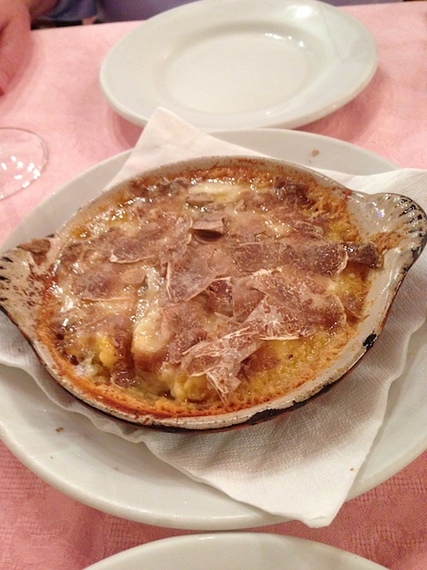 The dialectically named rustin n'ga (right) is a succulent layering of shards of pink veal and roast potatoes cooked together. She also does a bubbling, sizzling casserole of Gorgonzola, potatoes and polenta with white truffles (above), in season, generously shaved over the top. There's Milanese headcheese, tangy and fatty, and her osso buco with saffron risotto is one of the best of this prototypical Milanese dish in the city. Marco suggested three tortelloni on one plate--with fresh funghi porcini, pumpkin and spinach with braised beef called stracotto--all sheathed inside delicate egg pasta. There was also a plate of tender ribbons of pasta glossed with just butter and parmigiano. For dessert, the dense chocolate cake will bring you to tears after a meal so satisfying, so honest, so perfect.
My friend and I were nearly the last people to leave that Sunday evening, happily regaled by Marco with his opinions on Milanese food and Lombardian wines, like the Franciacorta sparkler we began with and the Oltrepò Pavese we had with dinner.
I had such a wonderful evening at Al Matarel, that I doubt very much I'll ever visit Milan again without paying homage to Marco and Elide.
Al Matarel is open daily for dinner. A typical meal will cost about 40 euros, without wine, but with tax and service included.

BAGUTTA
Via Bagutta, 14
02 7600 2767
bagutta.it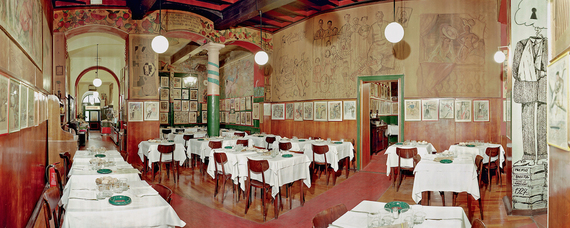 After a long absence, I returned to Bagutta, a famous restaurant opened in 1924 by Tuscan Alberto Pepori (his family still runs it), who early on cultivated a clientele of journalists and artists, the latter exchanging paintings and murals for a meal. After the war it drew the international movie crowd and by the mid-1980s, it was, along with Bice, the favored trattoria among the fashionistas who worked and shopped on Via Montenapoleone and Via Bagutta, especially during Milan's twice-yearly Fashion Week. Many a buyer from Bloomingdale's and Saks was courted by a fashion designer here, over plates of tripe alla fiorentina or beans and black cabbage, still on the menu today.
Bagutta is still popular, though I was told the frenetic business people and fashionistas now rarely have time for a big midday meal. You will see American and other foreign women toting huge bags of newly acquired clothes, shoes and accessories from nearby Armani, Missoni, and Ferragamo. You need not dress up to go to Bagutta, but you might wish to preen a bit.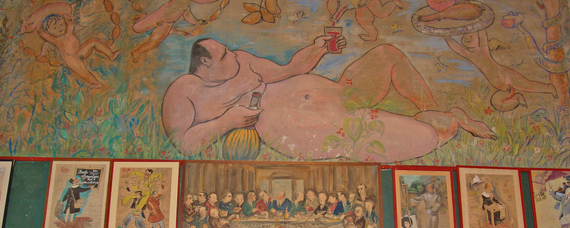 The murals remain in profusion--there was once a di Chirico painting here but no one seems to know where it is--and journalists from Corriere della Serra and Il Giorno still prefer the smaller rooms near the front hall, while the big open rear room (right) is for seeing and being seen, not least for watching the rolling carts of food go by your table, catching the aromas of white truffles and wishing you ordered more. Here the risotto alla Milanese, scented and colored with saffron, is wonderfully creamy, and the costoletta alla Milanese is as crisp and juicy as any in the city.
The menu changes seasonally, even daily, but the array of dishes stays well within tradition, and the wine list has some very good buys on very good wines, including old stocks of Tuscan bottlings.
Bagutta has not only very good food but a strong history to savor as well. Don't miss being a part of it.
Open Mon.-Sat. A typical meal will run about 45 euros, without wine, but with tax and service included.
PAPER MOON
Via Bagutta, 1
02-7602-2297
papermoonmilano.com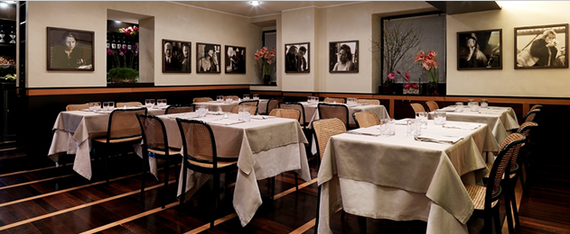 Pio Galignani and his wife, Enrica Del Rosso, were the first to bring really good pizza to Milan, back in 1977, when they opened Paper Moon, named after a favorite American movie of 1973. Pizza in those days was far from the ubiquitous dish it now is in Italy--and everywhere else for that matter--and Paper Moon's was particularly thin and crisp crusted, perfect for the models and fashionistas to snack on after a runway show. The restaurant's two-level décor was also quite a bit more modern than most trattorias in Milan at the time, decked out in cool white, black and beige, with reed table mats and wicker chairs, roses everywhere, and an array of movie star photos you'll recognize. It's a style that has traveled well to branches in Istanbul and Qatar. (There was a NYC branch once, since closed.)
It's a well dressed crowd that jams Paper Moon day and night, though casual chic is the call. Once you sit down you'll be treated to hot strips of olive oil-coated pizza bread called schiacchiata, which goes well with the beef carpaccio or the bresaola. There are 30 different pizzas available, from one with Gorgonzola, taleggio and parmigiano to tomato, mozzarella and artichokes. Lesser pizzaioli have mimicked Paper Moon's pizzas by making them thin as crackers, but the original has just the right heft and chew.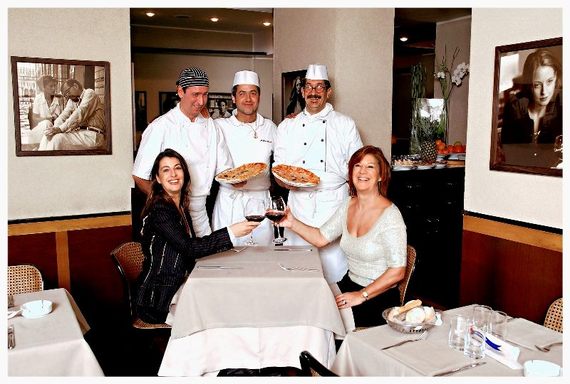 Pastas are also excellent--one of the best potato gnocchi lavished with Gorgonzola (below) I've ever tasted, as is the risotto, simply cooked with butter and parmigiano. They do a fine baby octopus with polenta, and there's a slew of grilled daily specials, from black cod to calf's liver. For dessert have the light semifreddo with espresso.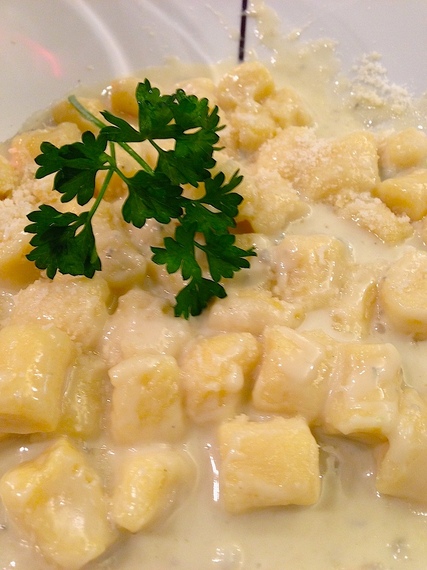 It's a great deal of fun to bask in the radiance of Paper Moon. At the next table is a new Russian model with her agent, at another a businessman spoiling his son with a plate of tagliatelle with white truffles. Over there, some obvious regulars, but then everyone is greeted effusively by the Galignani family. Paper Moon is as much fun as it is a trattoria for terrific food.
Open Mon.-Sat. A typical meal will run about 45 euros, without wine, but with tax and service included.