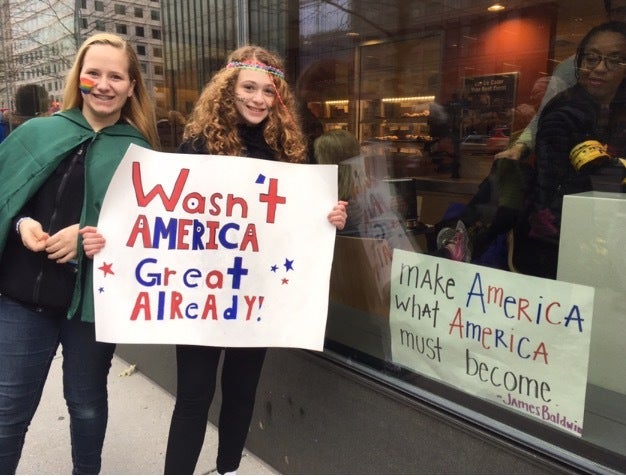 These are incredible times, with change happening more quickly in our country than most of us could have anticipated. This change comes after an election that left many feeling a kind of moral injury – and now the stress of uncertainty, intensifying fear, and attack on civil rights has presented new challenges to mental health and wellness in America.
Let's think about what happened last fall when many experienced a moral injury as a result of the election results. Moral injury occurs when a person's moral conscience suffers from sadness that stems from a perceived moral transgression – a trauma that can be felt as profound loss, hopelessness, and isolation. Moral injury occurred during the election process when comments and evidence of hate, marginalization, disregard for rights, and even criminal behavior surfaced. The moral injury was and is felt by survivors of violence, disenfranchised persons, and anyone who fought hard to achieve rights and recognition in the U.S. and elsewhere. It's felt profoundly by refugee and other immigrants that have been targeted in a country that just weeks ago welcomed them. All genders, faiths, sexual orientations, or nationalities are feeling it – the moral injury of America's new leader is felt by people around the world.
For trauma survivors, the actions over the past weeks by the Trump Administration can uproot painful memories and related stress. The actions by American leadership to remove safeties – laws and policies, health insurance, funded programs that provide support, and even access to our country – threaten the calm, expected grounding upon which we stand. When that is compromised, feelings of anger, anxiety, and sadness can surface. Many people are finding themselves in a place of hyperarousal, wanting to stay glued to the news because things are changing so quickly. There's a constant quest to figure out what to do, how to stop it, and disbelief that this could be happening in our country. By staying tuned in, we hope to maintain some kind of control over what's happening to our world and our lives, but this also creates a state of hyperarousal that can affect mental health and create a situation of toxic stress – especially if this has to be endured for a long period of time.
Military-Style Attack
Let's break down what's actually happening, from the perspective of tactical, militaristic-style movement by this Administration to radically change America.
Policies – There have been actions to remove laws and policies that are in place to protect and provide safety, ensure voice and choice, and uphold our civil liberties. Also many introduced policies are structured in a way to silence people, discredit trusted news venues, and to insert leaders at the highest levels of governance and security who have a track record of abuse, racism, misogyny, and other discriminatory practices. When someone stands up and says "this is unconstitutional" as former Attorney General Sally Yates did by not enforcing the President's executive order on immigration, they are fired. It feels like our protections are being taken away in a very calculated way.
No Time to Process – The speed at which executive orders and policies are being issued has given the American people little time to process and respond. In shock at how vastly different this president wants to reshape the country, there is hardly time to process and protest before the next shoe drops. In military terms this is called "shock and awe" or a "shock event" – using overwhelming power to try and achieve dominance quickly over the opposition. Any reasonable leader would aim for a peaceful transition and to bring the country's people along with the change – but that's not happening here.
A Push for the Tipping Point – According to Malcolm Gladwell who wrote a book on the topic, the tipping point is when "the momentum for change becomes unstoppable." The speed at which change is happening – cuts, layoffs, restricting of agencies, removal of established policies, etc. – sets the course for the tipping point to be reached sooner than later unless action to stop it happens quickly.
Counting on "Resistance Fatigue" – As Trump continues to initiate continued onslaught to change the country, he's counting on "resistance fatigue." Again, our military uses tactics like this called "exhaustion," used as a method to wear down the will or resources of a country. The belief is that people won't continue to protest – that they will get tired of protesting and resisting change on so many levels. The brain is wired in such a way that overtime, we start to adapt and accept "the new normal."
These are not "normal" tactics or ways that we expect our government to operate, so it's natural to feel additional stress and challenges to manage what is happening. It's especially important now, more than ever, to be mindful of how you are feeling, how these events are affecting you, and what you can do to remain positive and healthy.
7 Tips for Self-Care in the Era of Trump
Beyond awareness of the tactics being used and troubling changes, there are some concrete things you can do to build healthy practices into each day to stay resilient and to weather the difficult days.
1. Stay Connected – Connecting with a close circle of friends or support network can be really helpful to maintain perspective and feel included and heard. Remember, many Americans are feeling similarly, so that validation and understanding – especially over the long haul – is essential. If you don't feel like talking with familiar people, online support groups can be a great way to remain anonymous while staying connected.
2. Take a Break – Parents will limit screen time for kids, but they may not be as good about recognizing online and information vigilance with themselves. This is especially important to avoid resistance fatigue and to strike a healthy balance so that we don't become numb to or complacent with change. There's a reason why this doesn't feel right and taking advocacy and news breaks will keep us connected to the passion that drives activism.
3. Do What You Know Works – Every person is different, so it's important to know what works when you are starting to feel down, anxious, or overly stressed. There are some mindfulness approaches to manage stress that work for many. Some may find exercise, coloring mandalas, knitting, or doing something else enjoyable can help.
4. Recognize Stress – Knowing what affects you on a deeper level is important so that you can manage through it. If you only just feel the effects of what is unsettling, it's not uncommon to cope or respond in ways that might make you feel worse – like expressing anger, using alcohol or other substances, or isolating. Staying in tune with what is happening within can help you shift gears to take steps to destress and be well.
5. Remember to Laugh – While much of what is happening is anything but funny, recognize that laughter really is good medicine. According to the National Institutes of Health, "virtually all studies of laughter and health indicate positive results." Listening to a comedian on a podcast, watching a great comedy, or spending time with a friend that can make you laugh will lighten your spirits.
6. Find Space for You – It's great to spend time with others, but also important to have time by yourself. Sometimes just taking a bath, going for a walk, or reading a good book can provide a healthy reprieve.
7. Have a Safety Plan – We hope for the best, but it's helpful to be prepared for anything. The Federal Emergency management Agency advises that every American should have an emergency supply kit anyway. Making sure you have essentials – medicines, food, and other supplies – is being prepared. Also, it's important to have a communication plan. Reports indicate the President may impose controls on how people access the internet. Families and friends should have a plan in place for where to convene and how to remain in touch if it becomes challenging to use our technologies to do so.
These are unprecedented times that will test many parts of ourselves, our families, and our communities. A little intentional focus on awareness, connection, and self-care will go a long way.
Helga Luest currently works for a government contractor and manages a number of federal projects related to behavioral health, trauma, and violence prevention. In 2016 she was appointed to the Maryland Governor's Family Violence Council and she also has served on the U.S. Congressional Victims' Rights Caucus Advisory Group for many years. In 2010 she was awarded the Congressional Unsung Hero Award for her effective advocacy work on violence prevention and response. In her free time, Helga facilitates two social media groups called Trauma Informed - Facebook & LinkedIn - where advocates, survivors, researchers, and other contribute content and commentary on issues related to trauma, prevention, and resilience.
Related
Popular in the Community