As a vegan traveler boarding my first cruise, I expected the usual slew of questions when it came to my culinary choices. "What's a vegan? Does this mean you don't eat? Are you like a fruitarian? If you saw a steak would you call PETA?"
A month ago, I was on a cruise to Nassau, Bahamas on the Royal Caribbean Cruise Lines. I knew that my three-day jaunt would be the perfect "initiation" length but I was understandably a little nervous about the fare. Would there be more to breakfast than slivers of cantaloupe and boxes of Bran Flakes? Would they have soy milk for coffee? Questions hung over me like cumulus clouds, and I hoped that I would be given nourishing, well-heeled answers.
I need not have worried: The chefs on board were more aware of my dietary needs than I had given them credit for. Before long, I was feasting on Indian dishes, delicately-flavored al dente pasta and crisp, almost "farm to table" quality salads. Navigating the breakfast, lunch and dinner menu was a lot less pedestrian that I thought it would be. Noticing the absence of generous vegan options in the dessert department (how long can the "sorbet with fruits and berries" song possibly go on for?), I resorted to the biblical "ask and you shall receive" approach and requested the head waiter to give me some variations on what was becoming an increasingly boring theme. The very next day, I had a soy ice cream sundae with warm apple turnover. It really does pay to be a pest.
The buffet selections were a little bit harder to navigate simply because of the labeling. While other cruise ship passengers seemed to be devouring everything in sight (much like the behavior at a luau) I inquired, mulled and meditated my options because I was unsure of the ingredients. But, at the end of my cruise, I had gained three pounds.
Chefs on major cruise lines are more aware of vegan needs than ever before. A 2008 Vegetarian Times survey found that around 3.8% of the American population was vegetarian, and around 0.5% was vegan. Today's more curious, educated traveler is more conscious of healthy eating, opting for macrobiotic and raw in an era where cloned meat is about as appealing as stale bread. For those who value fine, healthy dining on the seas, here are some options that may tickle your fancy.
Vegan Cruise Lovers Receive the Saville-Row Treatment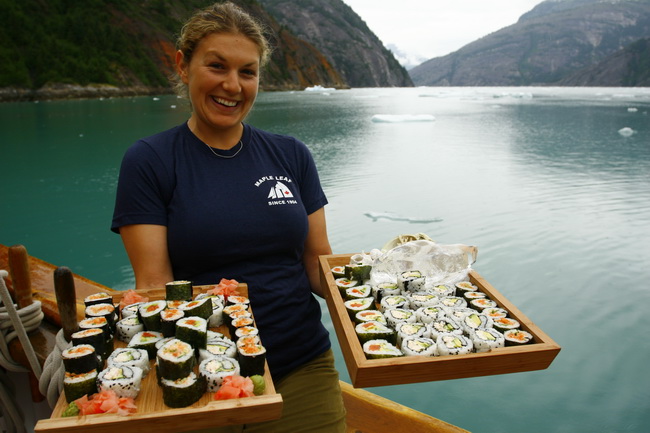 Sushi on board "Maple Leaf Adventures" Credit: Maple Leaf Adventures
Cruise lovers, welcome to golden age of culinary options! We found quite a few cruises that take vegan diets seriously. For instance, you can sail a tall ship that hosts only eight passengers like the Maple Leaf Adventures cruise, a Canadian tour operator that prides itself on intimate, multi-day trips to the Great Bear Rainforest and Galapagos Islands among other destinations. The chef prepares all the meals and snacks from scratch, Top Chef-style (minus the competition), and the President and Senior Captain, Kevin Smith, is a vegetarian who "gets it." Past fare has included creations by Chef Lila Ruzicka, and these include sushi platters garnished with a chunk of glacial ice from an Alskan fjord.
Sanctuary Retreats offers cruises that are more Out of Africa than the movie itself: epic landscapes and river cruises to places from China, Egypt and the Galapagos. The chefs prepare tailored meals that suit each passenger's dietary requirement (think zucchinis stuffed with mushrooms, peppers and tofu; or sweet beans marinated in maple honey) while you get to relax and enjoy the postcard-like landscape. Rates start from $4,850 per person for a cruise to the Galapagos Islands.
A Taste of Health, a holistic health educational foundation, has created a seven-day vegan cruise on board the MSC Poesia, which meets stringent ecological and safety standards. The cruise goes beyond gourmet meals and macrobiotic salads, offering yoga and Pilates classes, massage, and meditation techniques. Desserts are sugar and dairy-free, and the entire experience is more zen than a visit to prayer wheels in Tibet. Rates for the seven-day cruise start from $1,249.