Is this what fashion looked like before the flower children took over? Before fashion churned out the eye-popping trends we associate with the eighties? Before the look of any era was defined. Last falls color didn't hit the streets, because buyers didn't scoop up the collections. This time around, the varied ateliers listened to the commercial and almost wholly ignored the editorial pieces that awe the press and give us moments of whimsy.
We're at a cultural stand still right now. I'm already receiving press releases informing media that New York has ceded its leadership in fashion.
In the seats, I sometimes ask people what they're wearing; I have this pesky habit on the streets and in bars. A few have said their friend's have made the clothes. In clubs, kids are starting to wrap, twist and create their own looks, more now then ever before. Bucking all trends and creating something striking and somehow wholly new, they're either unhappy with what's offered in stores or unable to buy into the wardrobes they want.
There is an undercurrent of the modern from the ultra sleek look of Chado Ralph Rucci to Narciso Rodriguez and his sculpted nearly perfect creations, or the striking Simon Spurr man. I'm really sad that I overslept and didn't make Badgley Mischka because they created some stunning floral gowns. Yet these looks are not predominant themes. Bridging the two worlds, post modern sleek and the new glam-funk-punk emerging, is Phillip Lim, this time his women's collection was more successful then his men's. Finally at Naeem Khan, I was truly mesmerized by the mirror dresses and became obsessed with the looks coming down the catwalk, the designer woke me from a fashion pallor and won the only standing ovation at Fashion Week.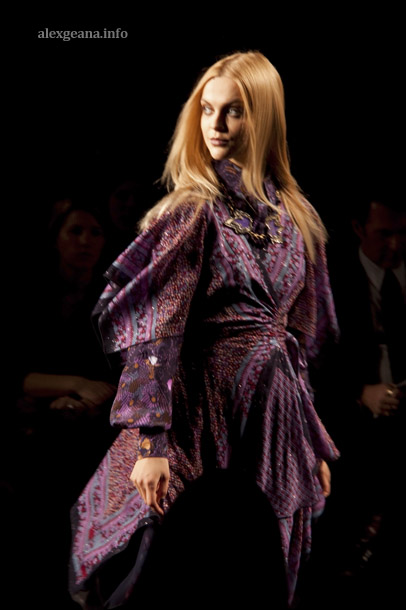 This is the age of designers like Anna Sui, Betsey Johnson, Petrou\Man and their mass-market design sibling Diesel, with a new creative director at the helm still trying to find her footing but on the right track. Take a look at L.A.M.B. from Gwen Stefani.
Oscar de la Renta might be a trendsetter and far ahead of the curve, in Fall 2009 he sent out leopard and animal skin prints. Greatly bemoaned by the press at the time. It's now prevalent in many a collection and on the streets, I see this look daily. This time he gave us timeless glamour, from an old spy flick, I could see a women drinking cognac by the grand piano waiting for a mysterious lover, he bucked many a trend and went with color. So did Generra and it was wonderful.
I remember hearing Betsey accept a prize at the National Arts Club. Talk about the ebb and flow of her success. As she grew with the funky designs she loved to creating, envisioning what a girl would want to wear on her first date with her future husband. Then Johnson mused about the age of Donna Karan as women entered the management workforce and she couldn't create a pantsuit to save her life. Now, as both markets prove equally valid, for Karan creates clothing for the powerful women about to take over a boardroom or pop into an embassy party. Johnson wants only to once again capture a women's whimsy. We have a world right now where both design aesthetics are equally valid and can find support, as trends themselves are turning more into a guide the accepted norm.
Everything is still shifting and changing. I can barely get my friends to read my facebook status updates. But when my article "Luxury is Dead! Long Live Luxury!" Appeared on StyleCaster, I received IMs and text messages from friends saying I was so "hot." I've been accused of many things. Cool has never been tied to my name even though I'm a wiz at identifying it in others. StyleCaster is one of many communities popping up, where people can post pictures of looks and other people can buy what they've put together.
Vevant is a sponsor of Mercedes-Benz Fashion Week, it just launched. With an editorial team filled with Vogue alums. The premise being that models and photographers can join. The editors hire from within to create striking editorial. Members can purchase from the virtual spreads created. Think of this in two ways. 1) It's a virtual Vogue and you can buy the clothing instantly. 2) it's a self sustaining community. After all, if they hire from within, that will create member loyalty and create it's own little economy. Actual sustainability. But will it work?
Everyone from media to fashion is trying to make online work. This is the future, but no one knows how to get it churning results. It always seems like feast or famine as Gilt Group turns shoppers into Pavlov's dogs and the Internet continues to separate us for the act of living and interacting with each other. We need to focus and make more decisions that build communities, not just the virtual kind.
In the end, the experience of where fashion will go and how we will look and fold into each other was best captured in one moment at Elisa Palomino, a very young designer who once worked with Diane Von Furstenberg. Sitting across from me in the front row, was a dowager decked out in red Chanel, talking to a guy with blue hair and an up-do. They were pleasantly chatting, waiting for the show to start. As we put aside our personal biases, we'll feel more confident in the clothes we wear and how others sport their own look.
For the rest of this column, I'm going to highlight a few designers whom I've reviewed a few times. I've been in their shops (if possible). I've made sure they don't produce anything in China (best I could). They work in New York, they employee New Yorkers and they show in this great city. They also make stunning clothes that'll make you look good and are way cheaper then an online liquidators markdown. You'll feel so much better about checking them out.
Smallish Designers You Can Afford
Mara Hoffman - I've seen her dresses walking down the street. She showed in a small presentation this time around and was overshadowed by McQueen's passing. She has a certain way with patterns and knows how to drape perfectly; her knits are equally striking and make you look stylish and comfortable. [google link]
Adam Lippes - with a shop in the meatpacking district, you'd think he was too expensive for most people. While Catherine Malandrino right across the street will cost you a months rent. Adam won't. He also has the knack of creating some of the most perfect t-shrits. [google link]
John Bartlett - On Saturday's you might just find John in his shop manning the counter in his west village store. This might be one of the secrets to his success because he seems to know exactly what to create for his customers. You can also be his friend on facebook and he'll update you about what's in store for his store. This fall, there'll be the most perfect felt pants and London ridding gear. [google link]
Andrew Buckler - with awesome tailoring but skinny legs. The clothes will make you feel awesome and chic. Watch out for the sales and you'll fall in love. I really love his underwear but my pair of swag (the only thing I wanted all fashion week) got stolen by an underwear thief (who does this?) and couldn't be replaced. Drat. Pop into his SoHo shop and check out the clean crisp stylish collection. He's the working mans Thom Browne. [google link]
Elie Tahari - Consistently creating stunning clothes that fit comfortably and are wearable both to the office and a great party. I once coerced a friend into buying one of his dresses and she was the prettiest girl at the party. Sold in department stores and in two New York shops, check out the designer and I'm sure you'll find a good fit for a night out. [google link]
Gant by Michael Bastian (wasn't able to verify production because they're so new) - preppy with a punch, Michael Bastian has created an alluring and stylish line that will be in Barneys Co-Op come fall.
Y-3 - sportswear with comfort. Yohji Yamamoto creates clothes that can go from the gym to a great time with friends. But it does lean squarely to the athletic and the comfortable. The shoes are made in Italy, so no little children's hands put together the stitching. [google link]
Related