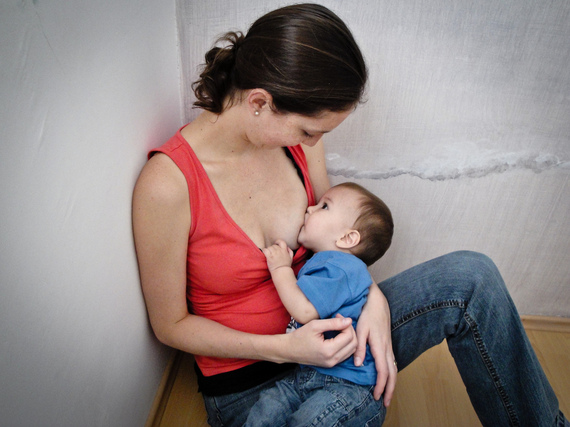 Photo Credit: Benjamin Magaña (Creative Commons)
I am one in the 16% of mothers in Sweden who are still breastfeeding their baby at 12 months, compared to 34% in Norway and only 1% in the UK. The numbers are over 80% in low and lower-middle-income countries. Breastfeeding has a wide range of positive benefits for both mom and baby, regardless of whether you are rich or poor. So, what is it that determines a mother's choice to breastfeed?
A friend of mine who recently had her baby in Sweden, came back from the children's clinic a bit confused after being told by a doctor (who didn't ask about her breastfeeding intentions, practice or routine) that if her baby doesn't gain more weight in the next few weeks she should start giving her breast-milk substitute (a.k.a formula).
Despite the strong evidence of the benefits of breastfeeding (see below) and WHO's recommendations to breastfeed exclusively for 6 months and continue for the first 2 years, women around the world do not have the support they need to breastfeed -- and the Swedish doctor above is just one example of that.
The Lancet's new research on breastfeeding shows that gaps in knowledge and skills among healthcare providers is one reason why women decide not breastfeed.
Breastfeeding is difficult, especially if you are caring for your first child. Often it is highlighted as a "free" option for feeding a child, but it comes with several costs and challenges. And for a woman to outweigh the positive with the negative, she needs a village of support around her. The Lancet research series states that a mother is 2.5 times more likely to breastfeed where breastfeeding is protected, promoted and supported.
Social norms in our families, communities and cultures also have a strong influence on breastfeeding choices. There have been several times when I have wished that I didn't breastfeed -- during the tiring nights when my growing infant demands so much more milk that feeding seems like an endless physical burden; when I have breastfed my baby in public and avoided unwanted judgemental looks from strangers; and when I have avoided to tell family and friends that "yes, I occasionally still breastfeed my 14-month old at night" because some people think it just isn't normal.
For other women limited or nonexistent maternity protection policies prevent them from breastfeeding. Short maternity leave of around 6 weeks (like in the US) increases the odds of not breastfeeding or stopping early by 400%!
Healthcare providers also have an essential role in supporting mothers who face difficulties during breastfeeding. Women need to be able to seek advice from health personnel with lactation training, who offer continued support. For this support to be effective it needs to be woman-centered and baby-centered -- too often it is just one or the other, and not both. Too often women leave the hospital or clinic without proper follow up or support in the initiation of breastfeeding and beyond.
To make the situation even more complex, the formula market is a powerful industry that undermines breastfeeding. It is estimated that the global breast-milk substitute industry will grow in sales from $45 billion to $71 billion between 2014 and 2019. Breastfeeding does not have the same possibilities to market itself to expecting and new mothers and the communities they are in.
So, given the constraints -- why should mothers choose to breastfeed?
Evidence shows that if breastfeeding was the "norm" 823,000 deaths of children under five and 22,000 deaths from breast cancer could be prevented every year! Breastmilk is a personalized medicine with benefits for both mother and child regardless of economic status. There is growing evidence that breastfeeding decreases the prevalence of obesity and diabetes later in life. It also benefits mothers' health, decreasing the risk of breast cancer by 6% for each year of breastfeeding and also reducing the risk of ovarian cancer. These health improvements given by universal breastfeeding would translate to substantially reducing health care costs.
Breastfeeding does much more than supply children with necessary nutrition. Breastfeeding is also associated with higher intelligence and increased future long-term earnings and productivity. The Lancet's new series has estimated the costs of lower cognitive ability associated with not breastfeeding amount to about $300 billion annually (high-income countries losing more than $230 billion annually).
"Findings from epidemiology and biology studies substantiate the fact that the decision to not breastfeed a child has major long-term effects on the health, nutrition, and development of the child and on women's health. Possibly, no other health behaviour can affect such varied outcomes in the two individuals who are involved: the mother and the child. Findings from immunology, epigenetic, microbiome, and stem-cell studies done over the past two decades that elucidate potential mechanisms through which breastfeeding can improve outcomes will probably be followed by other, even more exciting discoveries on the exquisite personalised medicine provided by human milk." -- The Lancet Breastfeeding Series
This article is not a pat on the back for mothers who choose to breastfeed nor a pointing finger aimed at those who don't -- it is a call for more support, education, information and policies that enable women to choose to breastfeed and to continue to do so when difficulties arise -- and it is a scream to normalize breastfeeding, in homes and in public. The discoveries of the benefits of breastfeeding are amazing -- and I hope that even in a society as gender equal as Sweden, we will understand these important benefits and support women (as a part of their rights) to initiate breastfeeding and continue to nurse for as long as they want, if they choose to do so.