After planning out each detail of my trip, including lists of items and places, I arrive bright and early at the airport, zip through security with fifty minutes to spare and after a couple of phone calls attempting to get a few last-minute items in order for my Germany holiday, make my way over to the gate. Crowds of passengers line up to begin the boarding call. I casually sit and wait for the process to begin, and after about 30 minutes I wonder why there has not been an announcement explaining the delay... I am at the wrong gate, the correct gate is closed and the plane is nowhere to be found.
I start to panic, but not all is lost, I find relief to this misfortune; a direct flight into Frankfurt departing several hours later and arriving at just the same time as my original indirect flight through Newark. After a 30 minute chat with customer service, jokingly stating that my elaborate plan to get a direct flight had been successful, I have a fresh new ticket and my bags would happily greet me in Frankfurt.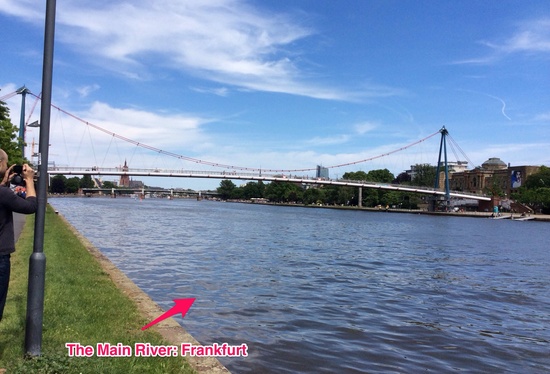 After a few hours of meandering the halls of SFO I board the plane. Round two -- success! Sitting directly across from me are a couple of tenured flight attendants so to pass the time en route, we play a game of myth busters. Apparently there's been only one mishap they can recall on account of a cell phone in transmission mode in flight. The plane overshot its destination. Oh, and it's perfectly safe flying a four-engine plane with three engines -- it would merely result in slight reduction of fuel efficiency.
Sleep. Eat. Land. I've made it. The next serious of events which lead me to Frankfurt, the center of the Frankfurt/Rhine-Main Metropolitan Region and my hub for the next 3 days, bring one step closer to the vines.