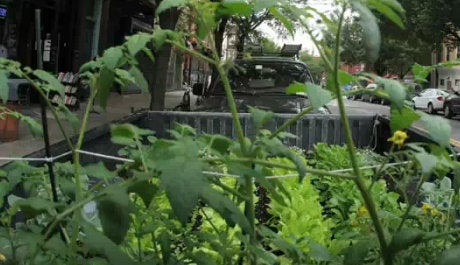 Struck with the urge to build a garden but with no land to grow it on, Ian Cheney and Curt Ellis (co-creators of the film King Corn) of Wicked Delicate productions decided to use a 1986 gray Dodge Ram pickup truck to create a portable vegetable and herb garden.
Watch "Fresh, direct", week two of the Truck Farm film below. In this episode, the farmers launch the Truck Farm Community Supported Agriculture program. Cheney and Ellis decide to harness solar energy atop of the old gray dodge to document the Truck Farm's progress with enchanting time-elapsed filming. Each episode is accompanied by delightful musical narration from the Fisherman Three. In this episode, the Truck Farm visits Food Politics author Dr. Marion Nestle who explains the benefits of mobile gardening.
The ordinary looking truck -- ordinary aside from the bed filled with soil (using green roof technology) and heirloom veggies -- parked on Van Brunt Street had been turning heads in the neighborhood for a while but no one knew quite what to make of it. Two months later, Cheney's mobile garden/CSA-on-wheels/four-wheeled farm is literally all over the place.
WATCH:
Subscribe to the truck farm here.
Related
Popular in the Community