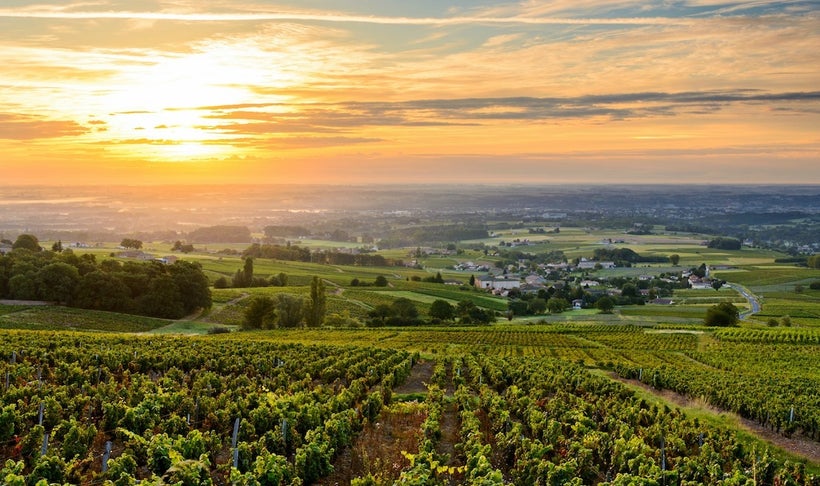 As summer red wines go, I think that correctly aged Beaujolais is easily the most versatile match for summer foods. I say "correctly aged" because Beaujolais still labors among some wine drinkers under the outdated fad for Beaujolais Nouveau, which crested more than a decade ago, as well as a misguided notion that Beaujolais is little more than a cheap, low-alcohol wine drunk in house carafes throughout France.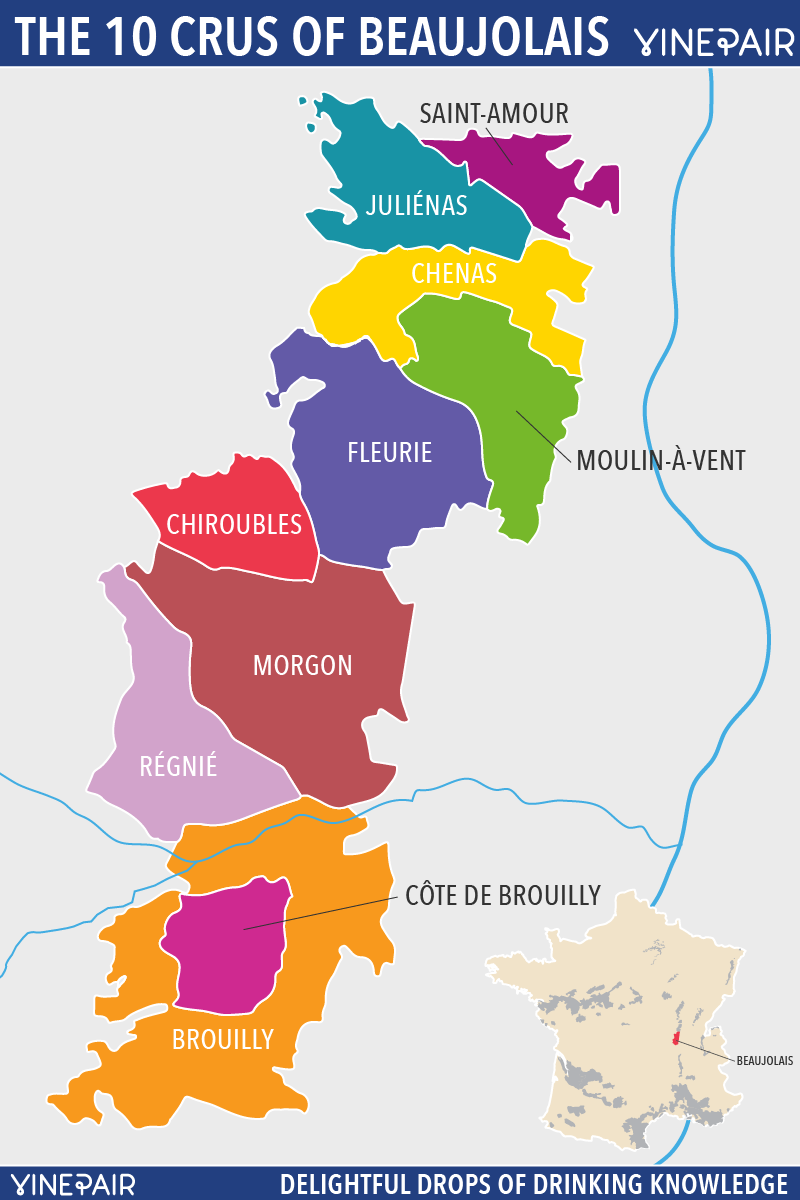 There was considerable truth to the idea that most Beaujolais used to be produced in bulk from Gamay Noir grapes for the bistro market, drawn from more than 55,000 acres in Southern Burgundy and sold by distributors called negoçiants. But since the 1990s the better Beaujolais have come from vineyards brought to modern standards of viticulture, especially in those appellations granted status as Beaujolais-Villages, whose wines must have a minimum of 10 percent alcohol and now constitute about one-quarter of total production. Overall the region produces about 13 million cases of Beaujolais annually. The best Beaujolais, whose alcohol tilts more towards 13 percent, come from ten regulated crus—Brouilly, Chénas, Chiroubles, Côte de Brouilly, Fleurie, Juliènas, Moulin-à- Vent, Morgon, Saint-Amour, and Régnié—usually costing between $10-$15 a bottle. By common agreement, Beaujolais Nouveau cannot be made from these crus. Distancing themselves from the Beaujolais Nouveau hysteria has become an important marketing point for the crus. The crus most certainly improve with age, but age is relative; the crus develop best at two to three years old. After that many become risky, either losing their fruit or tasting muddled. Some aficionados claim that some ten-year-old Beaujolais show amazing complexity, but very few connoisseurs would bother to cellar Beaujolais for such lengths of time. By far the largest negoçiant, who is sometimes called the "King of Beaujolais" is Georges DuBouef, 84, who still ships 2.5 million cases annually. Over a week of home-cooked meals I found most of the Beaujolais tasted—all from the 2016 and 2015 vintages—had characteristic Gamay charm, which means a little spicy, a great deal of fruit, and an alcohol level that rarely goes above 13%. Brouilly is almost always a crowd pleaser, with good body, plenty of flower scents in the nose, and an earthy vibrancy of fruit that knits it all into good balance—an ideal wine with grilled salmon or a terrine of foie gras on toasted country bread. Domaine du Riaz ($19.99) was also delicious with mild cheeses, much better than a bigger, bolder red. Domaine Pontheux ($18.99) is a Chiroubles, lighter than Brouilly but with more complexity than Fleurie wines. You smell lavender and violets in the nose, and it's the kind of wine that goes well with charcuterie dabbed with a little mustard and accompanied by gherkins. It adds to those flavors and this domaine draws from 50-year-old vines that give more structure to the wine.

Juliénas is considered one of the better regions for aging Beaujolais, and Chȃteau des Capitans 2015 ($21.99) demonstrates the truth of that opinion. The vines at this chȃteau date back at least half a century and the hillsides get a lot of sun, giving the wine 14% alcohol and more complexity. Some of the wine spends 8 months in oak, unusual for Beaujolais, so on a warm night it takes very well to just about anything off the grill, not least a nicely fatted veal chop we enjoyed that night. Morgon can be among the heartiest of Beaujolais cru, and Domaine de Javernières Côte du Puy 2016 ($19.99; left) produces only 400 cases. The tannins are now loosening up, revealing the dark fruit of Gamay and a richness that makes it a great match for marinated lamb dishes with herbs like rosemary. In much the same style, Jean Ernest Descombes 2015 ($21.99), with its extra year of age, manifests a terroir rich in minerals, so it's a good match-up with pork, sausages, and hot dogs in summer. Another night my dinner was seared and roasted veal chops, cooked pink, and with this the Morgon ($11.95) stood out for its bold Beaujolais spirit and its ability to age well, still with soft tannins and creamy fruit flavors. Moulin-à-Vent, whose name refers to the windmills in the area (below), is often considered the best of the crus, though this varies widely depending on the estate and negoçiant. DuBouef buys his from Domaine des Rosiers, and the 2015 costs $23.99, on the high side of Beaujolais prices. But the body, the complexity, and the softness of the wine puts it in strong competition with more famous red Burgundies of the Côte d'Or, so that you might mistake it for a Mercurey or Fixin, which means a well-seared sirloin is going to taste even better when married to this Moulin-à-Vent. As for Fleurie, I think they are likeable wines, light, undemanding and better as an aperitif or with a summer salad. The 2015 Clos des Quatre Vents ($21.99) gained from aging, and the granite soil of the vineyard gives it a bit more interest than other Fleuries.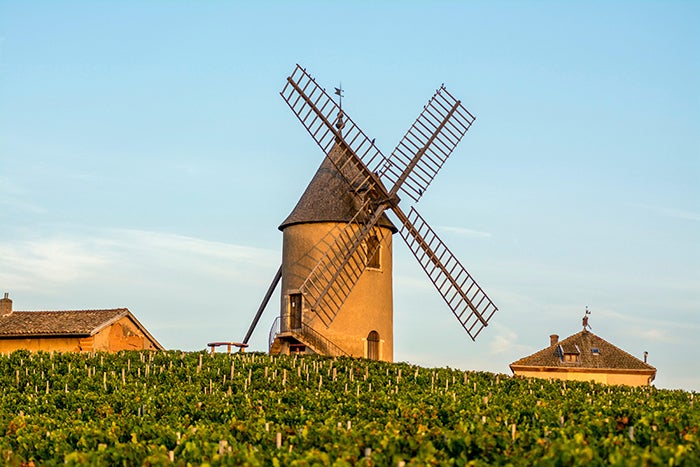 A Chiroubles was the driest of my sampling, showing the minerality of its 1,200-foot hillside altitude and granite soil and the richness of even some mightier Burgundian pinot noirs. The Georges Duboeuf Flower Label wine line includes Saint-Amour ($13.49) and the Chenas ($12.49) were very feminine compared with the heft of a Chiroubles ($12.49) and Julienas ($12.95). I scribbled "gamine" on the Saint-Amour label, the very well-fruited cherry-like soul of Gamay at its best, a wine that could be served with anything from pork to roast chicken, which was stuffed under the skin with herb butter. The Chenas—supposedly Louis XIII's favorite wine—was more complex than one might think about Beaujolais, with plenty of the village's ripe fruit atop spicy, green flavors. I wasn't very fond of the Julienas, whose unimpressive, flat bouquet was followed by a one-dimensional metallic flavor I don't think would be a match for many foods above the hamburger level. For those not aware of the range of aged Beaujolais cru, summer is a good time to try them all and find how diverse they really are.
Calling all HuffPost superfans!
Sign up for membership to become a founding member and help shape HuffPost's next chapter
This post was published on the now-closed HuffPost Contributor platform. Contributors control their own work and posted freely to our site. If you need to flag this entry as abusive,
send us an email
.