October 10 is World Sight Day, an international day of awareness and support for the prevention and treatment of blindness and vision impairment. While it can be easy to forget what a gift clear vision is when we have it, the implications of vision loss are far reaching and costly to all of us. In addition to the personal toll of vision impairment, it is important to look at the dollars and cents behind a problem that impacts as many as 285 million worldwide.
According to AMD Alliance International, worldwide the direct cost of vision loss in 2010 was $2.3 trillion. That does not include indirect costs like lost productivity and family caregiving, which would add another $652 billion to the bill. By 2020, they estimate these costs to reach $2.8 trillion and $760 billion respectively.

What's feeding into these astronomical estimates? More than one might think.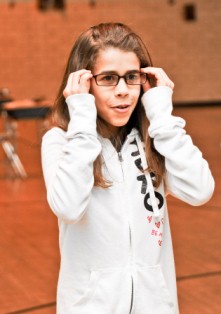 Research indicates that there are millions of children right here in the United States with uncorrected vision problems, many of whom are living in poverty. With the average pair of prescription glasses costing more than $200, a simple tool to better access education and opportunity becomes a luxury for many families. Another challenge is access to quality care, especially among recently immigrated families in the U.S. facing language and cultural barriers.
Undiagnosed and untreated vision problems go hand-in-hand with poor academic performance, acting up in class and loss of interest in school, sports and other activities. Children who start failing during the middle school years -- between nine to 15, the time when refractive errors tend to manifest -- have a higher chance of eventually dropping out of school.
And of course, it's no secret that people without high school diplomas earn significantly less. The potential annual global productivity loss in the U.S. associated with uncorrected refractive errors is $22 billion.
So if a child could be set on a different path by receiving a pair of glasses, it could make a difference. Such was the case for Janeen, a middle school student from the Bronx I met through our ChildSight® program. She often complained of headaches and was unable to see the board or focus on lessons in school. Disengaged, she was disruptive in class, missed homework assignments and was falling behind fast. Janeen never had glasses and, even though she knew she probably needed them, she was more worried about the financial burden the cost would put on her mother. Through ChildSight®, Janeen was examined by a licensed optometrist and received the eyeglasses she needed just two weeks later, all at no cost to her family.
Of course poor vision is a global issue, mostly in the developing world where the working poor and those in rural areas often don't have easy access to affordable, quality eye health services. With $269 billion in worker productivity lost due to uncorrected vision each year, the problem is especially dire in developing nations.
Bangladesh, for example, is experiencing rapidly growing rates of diabetic retinopathy which can result in irreversible vision loss. While the poverty rate has declined in recent years, the country still has one of the highest rates of malnutrition in the world. Most might associate "malnutrition" with not having enough to eat, but it is also about not having the right foods to eat. As more families and young adults move to urban areas for work, eating habits and access to healthy diets change. Instead of fresh fruits and vegetables, fast foods become meals of convenience and choice. The diabetic population in Bangladesh is expected to exceed 11 million people by 2030. And 75 percent of those with adult-onset diabetes can be expected to develop some damage to the retina.
For a Next Eleven economy like this, the growing instances of diabetes and the related disabilities among younger people could have a potentially devastating effect on that nation's ability to sustain a healthy and growing workforce. This is why Helen Keller International is working with local partners in Bangladesh to raise awareness about the risks of diabetic retinopathy and to improve access to treatment among the urban poor. We're helping to educate both diabetics and health care professionals about the need for vision examinations and to provide medical professionals with the equipment and training they need to catch and treat the condition before it is too late.
Myanmar, another emerging economy, holds one of the world's highest rates of blindness, with cataract the leading cause. The backlog of cataract surgeries numbers in the hundreds of thousands, with not enough properly trained practitioners available to meet the staggering need among the rural poor. The loss of vision translates into loss of work and loss of income for families already barely subsisting on a few dollars a day.
For example there are people like U Sein Cho, a 47-year-old farmer living in the rural village of Boe Chaung. He started losing his sight two years ago but thought it would get better. In fact, he was suffering from bilateral cataract which continued to worsen to a point where he could no longer work and support his family. With the help of his brother, he traveled eight hours by train for surgery at the Sagaing Secondary Eye Center which, with the support of Helen Keller International, provides quality treatments for the poor. The procedure costs about $35 per eye, well beyond his means, but thanks to this program he will not be turned away. The sacrifices made for the trip will allow him to regain his sight, resume work and feed his family.
We live in a time where 80 percent of vision loss is preventable. Recent research conducted by The Fred Hollows Foundation and Price Waterhouse Cooper estimates the total value of the combined economic and health benefits to eliminating preventable blindness worldwide by 2020 is $843.5 billion.
So this World Sight Day, I encourage everyone to support eye health programs benefiting those in the U.S. and around the world so that we can eliminate this unnecessary and costly barrier to education, economic growth and a better quality of life for all.
REAL LIFE. REAL NEWS. REAL VOICES.
Help us tell more of the stories that matter from voices that too often remain unheard.