Turning on the lights as we walk into a dark room might be one of the most automatic acts of living in the modern industrial / post-industrial world. If we thought about the process and consequence of each act of our daily lives, we would not get out the door, much less read a book at night. Though one can't possibly understand any of the myriad miracles of daily life, blind acceptance makes us heedless consumers, and everything does have a consequence, especially turning on a light.
When making a case for something, the tendency is to cite facts and numbers, which are big, but hard to grasp. Coal plants are in operation all around the country, burn a staggering amount of coal, and release some of the most toxic stuff known, so poisonous that there is no amount safe for the human body: dioxins, furans, mercury, arsenic, chromium, and lead.
Some perspectives: burning coal releases the largest amount of uranium, and the largest amount of mercury of any source in the country, and all of that either goes into the air we breathe, or into the 200,000 tons of ash waste produced by an average power plant per year; after household garbage, the largest waste stream in the country.
Coal ash is toxic as a bad marriage, but here's the irony: there are almost no regulations on its disposal, so power plants, which are generally on rivers, largely dump it in a series of giant pits, in incomprehensible quantities, where the rain leaches the toxics down into the groundwater. When all of the available space near the power plant is filled, it is sent via the cheapest method to some other landfill, golf course, exhausted mine, or paint, or fertilizer factory.
That's right, there is a rub, or rather a rube, and that is us.
About 40% of the ash is "beneficially reused," meaning put into products where it can be hidden, simultaneously replacing other, more expensive components. First remind yourself what is in coal ash, then look to your right - at the wall; then down at your feet - at the carpet; then at the paint - which is everywhere. Run outside for some clean fresh air, but don't look down - at the fill and the fertilizer, the asphalt in your driveway, and road de-icer. There are doubtless many others, the point being that we each, personally, have been surrounded by this toxic waste product in our homes, without our consent, precisely because there is no regulation on this material.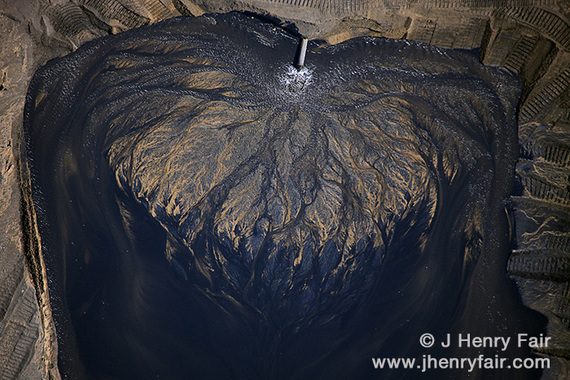 Bottom ash disposal pond at coal-fired power plant known to have contaminated groundwater with selenium
New Roads, Louisiana
When the Resource Conservation and Recovery Act was passed in 1976, creating classes of waste and specific disposal protocols for those deemed toxic, certain industries with a high volume of waste panicked at the potential cleanup liability they were facing and convinced Congressman Tom Bevill of Alabama to propose an amendment temporarily exempting their waste stream from regulation, punting the issue to future generations, citing the need for further study and unnecessary burden on industry. Skip forward 30 years, and numerous staggering industrial disasters involving coal ash, and those temporary exemptions remain despite the obvious toxicity of the waste material.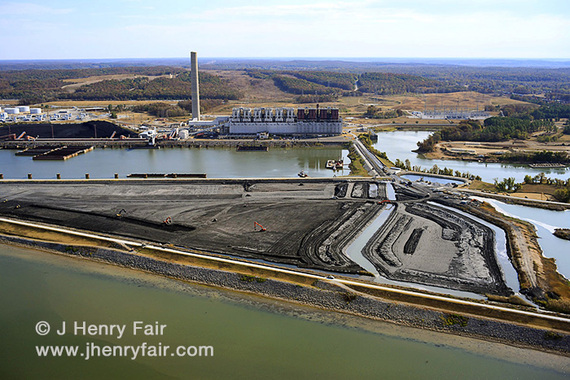 Excavators dig ash at generator with known groundwater contamination from coal ash
New Johnsonville, TN
The most recent coal ash disaster happened in North Carolina, a state whose governor spent 29 years working for the utility whose power plant was the source of the disaster, and dumped 82,000 tons of ash into the Dan River, which is used for drinking water in Virginia. The company which was warned as early as 2009 that waste pond was hazardous, maintains a close relation with its former employee the governor (who dumped his stock just after the accident) donating, in aggregate, over $300,000 to his gubernatorial election campaigns. This is but one of the stories of revolving doors and backroom deals that define this aspect of the ubiquitous presence coal plays in our lives.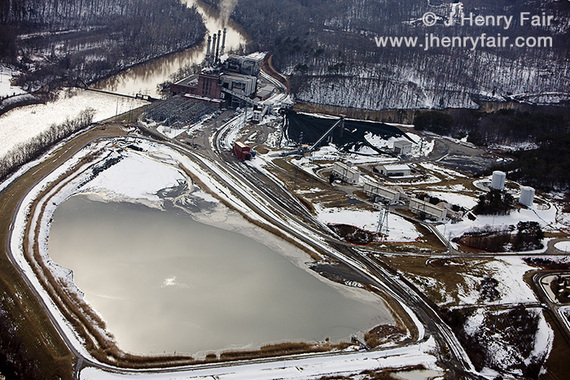 Coal-fired power plant with ash containment ponds, site of massive 2014 spill into the Dan River
Eden, NC
Maybe we only care about something if it's personal. My home town, Charleston, gets drinking water from the Edisto River, on the banks of which is a power plant that has contaminated the groundwater around it with high levels of arsenic.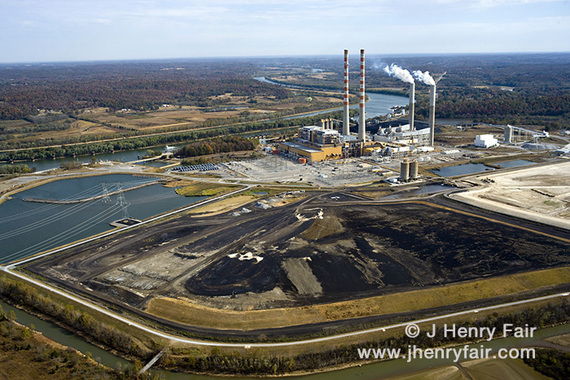 Coal-fired power plant with high-hazard ash pond and known arsenic and selenium groundwater contamination
Cumberland City, TN
Coal ash is a pervasive problem in America that touches literally all of us. Pervasive problems, generally better addressed than ignored, require action and money. In this case the action is contacting your representative to say that you want them to vote to allow EPA to do its job and regulate coal ash, and the money will ultimately be about 1% inflation of the cost of electricity.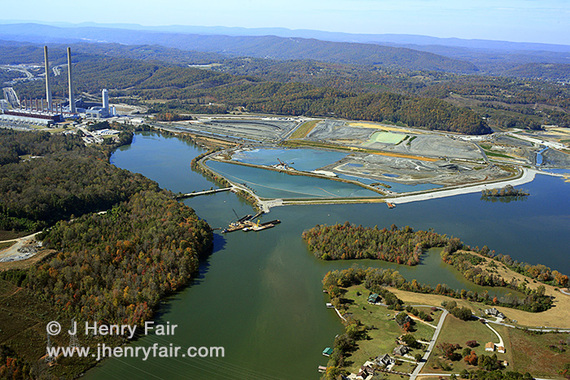 East view of Kinsgston disaster site with houses in foreground showing power plant, ash ponds and repaired containment dike
Harriman, TN
Thanks to lawsuits by various groups, now, 30 years after the passage of the Clean Air and Clean Water Acts, the EPA has been ordered to have a rule in place by December 19. Industry groups will be pushing (and spending) hard to weaken that rule. A message to EPA Administrator Gina McCarthy, expressing a deep desire for the agency to properly regulate this waste stream could possibly influence the final ruling, and help protect our drinking water.