May 29th, 2010, began like any other day for Army combat medic Ian Ralston of Waterloo, Iowa. It was his second tour of duty in Iraq, and he was familiar with the dangers lurking around every corner - after all, his job was to help soldiers who'd been injured in the line of duty. Ian went to high school with my daughter, and had just re-enlisted for another three years of service.
Ian was standing in the guard hatch of his Stryker combat vehicle that day when it moved under an overpass. No one in his unit noticed the improvised explosive device hidden underneath. It detonated, sending shrapnel into Ian's neck and changing his life - and his family's - forever.
Today marks the ten year anniversary of the American invasion of Iraq. A decade later, Ian's story is all too familiar - thousands of our nation's most promising sons and daughters have been paralyzed or otherwise disabled in the line of duty. Many others continue to suffer the invisible wounds of war, in the form of Traumatic Brain Injury or Post Traumatic Stress Disorder. Over 4,400 American servicemembers made the ultimate sacrifice by giving their lives for their country in Iraq.
It's easy to place a dollar value on weapons and supplies, but more difficult to calculate the actual cost of the wars in Iraq and Afghanistan. The reported cost is in the range of $1.5 trillion - which is a lot of money.
Yet these "reported" costs don't even begin to account for so many of the future costs of these wars that are yet to come: lifetime care for injured veterans, long-term mental health treatment, prosthetics and maintenance, spousal benefits for families of the brave veterans who never return home, and damage to civilian populations.
In 2008, Columbia University economist Joseph E. Stiglitz and Harvard University professor Linda J. Bilmes calculated the true cost of the Iraq War at $3 trillion, accounting for both government expenditures and the broader impacts of the war on the economy. Later, in 2010, they revisited their calculation and noted that it was probably too conservative.
Since 2008, I've worked to pass legislation called the True Cost of War Act, which would require the President to work with the secretaries of Defense, State, and Veterans Affairs to submit a written report to the public tallying the long-term financial costs of the wars in Iraq and Afghanistan. American taxpayers deserve to have a full tally of the financial and human toll these wars have placed on them. Future generations deserve to know how costly these wars have been to our federal budget and how that has affected our standing in the world.
The True Cost of the War Act has attracted bipartisan support and was passed in amendment form by the US House in 2011 - but it has never made it to the President's desk for his signature.
One decade after the first American tank rolled across the Iraqi desert toward Baghdad, as our national leaders struggle to find a path forward to reduce the enormous national debt created in part by these wars, it's time we passed this law and require an official accounting of the cost of these wars.
Ian Ralston remembers few details from that horrible day in Iraq three years ago. He remembers hearing the explosion and collapsing -- then nothing until waking up in a military hospital in Germany. He doesn't remember being told he was paralyzed.
Ian has made tremendous progress since his injury. He spent months recuperating at Walter Reed Army Hospital in Washington, DC, before returning home to Waterloo, where I had the chance to interview him for the Library of Congress' Veterans History Project in 2011.
He married his longtime sweetheart, Nicole, who stood by him through the good days and the bad days of his recovery. They've now moved to Seattle to a house adapted for Ian's unique needs. Ian remains optimistic about his future.
But his life is different now. And we owe it to Ian and the countless veterans, families, and Americans who have been touched by these wars to be honest with each other about the true costs of war before we send our best and brightest off to war again.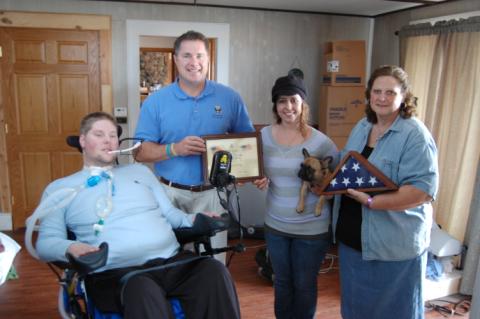 Calling all HuffPost superfans!
Sign up for membership to become a founding member and help shape HuffPost's next chapter