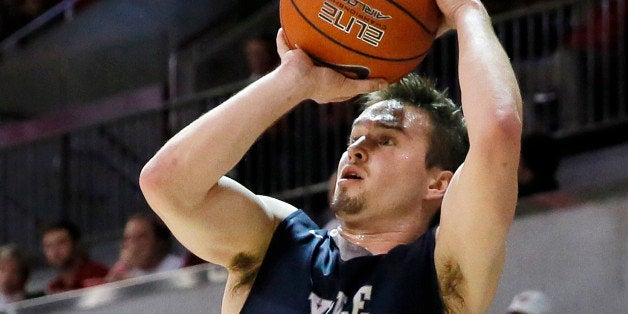 Yale men's basketball won an upset victory over Baylor on Thursday. But for many Yale students, this first ever NCAA victory is overshadowed by a discussion of campus rape culture centered on the basketball team. Yale alumnus Noah Remnick, now a reporter at The New York Times, posted a tweet recently that quickly went viral: "Who do you think is more devastated today: Baylor or the survivors of sexual assault at Yale being silenced in favor of a basketball team?"
Tensions erupted on campus after former men's basketball captain Jack Montague was expelled from the university in February, following a finding by the University-Wide Committee that he had committed sexual misconduct. At a game against Harvard several days later, the basketball team sported warm-up shirts with Montague's jersey number and nickname, Gucci, along with the word "Yale" spelled backward.
The basketball team's public show of support for Montague set off a firestorm on campus.
"It's incredibly disappointing to see any display of support for someone accused or convicted of sexual assault," said Helen Price, director of Unite Against Sexual Assault at Yale. "This kind of group behavior perpetuates rape culture at Yale and creates an unsafe and inhospitable environment for women on campus."
Hundreds of students at Yale staged a "chalk-in" rally last Wednesday, scrawling messages on the main quadrangle to support survivors of sexual assault on campus. Chalk messages included "Yale Survivors, You Are Loved," as well as "Imagine if Yale men cared as much about ending rape culture as they care about sports."
As information about Montague's case surfaced, basketball players continued to back their former teammate. "He's still our captain," star player Justin Sears told The New York Times. "He's my brother; he's all of our brothers. He's back at home smiling, having a beer right now." Speaking to ESPN, Coach James Jones called Montague "a great young man."
On March 9, the team released a statement apologizing for publicly supporting Montague. But tensions have continued to mount -- on both sides.
This week, Montague's legal counsel announced that he will sue the University, alleging that Yale's punishment for him was excessive. In a statement Monday morning, Yale's spokesman Tom Conroy upheld the integrity of Yale's process for disciplining sexual misconduct. He noted that only one in 10 Yale cases culminate in expulsion.
Montague's expulsion -- and the subsequent response from his teammates -- has sparked a campus-wide dialogue regarding rape culture at Yale. Just this fall, the American Association of American Universities released results from a survey that polled students at 27 universities and colleges across the U.S. about sexual climates at their respective schools. The results indicated that 16.1 percent of students at Yale have experienced attempted or completed sexual assault.
"The conversation happening on campus has made clear to me that people at Yale don't understand consent and rape culture," said senior Lucy Carmelo, who authored an op-ed on the subject for the Yale Herald. Carmelo emphasized that she is friendly with members of the Yale basketball team, but she found their public support for Montague misguided. "People don't understand how their words and actions impact this campus."
After the basketball team wore shirts supporting Montague, the Yale Women's Center released a statement calling the team's actions "a dismissal of the very real threat of sexual violence." Cassie Lignelli, the head coordinator of the Women's Center, said she hopes discussion of Montague's case will evolve into a productive dialogue about consent on campus.
"To us, this shows that we tolerate a lot of toxic ideas about sex and women at Yale," Lignelli said. "We hope this conversation causes different communities to turn inwards and consider the harmful things we do that reinforce bad power dynamics."
Students hoping to draw the connection between Montague's case and the broader sexual climate at Yale hung posters around campus that read: "Yale Men's Basketball: Stop Supporting A Rapist." These posters were quickly torn down. One of the students who created and posted them explained that they wanted to attract media attention to the basketball team's damaging impact on campus sexual respect.
Some Yale students have criticized the posters and other condemnations of Montague. Blake Thomson, a Yale senior and Montague's childhood friend, told Newsweek he is "disappointed" in Yale's administration.
"Where is the respect for due process?" Thomson said. "Where is the consideration for how this is going to affect Jack for the rest of his life?"
Yale's sexual climate has come under scrutiny repeatedly in recent years. After a 2011 Title IX complaint was filed against the university, the administration fully restructured its system for addressing cases of sexual misconduct. Policies have continued to evolve as recently as this fall, when the university tightened its regulations on confidentiality in UWC proceedings.
Several incidents implicating campus sexual climate have involved Yale fraternities. In 2011, Delta Kappa Epsilon was given sanctions after members gathered on campus and chanted "No means yes!" In 2008, Zeta Psi pledges were photographed outside the Yale Women's Center holding signs that read "We Love Yale Sluts," and last year Sigma Alpha Epsilon was found in violation of university policies on sexual misconduct.
Recent discussion of the men's basketball team has again brought into focus the campus's all male spaces. Will McGrew, a sophomore at Yale and member of Sigma Phi Epsilon fraternity, is starting an initiative pushing for fraternities to go co-ed.
"There is a large portion of sexual assaults that happen in these all male environments in which women don't feel they have control over the situation," McGrew said. "Then people fall back into questioning whether it happened, blaming the victim, saying he [the perpetrator] was a good guy." Last month, McGrew penned an op-ed in the Yale Daily News arguing that single-sex social spaces are harmful to Yale's social and sexual climate.
As activists organize responses to the basketball team controversy, many hope to build on the grassroots energy generated by last semester's movement for racial justice. Dara Huggins, one of the students who organized Wednesday's "chalk-in," said she believes these movements must intersect.
"Race, class, and gender all have to come into conversation when talking about sexual assault," Huggins said. "Sexual assault is an issue in this community and now we're bringing it to the forefront."
Calling all HuffPost superfans!
Sign up for membership to become a founding member and help shape HuffPost's next chapter