The definition of a hero is someone of distinguished courage or ability, admired for their brave deeds and noble qualities. It is no secret that among my heroes, I count all children who have battled cancer; they face adversity throughout their journey and yet display a courage unlike any other I have ever seen. It seems fitting then, that many childhood cancer fighters admire an even higher level of champion, the superhero.
Superheroes have extraordinary, even magical powers, powers to change outcomes and even make the impossible possible. Superheroes have no fear, and they believe there is always a way to win. After reading that description, I changed my mind about childhood cancer fighters, they aren't heroes after all; instead they are so much more than that -- they are stronger than any Superman, Batman, Wonder Woman or Ironman that I've ever known. They are the true definition of superheroes. As we enter the end of the year and get ready to enter 2015, I want to tell you about one of these remarkable human beings that we lost this year, a superhero who loved superheroes, and an extraordinary individual, Dan Hammond.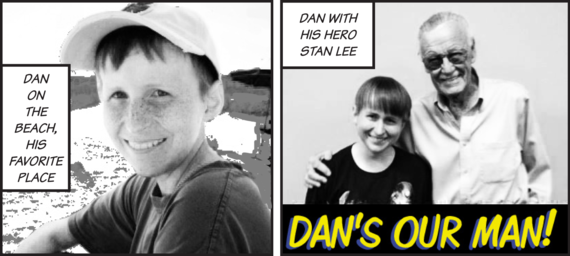 As a 9-year-old boy, before the word "cancer" put a halt to life as he knew it, Dan Hammond enjoyed little league baseball, reading comic books, hanging out with his friends, teasing his sisters and teaching his little brother new things. Dan loved going to the beach, his favorite place, and by all accounts, he was a typical young boy, with his whole life ahead of him. One day after a baseball game, Dan came home and plopped in front of the TV, voicing to his parents that he was unable to move. When his doctor suggested an MRI, a large cancerous tumor would be found within his spine, and his battle would begin.
If you ask me, Dan's most obvious superpower was always his quick wit, humor and positive outlook. Dan would endure multiple rounds of chemotherapy, radiation treatments, surgeries and an immeasurable amount of nights in the hospital. Despite all of this, Dan never lost his character, and when I recall my times with him, two of his sayings spring to mind. Firstly he would always say that the worst part about the hospital was that he could never call out sick because they still wanted to see you. How true! Secondly when asked how he had the courage to speak in front of hundreds of people, he would answer it wasn't so hard when you can only see a few of them. Dan's nemesis, cancer, or "the beast" as he would call it, would take many things from Dan, including most of his sight and balance; what it could never touch was his spirit and his ability to look for the good in life.
As any superhero does, Dan would have epic battles with his nemesis, conquering his cancer on three separate occasions. However, earlier this year, after battling the beast for nearly thirteen years, Dan would lose his life at 22. Though he is no longer with us, this superhero was not defeated, and the proof of that is what he left behind. Dan credits meeting my daughter Alex in the hospital with his decision to raise awareness for childhood cancer. Dan would speak at many of our Foundation events, hold lemonade stands, and share his story with people everywhere. Dan knew something about these childhood cancer superheroes -- all they really want to be are normal healthy kids -- and he utilized his life to convey that message to others.
We all miss Dan, his humor, smile, and quite simply just the way he carried himself through what could not have been an easy journey. As we approach The Lemon Ball gala in January, we know we will feel this more acutely, but it will be in his honor and in following the example that he set, that we will continue to work to avenge cancer. We think Dan would have loved that, but don't take it from me, hear it from the person who knew Dan best, his mom, Jody Hammond, in the below video.
REAL LIFE. REAL NEWS. REAL VOICES.
Help us tell more of the stories that matter from voices that too often remain unheard.